Turkey Shoot Golf Classic to Benefit Lighthouse of Oakland County
You can hit the links and help those in need at the sixth annual Turkey Shoot Golf Classic on Sat., Nov. 10 at Springdale Golf Course.  
The event begins with a 10 a.m. shotgun start and includes 18 holes of golf and an awards dinner. Two-person teams will enjoy three different formats: scramble, alternate shot and best ball of two. Registration is $30 per player, but if you bring a frozen turkey for Lighthouse of Oakland County you'll get $10 off the entry fee. Bring non-perishable food items and get $5 off. Call (248) 530-1660 to register a team.
If you don't make it to the Turkey Shoot, you can still get out there and hit some balls Although Birmingham's Lincoln Hills Golf Course has closed for the season, Springdale Golf Course remains open, weather permitting. Call Springdale Golf Course at (248) 530-1670 prior to going. For more information, visit golfbirmingham.org.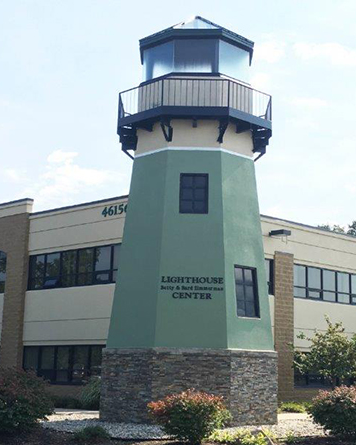 Birmingham Museum Honored for Innovative Crowd-Sourced Exhibit
To celebrate Birmingham's bicentennial, the Birmingham Museum invited the community to share photos, artifacts and personal stories in their exhibit, "The People of Birmingham: 200 Years of Stories."
The exhibit was created to connect with the community, reflect the people who have made Birmingham special and reach new audiences. The museum also hoped to gain new information for the museum's archives to help future researchers. The exhibit did all that and more, experiencing a spike in memberships, social media activity, object donations and the surfacing of amazing photos and artifacts for the museum's collection.
"It surpassed our expectations by a mile," said Museum Director, Leslie Pielack. "We have had the best of all worlds. We gained so much for the museum while giving the community a chance to share their collective history and document it for future generations." The museum will be creating an online exhibit and producing a printed booklet of the contributed stories after the exhibit closes.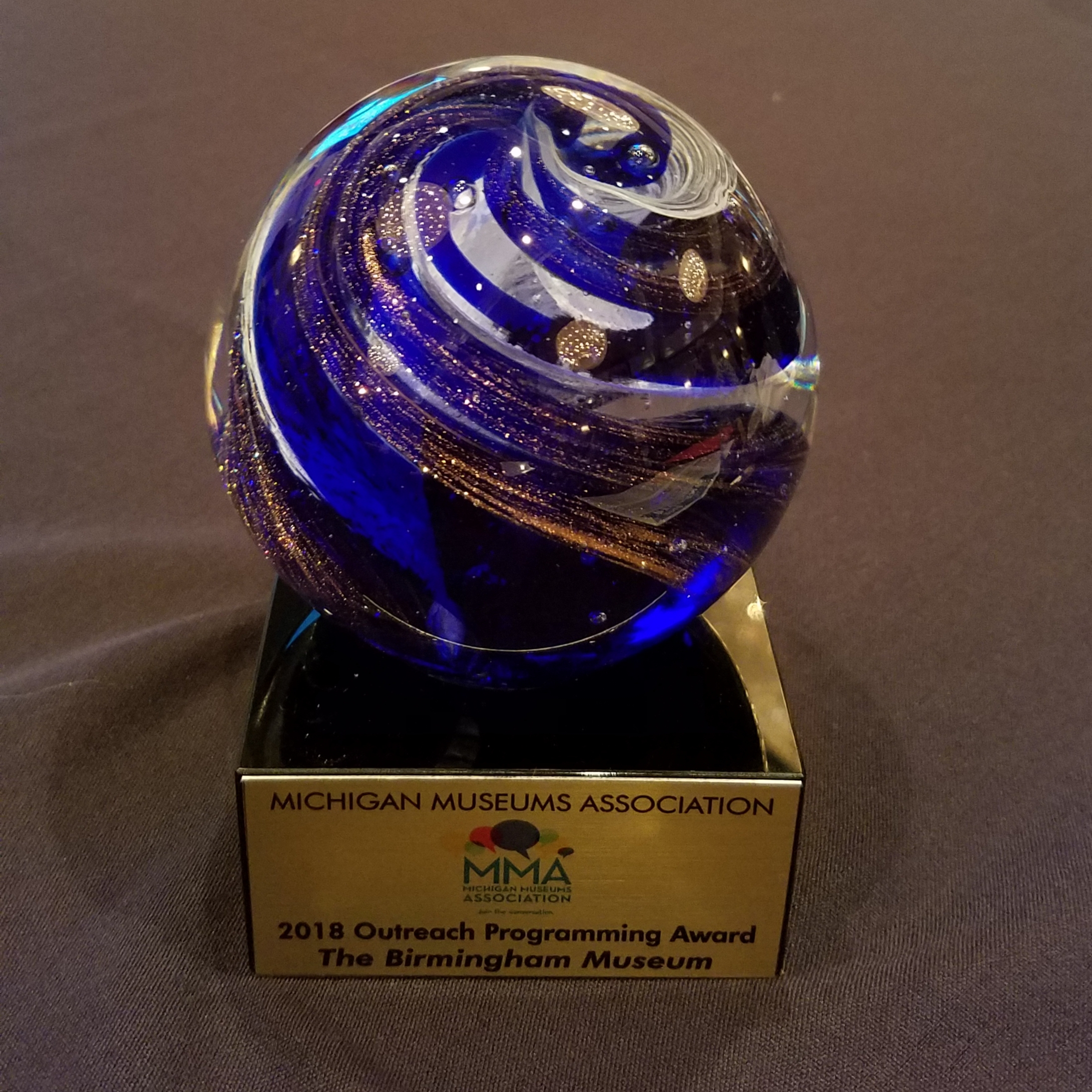 At their annual luncheon on Oct. 29, The Michigan Museums Association honored the Birmingham Museum for this unique and engaging approach to sharing Birmingham's history. The museum received the Outreach Programming Award that the MMA bestows on exceptional programs, exhibits and individuals.
The exhibit will be open through December Tues. through Sat. from 1 to 4 p.m., and until 8 p.m. on the second Thursday of the month. Museum admission is $7 for adults and $5 for students and seniors.  Kids 5 and under and Friends of the Birmingham Museum members are free. For more information, call (248) 530-1928 or visit bhamgov.org/museum.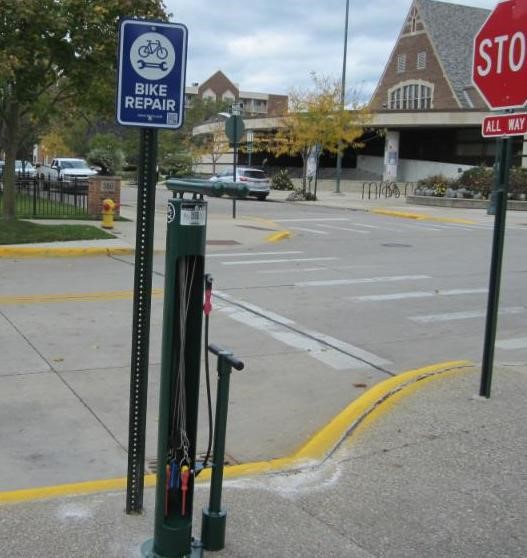 Bike Repair Stations Popping Up Around Birmingham
Flat tire? No worries. The City of Birmingham recently installed four bicycle maintenance stations. These stations are part of the city's plan to encourage and accommodate bike riding. Each station has a Fixit repair station, an Air Kit 2 air pump for both Presta and Schrader valve stems, and a sign. The Fixit has eight common tools for basic repairs and maintenance. Each Fixit and sign has a QR code that lets smart phone users access a bike repair website or a map of nearby Fixits.
The stations are in four City parks: Booth (near the North Old Woodward and Harmon intersection), Quarton Lake (at the Maple Road head of the Quarton Lake Trail), Shain (at the intersection of Bates and Merrill near the Library and the Community House), and Kenning (by the tennis courts). 
Consumers Energy is Upgrading Gas Mains and Services
Consumers Energy is upgrading selected gas mains and services in Birmingham from Nov. 1 through Dec. 31, 2018, based on the age and location of the service. Residents who are affected have received a flyer.
The project limits of the natural gas upgrades are as follows:

S. Adams from Maple Rd. to Woodward
Yosemite from S. Adams to Columbia
Columbia from Maple to Villa
Forest, Chestnut, Bowers and Haynes from Elm to S. Adams
Worth, from Lincoln to Haynes
Webster from S. Adams to Woodward
Lincoln from S. Adams to Woodward
For more information, contact Consumers Energy representative Cheri Payne at (248) 433-5618.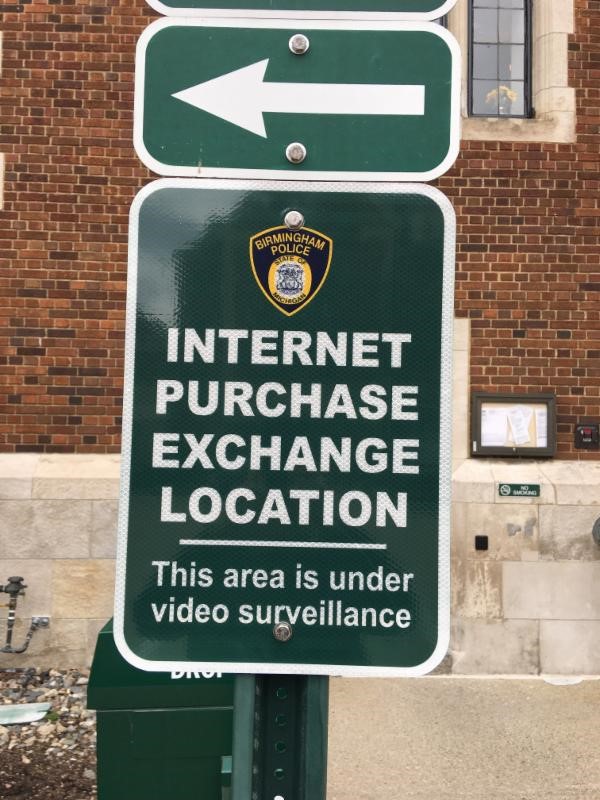 Stay Safe at Birmingham's Internet Purchase Exchange Location
With the holiday season upon us, the Birmingham Police Department is reminding residents to use the Internet Purchase Exchange Location when they buy or sell on websites such as Craigslist. The internet exchange location is in the parking lot on the south side of City Hall at 151 Martin Street.
The lot is well-lit and under 24/7 video surveillance, but residents are still encouraged to make exchanges during daytime hours.
The Internet Purchase Exchange Location is open to the public to help reduce fraud and robberies that can occur with these types of transactions. For more information, call the Birmingham Police Department at (248) 530-1870.