Choose a Most Delectable Gift at Birmingham's Bateel
LBN Community Series
Birmingham
"I feel like I am in the finest jewelry store when I visit Bateel," says Rochester resident Carly Strand. "But the sparkling display case and glittering boxes are filled with dates and exclusive chocolates instead of rings and earrings," she chuckles.
"I'm always uplifted from having gotten something unique and delicious, whether it's a hostess or holiday gift – or a little treat for me – when I leave here," she adds.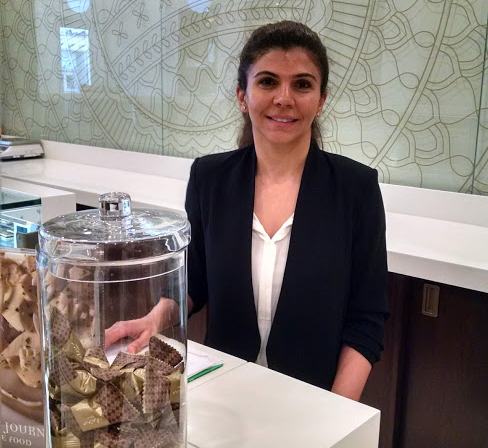 NADIA HAMOUDI
STORE MANAGER, BATEEL
Bateel (the word means "the young offshoot of a date palm tree") in Birmingham, which opened in May of 2017, is the first U.S.A. location of this luxury gift boutique that has stores in cities around the world, including London, Jakarta, and Dubai.
"Many of our customers here in Birmingham have seen our name outside of the United States," says manager Nadia Hamoudi. "And also, many see our window of jeweled and metallic gift boxes and come in because they wonder, 'What is going on in here?'."
"I love our brand," Nadia says, "because it is unique. We have a specific spin on chocolates, which is dates."
The dazzling display cases are filled with impeccably arranged trays of dates of all kinds: stuffed, chocolate-dipped, rolled in crushed nuts.
The dates are grown naturally on Bateel's farms in the Middle East and then meticulously processed with custom-made machinery that "polishes" each date.
"I've been to the factory in Dubai," Nadia says. "It is amazing to watch how the dates are so carefully cared for and maintained."
Nadia's favorite item is the khalas date filled with caramelized macadamia nut.
"If I eat one, I will not be able to stop," she laughs.
"I also love our half-moon biscuits," she shares. "They are butter biscuits, filled with date paste, then dipped in dark, milk or white chocolate and then in chopped nuts or sesame seeds."
"I'm always uplifted from having gotten something unique and delicious, whether it's a hostess or holiday gift – or a little treat for me – when I leave here."
Bateel also offers Origin chocolates, made from limited-quantity, single estate-produced cacao.
"The chocolate is richer, purer, and of the highest attainable quality," Nadia explains, "and, like our dates, can be packaged in an assortment of types and quantity according to the customer's desire."
Maryam Abrahim of Northville is a frequent Bateel customer.
"I have family in New Jersey," Maryam says, "and they are looking very forward to receiving this box of dates stuffed with candied orange peel and lemon peel that is being packed for me right now."
In minutes, Nadia has gift-boxed and beautifully beribboned the selection of dates.
"One of my favorite events was a party we did for a couple this Christmas," Nadia recalls. "We were so busy providing corporate gift boxes to clients, and we were still able to create gorgeous dessert trays that the hosting couple loved!"
"Dates are such a wonderful office treat, too, especially instead of something like donuts," Nadia says.
"Even though dates have a high amount of natural sugar, they are actually low-glycemic. In small quantity, they do not raise blood sugar levels. And, if kept in the fridge, they last for six months!"
Bateel also offers date jams, marmalades, and mustards; Umbrian olive oil and date balsamic
vinegars
; caramelized and roasted nuts (though their products do not contain peanuts or walnuts); date sparkling beverages, imported teas, and Yemen coffees: all available for specially packaged gifting or individual purchase.
"So," Nadia smiles, "we are not 'that date store' but are so excited to be a unique shop for the most exquisite of gifts that delight our customers all around the world."