Holy Cannoli's in Rochester: Global Fame with a Family Recipe
LBN Community Series
Rochester
There have been no official scientific findings that support her claim, but Sharon Pino Beheler, third-generation baker and member of the family team at Holy Cannoli's in Rochester, says, "Cannolis keep you young!"
"All my grandmothers, aunts and uncles lived to be 100 – or just about," she states, chuckling.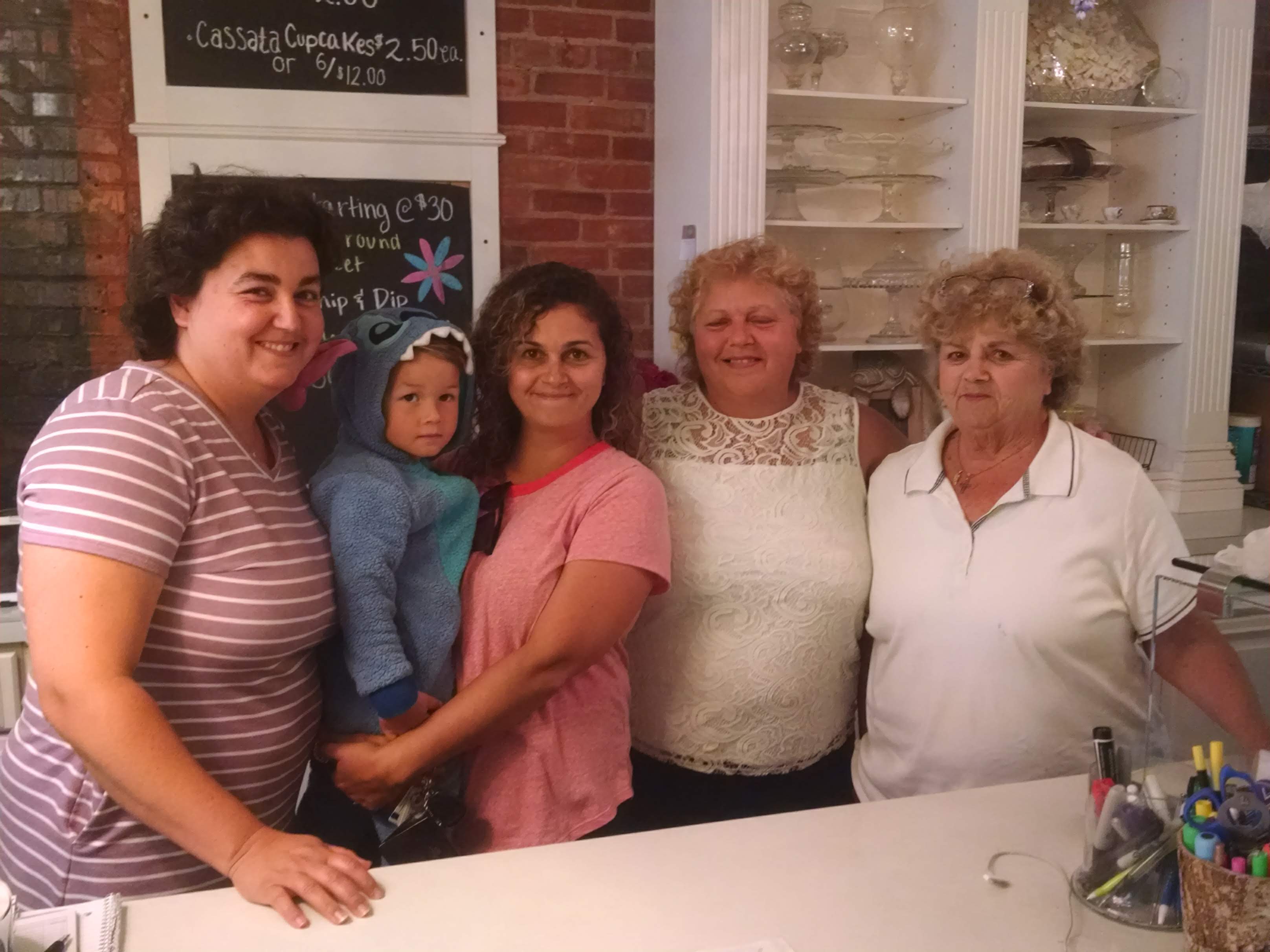 NICOLE SCHULTE-FRANEY (left)
OWNER, HOLY CANNOLI'S
"Grandma Sharon" also claims to be the fastest cannoli roller in the business, which opened on Main Street in Rochester in 2012 and faithfully follows the fifth-generation Sicilian-cream cannoli recipe that her grandparents brought with them from Palermo.
Depending on the number of special orders they may be filling for parties, holidays, retail customers and  corporate gifts (especially to doctors' offices, salons, and schools), the Holy Cannoli's crew might hand roll 1000-1500 pastry shells every day, wrapping each flat circle of light, homemade dough around a wooden dowel and then quickly dip-frying it to airy, golden, crisp, melt-in-your-mouth perfection.
"What we do is a lost art," says Sharon, who is also a long-time owner of the Bank of Antiques in nearby Washington. "It is very labor-intensive, and people understand the quality. Many times, our customers' own families always made cannolis, Cassata cakes and special cookies – but now many have lost the original recipes or have no one left to teach them the fine points."
One of those fine points is the consistency of their cannoli filling.
The making of the cannolis began in 1896. They were for their region's "Carnivale," the celebration before Lent.
"Our family recipe," Sharon explains, "uses ingredients based on our region, a suburb of Palermo."
She continues, "On the other side of the mountain, there were goats – and the cheeses they made included ricotta. On our side of the mountain, we had cows and made our sweet, smooth, Sicilian cream for filling our cannolis."
And now, great-great grandchildren Andrew, age seven, and Benjamin, age four, are the sixth generation to be learning to roll cannolis — though, for now, they only fill their own.
Holy Cannoli's owner, Nicole Schulte-Franey, says, "At three years old, Andrew knew the measurements for the dough's ingredients as well as the proper texture. He'd say, 'No, Aunt Nicole. It's too dry!' or, 'It's just right.'"
Using traditional recipes, time-tested techniques and quality ingredients, Holy Cannoli's continually innovates new products and flavors.
Check Out This Week's Rochester City News
"We have created over 125 flavors of cannoli fillings," says Nicole's mother, co-owner and master baked goods creator Cathy Schulte, who is a warm and welcoming presence for the Rochester store's guests. "Some of the current favorites are key lime, cherry almond and raspberry white chocolate. And we offer gluten-free cannolis, which we make in our Berkley location and have available here, in Rochester, as well."
They have also created unique ways of packaging the cannolis and fillings.
For retail sale, parties, office luncheons and other special events, Holy Cannoli's offers "heavenly chips and cannoli dip:" big-bite pieces of cannoli shells for dipping into the cream, which is packaged on the side.
For Mardi Gras, they fill hundreds of paczkis with cannoli, and for national donut day, they served cannoli-filled donuts.
"We make cakes, cupcakes, cookies and dessert trays for weddings and showers – or just because you'd like a dessert for yourself."
And when the Big, Bright Light Show in downtown Rochester is happening during the holiday season, they are open from 11 a.m. until 10 or 11 p.m., with lines of excited customers reaching out the door.
One of those customers is Holly Mincer, from Sterling Heights.
"My best friend is Italian," she said, "and she is a fantastic cook and dessert maker."
"I wanted her to have a delicious treat that she didn't have to make herself," she laughed, "so we came here. My friend tried the cannolis and a traditional, unique Italian fig cookie called cucidati ("coochi-dotti") and said they were the best she'd ever had!"
Last winter, Holy Cannoli's made new fans from around the United States when they attended a Goldman-Sachs event in Washington, D.C., for which they made over 10,000 hand-filled cannolis.
"If we get asked to do something, we just figure out a way to make it happen," Nicole says.
In 2017, while at Detroit's US-China Small Business Conference, event host and Chinese e-commerce giant Alibaba expressed keen interest in making Holy Cannoli's products available to Chinese citizens who yearn for high-quality goods from midwestern America.
"So, this baby that is our business is walking," says Nicole, "maybe, with continued product development, all the way to China. We're in an extremely exciting position."
"Meanwhile, here in Rochester and at our Berkley store, we have great customers that are like family," Cathy says. "People may come in grumpy, but they leave happy."
A smiling, nine-year-old guest says, "I love this place. It's magical!"
As Sharon leans over to give him his rainbow-sprinkled cannoli, she whispers, "I hope you keep coming here until you turn 100."