Sami's Engraving & Gifts in Troy: Custom Items of All Kinds for One – or One Thousand
LBN Community Series
Troy
Ed Mandell shakes his head and smiles as he shares some of the details of running All the King's Men, a full-service chess store and club in Warren.
"We are one of the largest organizers of chess tournaments, lectures, and grand exhibitions," he explains, "and we teach in about 50 different schools."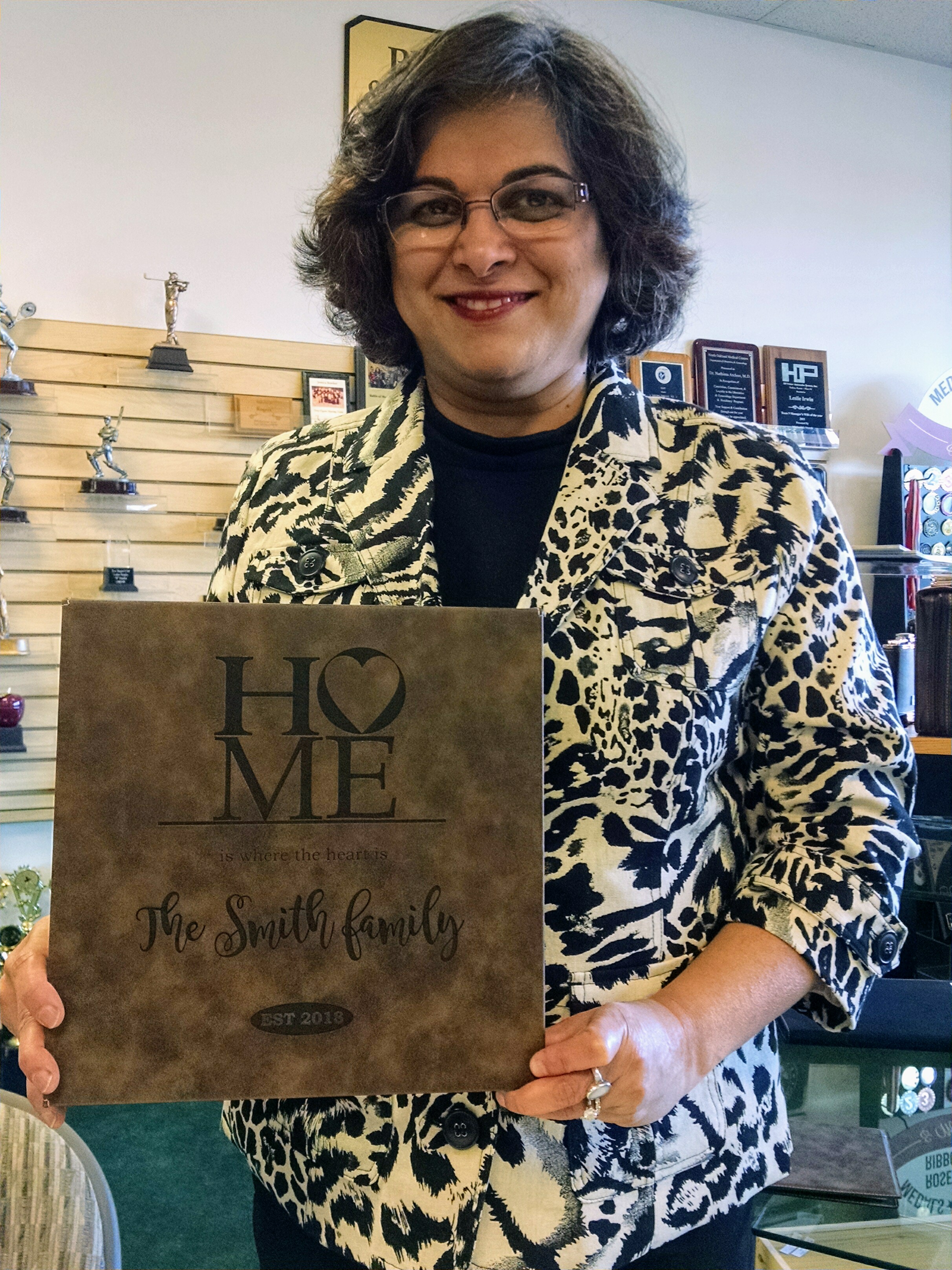 SHAMA KENKRE
OWNER, SAMI'S ENGRAVING & GIFTS
"We use many, many trophies every year, because we have so many tournaments. Sami's Engraving & Gifts – and wonderful owner Shama Kenkre – are an enormous help to me!"
"I used to buy from different trophy companies," Mandell continues. "But Sami's Engraving met or beat everybody's price."
"And Shama could not be a more perfect person to keep up with the ever-changing details involved with these awards. At Sami's, it's always a pleasure – never a problem!"
Shama Kenkre began Sami's Engraving & Gifts – named by combining "Sasha" and "Manish," the names of her children – from her home, in 1998.
"My husband had the idea, before internet popularity, of having a mail-order business, creating and supplying personalized awards and items for businesses," Shama says.
"I volunteer a lot, and a friend I was helping for a cultural committee said, 'Why don't you do the plaques for me?'"
"So," Shama continues, "Sami's Engraving & Gifts became more known, and I began doing plaques for special events – especially around Troy – as well as trophies, awards, ribbons, display photos, mugs, signs, t-shirts, and so much more."
With her own laser engraver and printers, Sami's Engraving & Gifts continues to create an amazing number of specialty, personalized items from their newly opened store location.
"Since I am able to do the work myself, in-house," Shama explains, "the turn-around time is very quick. Now that we have our place here on Rochester Road (near Long Lake), customers can come in, I can show them their many choices of awards and gifts – as well as invitations and cards — and they get all sort of great ideas."
"The wonderful thing is, I can create for them 10,000 copies – or just one item!"
"We have a new line of gift products which is wonderful for your workmates, your staff – or anyone in your life. It's a luxury leatherette that is laser-engraved. Some of those products include: wine tool kits, games, key chains, journals, clocks…the list is almost endless," Shama laughs.
"At Sami's, it's always a pleasure – never a problem!"
The store contains hundreds of samples of ready-to-personalize items for businesses or homeowners – from a nametag or desk name plaque to a rug with a company logo or family crest.
"We are very happy to also have a special section of 'Michigan' gifts," Shama says, pointing toward shelves holding aprons, caps, cutting boards, mugs and Michigan map-printed items.
"Bridal party gifts and favors as well as housewarming presents are popular throughout the year. And, for the upcoming holidays, we have very easy-to-buy and beautiful, one-of-a-kind gifts: ornaments, picture frames, coasters, flasks, wall décor, even jewelry and pet items! People love to receive something personalized.
"And," she smiles, "coming here to this strip mall, where there is lots of close parking, and looking around our store can be so much more pleasant than trudging to the mall!"
Shama recalls some of the unique requests she has had.
"We've created many special plaques, some with color photos and engraving, for dignitaries from India, Nigeria, the Middle East…but one of my favorites was of Kalpana Chawla, the first woman of Indian origin to go into outer space."
"And," she grins, "we also make many items for animal 'dignitaries,' including pet urns and ribbons for winners of dog shows…In fact, many people who are planning contests and events realize, when their event is going on, that they've forgotten to order ribbons and awards! That's when they call me."
"So, I'll stay up until one, two, or three in the morning to complete it. And, that is all right. Because when those ribbons and trophies are awarded, we are awarded with the loyalty and trust of the customers we've served."