Get Educated on Recycling
Join an expert on Aug. 8 at 6 p.m. to learn recycling facts and myths. Participants will also hear
how to recycle more and recycle correctly. The burning question of what happens to recyclables after collection and why some things cannot be recycled will also be addressed. Join the fun as an expert from SOCRRA walks you through the earth-friendly process.
Two New Ladder Trucks Head Into Service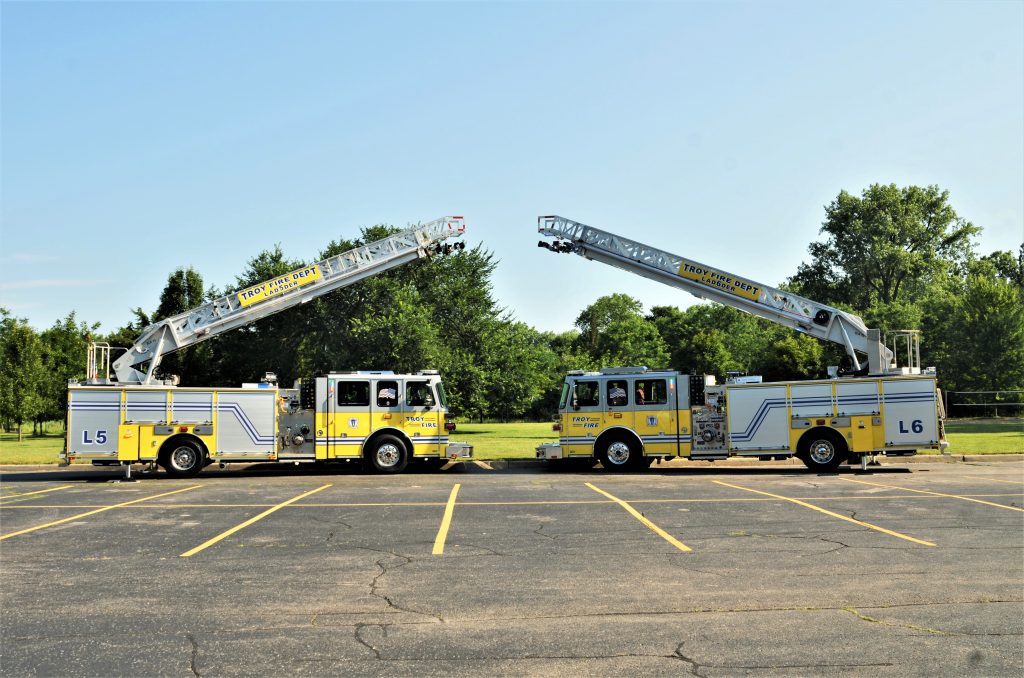 The city announced the delivery of two new ladder trucks.
The new trucks are 2019 Sutphen SLR 75. It is 75 feet long and carries a large hydraulically lifted aerial ladder, which is attached to the back of the vehicle. The new trucks replace a 1997, and a 1998 Spencer, rear-mount, 65' ladder truck.
"In addition to the longer aerial ladder, the new trucks carry 115 feet of ground ladders and provide us with additional reach over the older models," Fire Chief Dave Roberts said. The new trucks also have a water pump with a rated delivery of 2,000 gallons per minute, exceeding the delivery rating of the older trucks of 1,500 gallons per minute.
Purchasing these trucks from Sutphen Corporation helps the Troy Fire Department standardize the fleet, an operating model that they have been working toward over the last several years. The addition of these two new vehicles means that five of six of the ladder trucks have been produced by Sutphen Corporation. The one remaining ladder truck is scheduled to be replaced within the next year or two with the Sutphen SLR75 model ladder truck. All have similar operations and maintenance.
Aerobatic Teams Fill the skies at OCIA Open House & Air Show
The Phillips 66 Aerostars will once again tear into the skies at 250 mph over the Oakland County International Airport Open House & Air Show in four Extra 300L aerobatic planes. They will join other aerial performers at the Sunday, Aug. 11.
Admission is free. There is a $5 parking fee per vehicle.
The air show begins at 2 p.m.
Suicide Prevention Training Available
Suicide is a significant public health problem and is the second leading cause of death for those ages 10 to 34 in the United States and in Michigan. For each suicide death, family and close friends are at higher risk for suicide themselves. Many others are affected in a variety of ways, including those providing emergency care to the victims and those who may feel they failed to prevent the death.
The Oakland County Suicide Prevention Task Force has developed a plan to focus and coordinate suicide prevention efforts in Oakland County.
On Aug. 13 from 8 a.m. to noon, join safeTALK for a one-day training session for anyone aged 15 and older. The purpose of the training is to teach the verbal and non-verbal signals that someone is having thoughts of suicide as well as to connect those people to potentially life-saving resources.
For more information, contact Kat Polmear at 248-858-7171 or polmeark@oakgov.com.
Beaumont Hospital, Troy Earns National Recognition
Beaumont Health's Troy hospital earned national recognition by U.S. News & World Report in the "America's Best Hospitals" rankings. Beaumont, Troy is ranked No. 3 in Michigan and Metro Detroit.
Additionally, Beaumont, Troy is nationally ranked in four medical specialties based on objective measures for 2019-20:
Cardiology & Heart Surgery – #38
Diabetes & Endocrinology – #26
Ear, Nose & Throat – #46
Neurology & Neurosurgery – #46
Beaumont, Troy also earned "high-performing" rankings in six medical specialties: Gastroenterology & GI Surgery; Geriatrics; Nephrology; Orthopedics; Pulmonology and Urology.
MITroy – Putting City Hall Into Your Hands
The city rolled out a municipal Smart Phone App – MITroy. This new app will provide more proactive public engagement and a better connection to all of the services, resources and information Troy has to offer. Whether it is issue reporting, city news, event calendars, department directories, paying bills, or finding parks and facilities, this "whole" city app will house it all in one user-friendly app branded just for Troy.
MITroy App will interface with the city's Service Request system, Cityworks, which will allow users to submit service requests such as code enforcement issues or pothole concerns, from a mobile device and receive status updates. MITroy App will also provide easy access to city department contacts, provide targeted information, and supply another way to receive details on important city events. Users will also be able to provide feedback to the city.
Residents can also sign up for CodeRed emergency notifications through the MITroy app. CodeRED is Troy's public safety emergency alert system. Receive emergency notifications via mobile alert, email and/or phone by signing up today. CodeRED, a reverse 911 system, provides real-time safety information in a community emergency. From evacuation notices to severe weather alerts, CodeRED is Troy's system for sharing time sensitive emergency alerts.
Sign up for the app on Google Play Store or iTunes – search for MITroy.