Weirdsville Records and Paperback Writer Bookstore: Where Quirky and Comfort Collide
LBN Community Series
Mt. Clemens
Weirdsville Records and Paperback Writer Book Store is as interesting as it sounds.
Husband-wife team Davey and Lisa Taylor opened the store nearly eight years ago. Originally, it was located a block over from its current Macomb Place location. More than five years ago, the Taylors wanted to expand and the storefront they have now was available. The move made sense.
"We were a bookstore first," said Davey. "I opened up Weirdsville in the back room, which was about 350 square feet. I started out being a weird store. I used to own a prop house that supplied TV shows and horror movies. Gov. Snyder took the movie business away, and so went the business."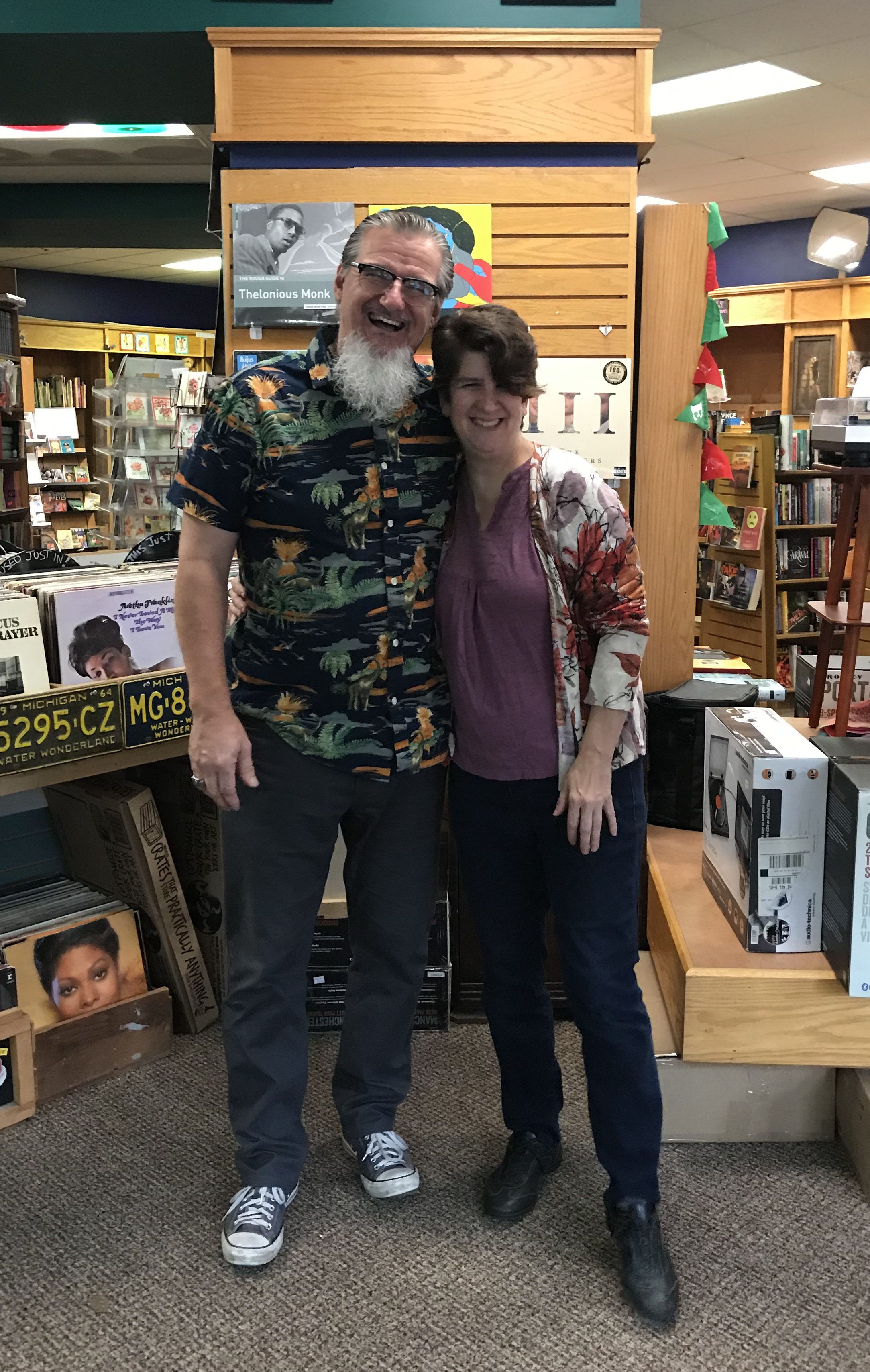 DAVEY & LISA TAYLOR
OWNERS, WEIRDVILLE RECORDS & PAPERBACK WRITER BOOKSTORE
Lisa was a long-term employee of the now defunct Borders book chain. The idea for Paperback Writer came in the wee hours of the morning.
"Lisa woke up at 4 a.m., and said, 'When we both wake up, tell me if this is a good idea,'" said Davey.
Lisa is a self-proclaimed lover of books.
"We sell quality used books with a smattering of new classics and local authors. I try to get a little something for everyone. I don't want to say it's curated, but it's well thought-out," she said. "I've always been a reader. I taught myself how to read via Sesame Street. I used to get caught under the covers reading books."
Then, when a friend closed his record store, Davey bought out the inventory and fulfilled a life-long dream of opening a record store. Weirdsville Records was born.
Shoppers can find a wide variety of vinyl from genres such as surf to metal and everything in between. Additionally, Weirdsville is home to one of the only internet radio stations within a record store.
"My partner in the prop house company, Bret Donnelly, said we need to do something in the store that is more unique," said Davey. "Now, we can actually say we're the only one that has an internet radio station. It's vinyl only."
Shows are archived at Weirdsvillerecords.com, where music lovers can listen live or browse past shows.
Davey does Davey's Surfin' Garage Show, which is surfing and garage rock, and he has plans to do a big Halloween show.
"Last year I did, 'War of the Worlds,' at the exact same time that it broadcast in 1938," said Davey.
Joe Genest, known to Weirdsville listeners as, "Rick Stark," has a monthly radio show.
"I do a 'rock and roll' show, but there's a lot that fits under that umbrella," said Genest. "I'll play 50s and 60s early rock, Motown, classic rock, 80s punk and new wave, hair bands, alternative and grunge, and even some newer rock. I also try to make sure I give Detroit rock some love. There's so many great Detroit artists that radio in our area has forgotten –Adrenalin, The Rockets, MC5, The Rationals, etc. – and I want to make sure that their great music lives on, even if it's on a little internet radio show."
Genest did his first broadcast in November 2018. He calls himself a "music geek," so the allure of a vinyl only show was a major draw for him.
"It's important to me that the show is vinyl," Genest said. "In this day and age of streaming service playlists, it's nice to have something that's organic and true to the roots of music. Plus, it's way more fun to operate turntables and cue up songs than it is to click a file on a computer."
Check Out This Week's Mt. Clemens City News
In addition to selling music and books, Davey also repairs turntables and guitars. And because he's an amateur actor, he puts on Weirdsville Cinema during the winter months.
"It's where B movies are king," said Davey. "People pay $5, for fresh popcorn from the machine, a bottle of pop and a seat. We never tell people to shut up or be quiet in our theater. That's the kind of movies I like, with horrible, bad acting. We start in October and go until April."
While Weirdsville Records and Paperback Writer is Lisa's full-time job, Davey's career is as a chemist for Hagopian. He's done color repair on rugs for 25 years.
As the holidays approach, Lisa and Davey are hoping to add quirky gift ideas to their stock of records and books, scratching that itch for shoppers who want something unusual under the tree.
For the Taylors, what started from a dream became reality—a delightfully quirky store that's comfortable, interesting and full of surprises.