Cannelle Patisserie Offers Up a Slice of Paris in Birmingham
LBN Community Series
Birmingham
In an unassuming building in Birmingham, is nestled Cannelle Patisserie, filled with fresh, tempting French desserts, pastry and coffee.
On an early Saturday morning, the shop already has a steady stream of customers lining up for flakey croissants, pain au chocolat, savory rolls and fresh bread. Matt Knio, owner, greets employees and customers with the same warm smile—handshakes for some, hugs for others.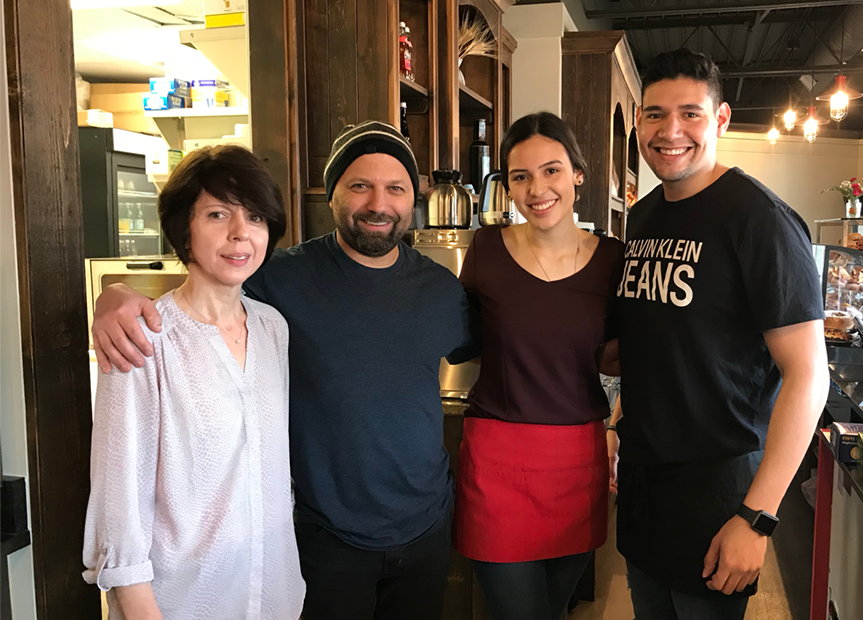 MATT KNIO
OWNER, CANNELLE PATISSERIE
(Second from Left)
How Knio's life story led him to Birmingham is worthy of grabbing a cup of coffee and pastry and sitting down to listen.
He grew up in Lebanon and left home when he was 17 to take a job he knew nothing about—farming cocoa in Ivory Coast.
"My job was to maintain the quality and the volume of the cocoa beans," Knio said. "Slowly, I made it to manager. It was really hard to accept the job because it was in the middle of the forest."
By middle of the forest, he means nine hours from the capitol by dirt road.
"After the war in Ivory Coast, I was forced to leave, if not for the war, I would still be there," Knio, 44, said. "I went to France. I wanted to do something related to something I understand, which is cocoa. I wasn't planning on being a pastry chef."
He took a job with a woman who had a pastry shop. She recognized his talent and urged him to pursue it.
He went to the Académie de Versailles. Additionally, the woman he worked for knew a master pastry chef, who took him on.
"I worked and I went to school. I spent about five years with him and I took the same diploma as his," said Knio.
"The people are really nice, and the food is fabulous…but I'm not sure about telling you how fabulous it is because more people will come here."
After working for several large chocolate companies, he took a job as head pastry chef at the Ritz-Carleton in Dearborn. After a year, he decided to strike out on his own, so he established his first shop on Northwestern Highway. However, business wasn't thriving.
"I struggled bigtime," said Knio. "I stayed for two years. I decided to move somewhere with more activity and more people."
That led him to downtown Birmingham. But his heart was in wholesale, not retail. In 2008, he closed in Birmingham and went wholesale in Hamtramck.
"I was wholesale completely for about four to five years. I didn't do any retail until a friend of mine, who owns this plaza, said, 'Matt, you have to open a place.' I told him I didn't want to  but, he said, 'You do the product, I'll manage the store.' We opened this six years ago, and it was a success from day one," said Knio.
Today, walking into Cannelle Patisserie is a delight to the senses. The name alone is melodic.
"When I was working for my boss in France, we made a cake that was called cannelle, which means 'cinnamon' in French. But I chose the name because I like the sound of it," said Knio.
The pastry cases are full of tasty works of art, glossy with glazes and puffed with cream.
"The majority of the recipes are my own," Knio said. "I get ideas from different places, but I execute it the way I want. Eighty to 85% of my work is my own creation. Even a simple, traditional pastry that's been made the same for years and years, you'll find tastes different when I make it."
For the last few years, Frank Lee of Troy, has been making Cannelle Patisserie a regular stop in his daily routine.
"My favorite thing here is the people," said Lee. "It's good when I'm out with work and have someone with me, I'll bring them by."
David Levin of Birmingham also frequents Cannelle Patisserie with his brother.
"The people are really nice, and the food is fabulous," he said. "But I'm not sure about telling you how fabulous it is because more people will come here."