Clawson's Three Cats Cafe and The Show:
Dine, Shop, Repeat, Drink!
LBN Community Series
Clawson
If you're old enough to remember downtown Detroit's beloved J.L. Hudson's store, it was a magical oasis, especially around the holidays. You'd walk inside, dazzled by the displays, shop for gifts until your feet hurt, then head up the escalator to the cafe in the mezzanine for a quick repast of soup, salad, maybe a hotdog or a pastry. Then you'd get back to shopping.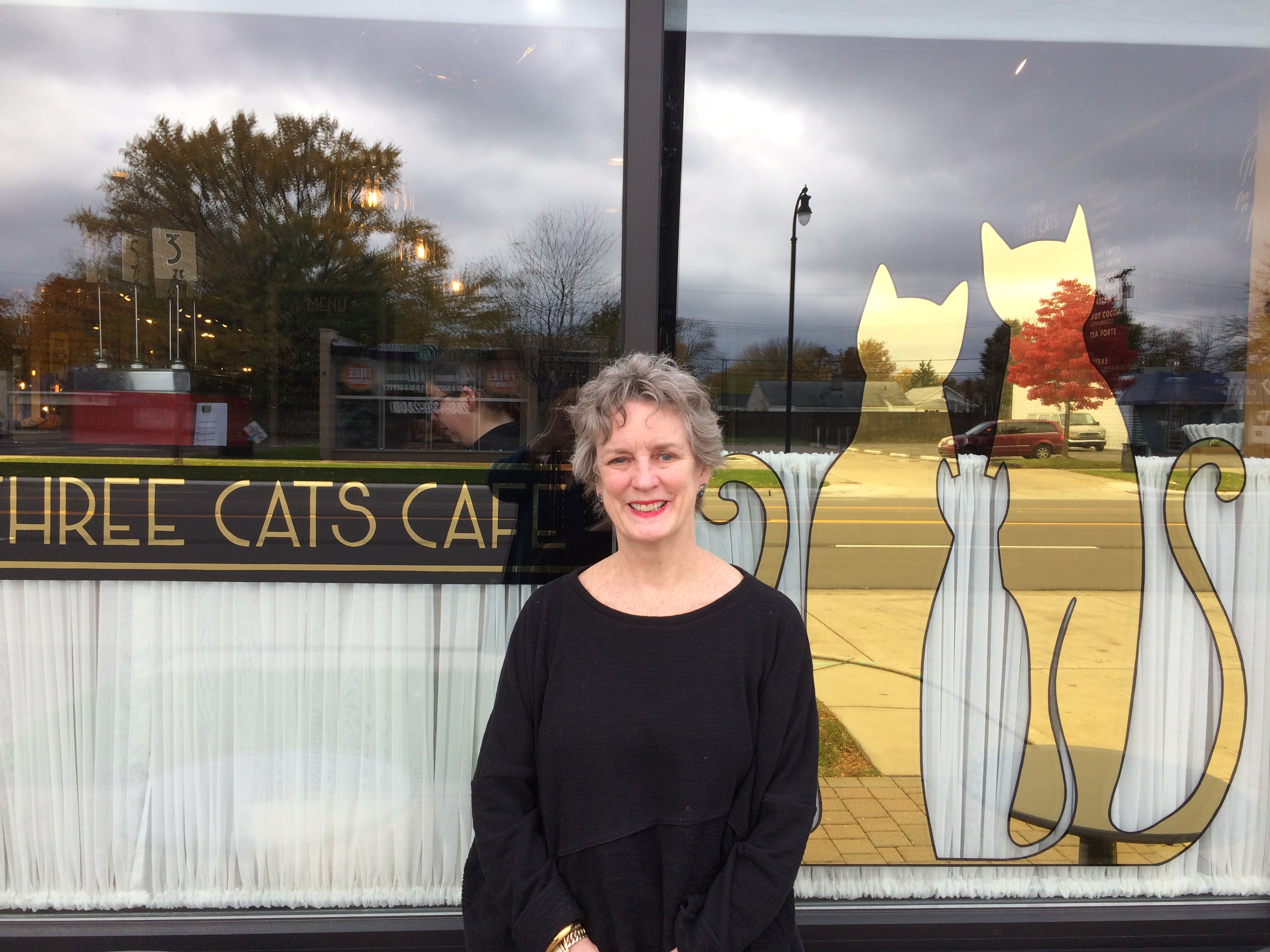 MARY LIZ CURTIN
CO-OWNER
THREE CATS CAFE, THE SHOW AND LEON & LULU
It's the same kind of scene and vibe at Three Cats Cafe and The Show in Clawson. Housed in what was the old Clawson Theater, the two-year-old coffee house/cafe/gift shop is the latest addition to the 15,000-square-foot Leon & Lulu campus (formerly the Ambassador Roller Rink) next door, which sells everything from gag toys to high-end clothing and home furnishings. Both buildings were built in 1941 and went through extensive reconstruction. The new space adds 8,500 square feet.
Through brilliant marketing, merchandising, hard work and heaps of hilarity, owners Mary Liz Curtin and her husband Stephen Scannell have created a department-store mecca that feeds all senses, attracts a huge following and has reaped many business awards.
"Our entire emphasis is on customer enjoyment," says Curtin.
Before you walk through Three Cats' front door on Main St., beneath the restored Clawson Theater marquee, a mechanical lady in the ticket window calls out to welcome you. Inside, there's a gleaming Art Deco bistro with a black-and-white motif, an ever-changing menu of delicious pastries, soups and salads created by Chef Yvonne Belletini, and friendly folks behind the counter to make sure the coffee's always fresh.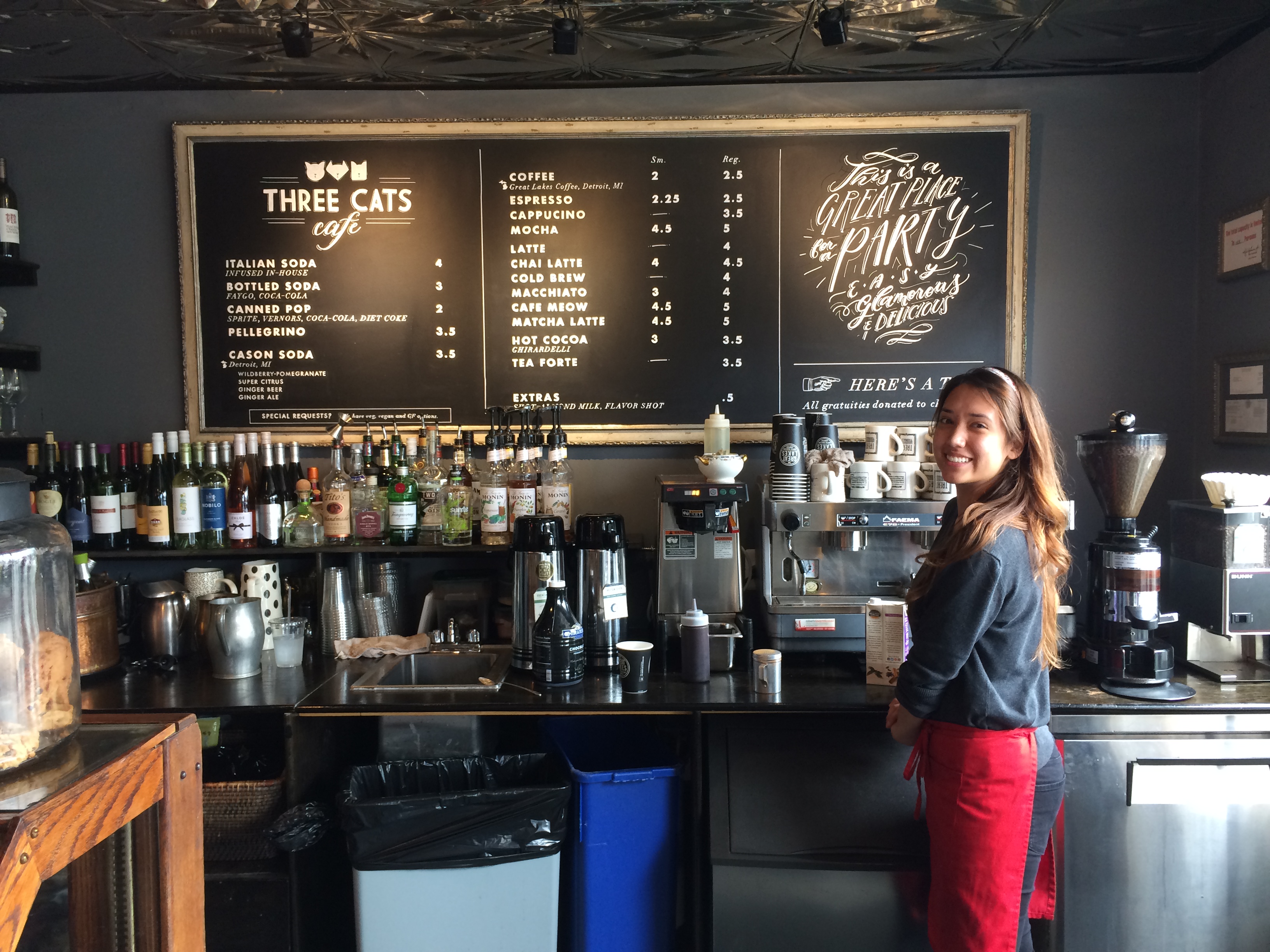 Barista Jay Gomez (photo, next to the menu blackboard) says the top-selling coffee is Cafe Meow, with honey, cinnamon and milk. Three Cats also features a full bar, great for apres-shopping socializing, and a screen that plays old black-and-white movies continuously. You can rent the space for events, and you can even rent the marquee and add someone's name for a totally cool celebration.
Ray Opezzo from Royal Oak is a Three Cats regular. "I love the coffee here," he says, noting that he just finished a delicious chicken salad-filled croissant with potato salad on the side. He also recommends the steel-cut oatmeal with berries for breakfast.
"It has atmosphere — it's just different than other stores — you walk out with a smile on your face…"
Sharon Martin, who lives in Clawson, comes to Three Cats every day, and has even claimed her own table inside The Show, where you have your choice of seating, either on the former movie theater stage or on the lower floor, which she prefers, along with her daily cappuccino.
"Mary Liz moves the merchandise around here all the time, so it's always a different experience," Matin says, adding: "I love the warmth of the people who work here." Last year Martin threw her 65th birthday party here ("I invited both my ex-husbands," she laughs) and Three Cats did the catering. Food is served on an elegant collection of vintage china plates like Grandma used to do.
"It has atmosphere — it's just different than other stores — you walk out with a smile on your face," says Marilyn Tomala of Royal Oak. She bought the pants she's wearing at Leon & Lulu's next door and is now in The Show looking for Christmas gifts. "Everyone's shopping here," she says, motioning to the crowd of customers around her as she flips through a table of shiny ornaments and necklaces with light-up bulbs.
Many gifts you'll find at The Show, directly behind the cafe and with an entrance off the side parking lot on Main, are Michigan-centric, with mitten-shaped cutting boards, puzzles, tea and dishtowels and anything else you can think of that would look good emblazoned with the shape of our state. Other finds are Detroit's famous Pewabic tiles and vases and old Detroit prints and signs, plus unique furniture and custom framing.
Curtin has also stocked the aisles with a mondo collection of irreverent greeting cards that beg you to read their messages and laugh and share the hilarious sentiments with other shoppers. And then buy them for the laughs, which is just one reason why customers like Tomala, Martin and Opezzo always leave with smiles on their faces.

jfklsadjfklsjdklfjs
sdjfksdjfklsad
fasdjklfjsad
fj
asjdf
ksjdaf
kjsdk
fjsa
dkjf
sadjfjf
ksadj