Project Manager Turns Lay-off into Sweet Career
LBN Community Series
Clawson
With more than 4,000 square feet of sweet treats, Doc Sweets' Candy Company LLC is a delight.
David Sklena, 51, of Shelby Township, opened the shop 10 years ago.
"I worked in project management for a number of years and wanted to open my own store. Candy really fit in to what I really liked," said Sklena. "I was working in project management for Program Planning Professionals, setting up different lines, organization and budgets. I wanted control of my life back."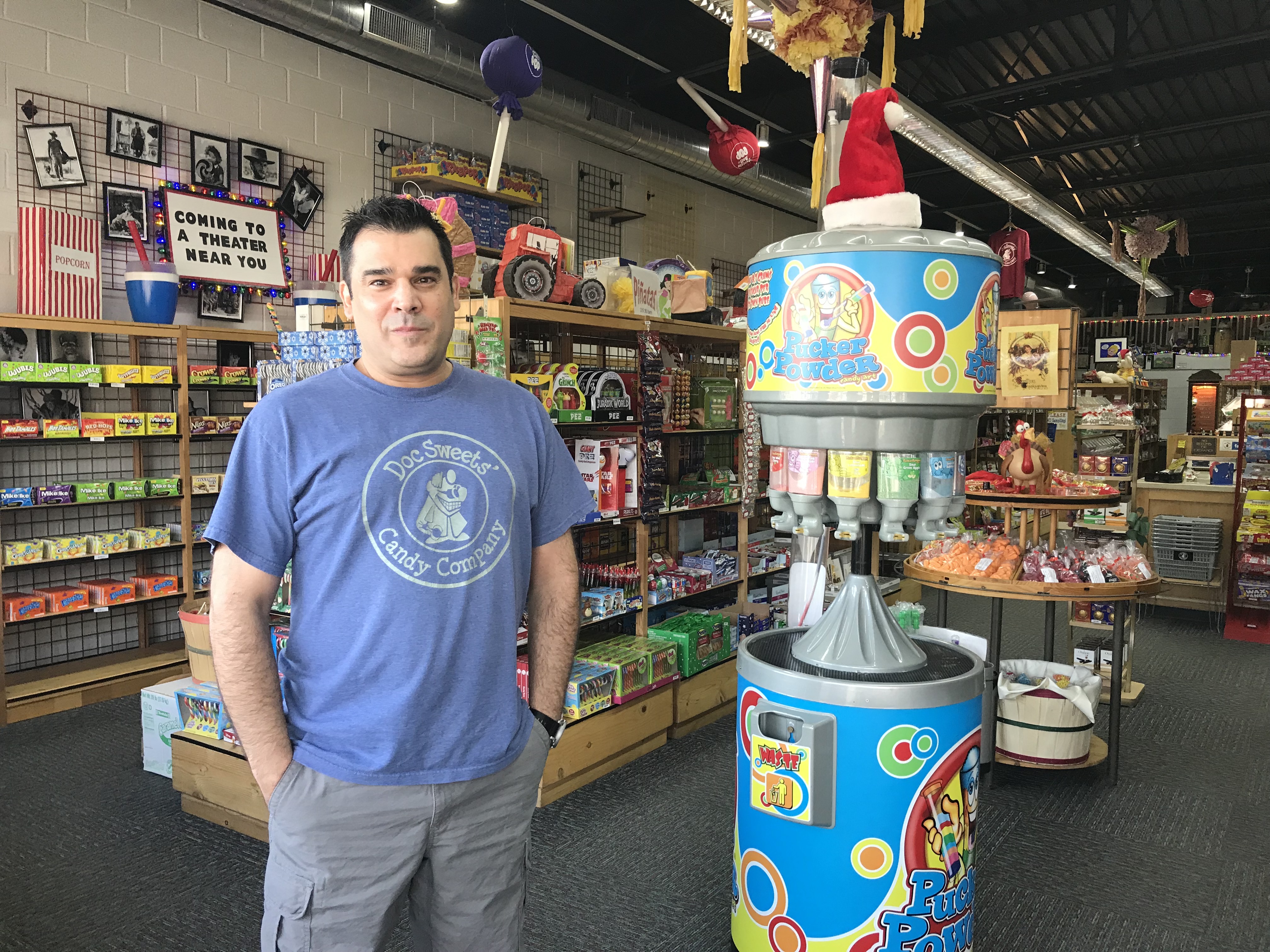 DAVID SKLENA
OWNER, DOC SWEETS CANDY COMPANY
It turns out that getting laid off in 2007 was just what he needed to start his second career as a candy man.
He spent a full year researching industries and candy was the perfect fit.
"Candy isn't recession resistant," he said. "We opened Nov. 10, 2008. Right in the middle of the recession. But all the people telling me this is not going to work motivated me."
He chose the name using his initials: DS. He landed on "Doc," and the rest just came together. A by-product is his new nickname, Doc.
"I didn't plan on it being called that, but it's OK," he said.
Sklena said 10 years have flown by, and since opening in Clawson, the store has expanded and racked up a wall full of awards and recognition ranging from HOUR Detroit to Local 4 News.
Doc Sweets' is laid out categorically. Sour candy such as Toxic Waste and Sour Patch Kids. All 72 flavors of Jelly Belly Jelly Beans are cozied up together and on the opposite wall, M&Ms in every color line the walls. The variety of candy in between in mind boggling: candy cigarettes (now called candy sticks), candy buttons, chocolates, gummies, seasonal goodies and more.
"Customer requests drive stock. We try carrying everything," said Sklena. "When we first started I never guessed we'd have 4,000 square feet of candy. If they make it, we want to carry it."
The store also stocks a variety of novelty candy as well.
"I've probably tried 95 percent of the things in the store. Even the bugs. They're pretty popular with kids. Adults like the crickets to mess with people—crickets melt in your mouth. They're actually good for you: low in fat, high in protein," said Sklena. "But black licorice candy with salt is one of the only candies I've ever spit out."
As a sponsor of the Michigan Pez Convention, Doc Sweets' Candy Company also carries the latest Pez dispenser designs.
"We have a lot of Pez collectors who call us when the new ones come out. It's a huge market. I thought wholesale was going to be our big thing, but no, it's been retail," said Sklena.
Even if you're in the market for a little something more, Doc Sweets' can help. The store has more than 600 bulk items available, so weddings and special events are easily manageable.
"We do a lot of parties, weddings, birthday parties," said Sklena. "People have a party and candy bars are hugely popular. It's been really popular over the past five to six years. People really seem to enjoy it. And a lot of them want to do it in their wedding colors or if they have a theme, so if you need aqua blue candy, we have options. If you need 25 cent boxes of candy, 1,000 pounds of candy, this is going to be the only place you can come to do that."
"It's the place to go to for that one candy you have to have…It's so easy to pop in for one thing, but it's not easy to leave with just one thing."
Marie Fleischer, 64, of Clawson, stops in Docs Sweets' around once a month.
For Fleischer, her relationship with candy began 10 years ago when she decided to quit smoking. There was a candy store near the bakery where she worked, so she'd stop in and buy strawberry licorice pinwheels. In the beginning, she figures she'd spend $60 per week on licorice.
Now that she's retired, and the nicotine addiction has subsided, she finds herself in Docs when she's out running errands.
"It's the place to go to for that one candy you have to have," Fleischer said. "It's so easy to pop in for one thing, but it's not easy to leave with just one thing."
She counts on the team at Doc Sweets' for their expertise. Recently, she was in the shop asking about a particular mint. She wanted to know which one melted in your mouth faster.
"A clerk at CVS wouldn't know that," she said.
Sklena is proud of the team he's put together at the store, and one day, hopes to share the experience with his 2-year-old son, Romeo.
"One thing I'm really looking forward to is that he can come to work with me and really building this up as a family business," he said. "But even after 10 years, I'm still buying bags of candy to take home. It's still a treat to me as well."