On Your Mark…Get Set…Run Wild for the Detroit Zoo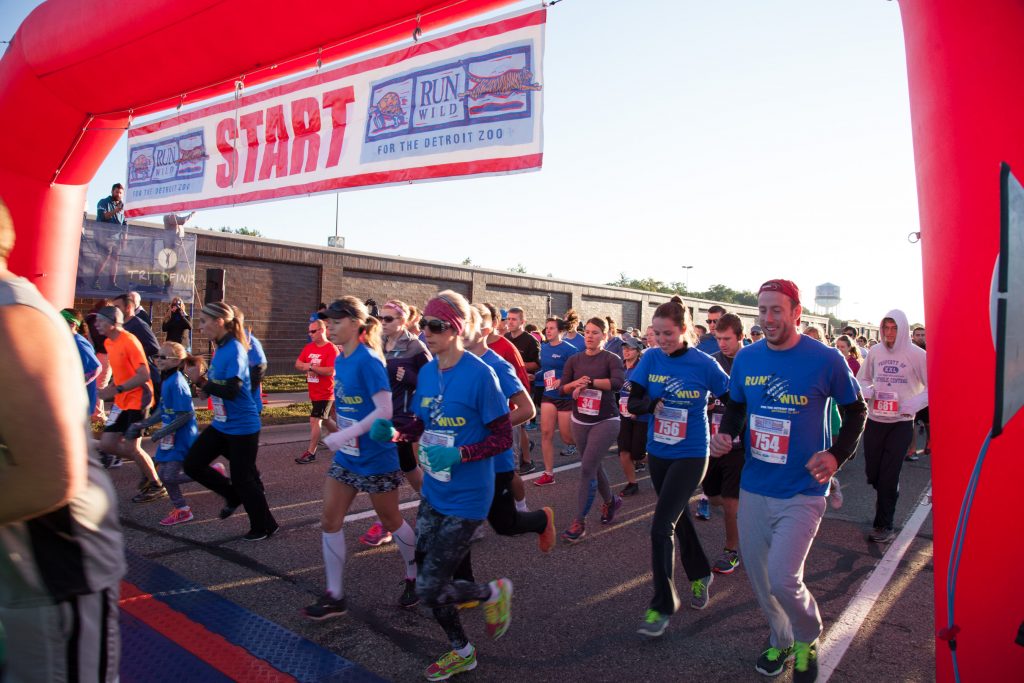 Thousands of runners and walkers will lace up their running shoes and head to the Detroit Zoo on Sunday, Sept. 8, for the Detroit Zoological Society's 23rd annual Run Wild for the Detroit Zoo. Proceeds from this fundraising event benefit the Ruth Roby Glancy Animal Health Complex and veterinary care for the animals at the Detroit Zoo and Belle Isle Nature Center.
The event includes a 5K run, 10K run, Too Wild! 5K + 10K combo and noncompetitive 1.5-mile fun walk. Runners in the 5K and 10K races start at the Detroit Zoo's 10 Mile Road entrance and wind through the scenic streets of Huntington Woods surrounding the Zoo. Walkers follow a course past many of the award-winning animal habitats as they stroll through Zoo grounds.
Run Wild for the Detroit Zoo begins with the 5K run at 8 a.m., followed by the untimed fun walk at 8:45 a.m. and the 10K run at 9:15 a.m. Online registration is available at www.detroitzoo.org/runwild until 10 p.m. Sept. 5, and registration will also be available at the Zoo on Sept. 6, 7 and 8.
All Run Wild participants receive a commemorative T-shirt, a Detroit Zoological Society water bottle, a finisher medal at the completion of their race and admission to the Detroit Zoo on race day.
Special spectator admission includes access to the finish line, the post-race party and admission to the Zoo for the day. Spectator admission can be purchased in conjunction with race registration or during packet pickup hours. The cost is $10 for adults and $5 for children ages 2-18.
The Detroit Zoological Society is looking for volunteers 16 years of age or older to assist as course marshals during the event. For information, contact volunteer@dzs.org.
Arts, Beats & Eats Information for Royal Oak Residents
Just when the Dream Cruise is over, Arts, Beats & Eats blows into town. Residets should take note of road closures and parking questions.
WHAT STREETS WILL BE CLOSED FOR THE FESTIVAL?
Washington between Second and Lincoln, Fourth, Fifth, Sixth, Seventh, Lincoln streets between Lafayette and Main, and Center Street between Third and Seventh.
WHEN DO DOWNTOWN FESTIVAL STREETS CLOSE?
Most streets close for festival set-up at 6 p.m. on Wednesday, Aug. 29, and reopen at 8 a.m. on Tuesday, Sept. 4. The following streets will remain open at all times around the festival: Lafayette to the west, Eleven Mile to the north, and Main Street to the east.
DO WE HAVE TO WORRY ABOUT OUTSIDE FESTIVAL PATRONS PARKING IN NEIGHBORHOODS?
Within an approximate one half to one-mile radius from the festival, all parking in neighborhoods is on a permit parking only basis, and police will be issuing $50 fines as a deterrent. Residents may report problems to Royal Oak Police, who also have the option to tow vehicles if resident parking problems are an issue.
WHAT TIME DO THE BANDS STOP PLAYING?
All bands on local stages stop at 11 p.m. Friday through Sunday and 9 p.m. on Monday. All bands on the national stage run until 11:30 p.m. Friday through Sunday and until 10 p.m. on Monday.
WILL POLICE PATROL NEIGHBORHOODS AND PROVIDE TRAFFIC SERVICES?
Royal Oak Police will have representatives patrolling neighborhoods for parking violations and unruly behavior. Report any concerns at any time to Royal Police Department non-emergency line at 248-246-3500.
For more information go to  http://artsbeatseats.com/info-for-royal-oak-residents
Parking for All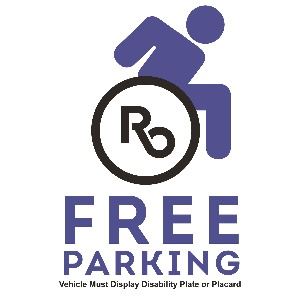 Parking for disabled people is now free in many areas in Downtown Royal Oak through February 2020.
The free parking is being offered at nearly two dozen recently added on-street handicap spots and all surface lots. Normal parking rates apply at all city-owned parking structures.
The locations of the on-street handicap parking spaces — located on Washington Ave, Center St. and Seventh St. — were selected to minimize the distance to the nearest ramp or dropped curb, and to provide a safe aisle adjacent to the parking space.
The new handicap spots are not necessarily ADA compliant as the roadway pavement may exceed 2 percent in some areas. However, for a retrofit of existing parking areas, the selected locations are appropriate.
Seven New Art Installations Coming to Royal Oak

The Royal Oak Commission for the Arts presented the pieces it was recommending for the 2019-2020 Art Explored Program to the city commission at the Aug. 12 meeting and the commissioner unanimously approved. Be sure to take a tour downtown to see these six pieces already installed:
Fractured Excavations Tile Series by Nick Wecker on the Royal Oak Public Library Building at 222 East Eleven Mile Road
Ben Jamin by Steve Miller on the Center Street Parking Deck at 300 South Center Street
Pullin Your Weight by Michael Errigo on the Sullivan Building at 225 South Main Street
Baptized in Dirty Water by Onzie Norman on the SMART Transit Center on the South Lafayette side of the structure
Assembly Line by Francis Vallejo on the Little Bros Restaurant at 201 W 4th Street
House on the Hill by Lisa Goedert ion Mark Ridley's Comedy Castle at 310 South Troy Street