Shop Offers Jewelry Made by Local Artisans
LBN Community Series
Ferndale
Elaine Jager, founder and owner of Elaine B. Jewelry in Ferndale, is an artist first and a jeweler second. The Charlottesville, Virginia, native trained in metal material studies and apprenticed with a master jeweler, but she was also a glassblower who worked part-time in her family's restaurant business.
"I was always an artist," Jager said. "Jewelry just became a way to make a living with my art."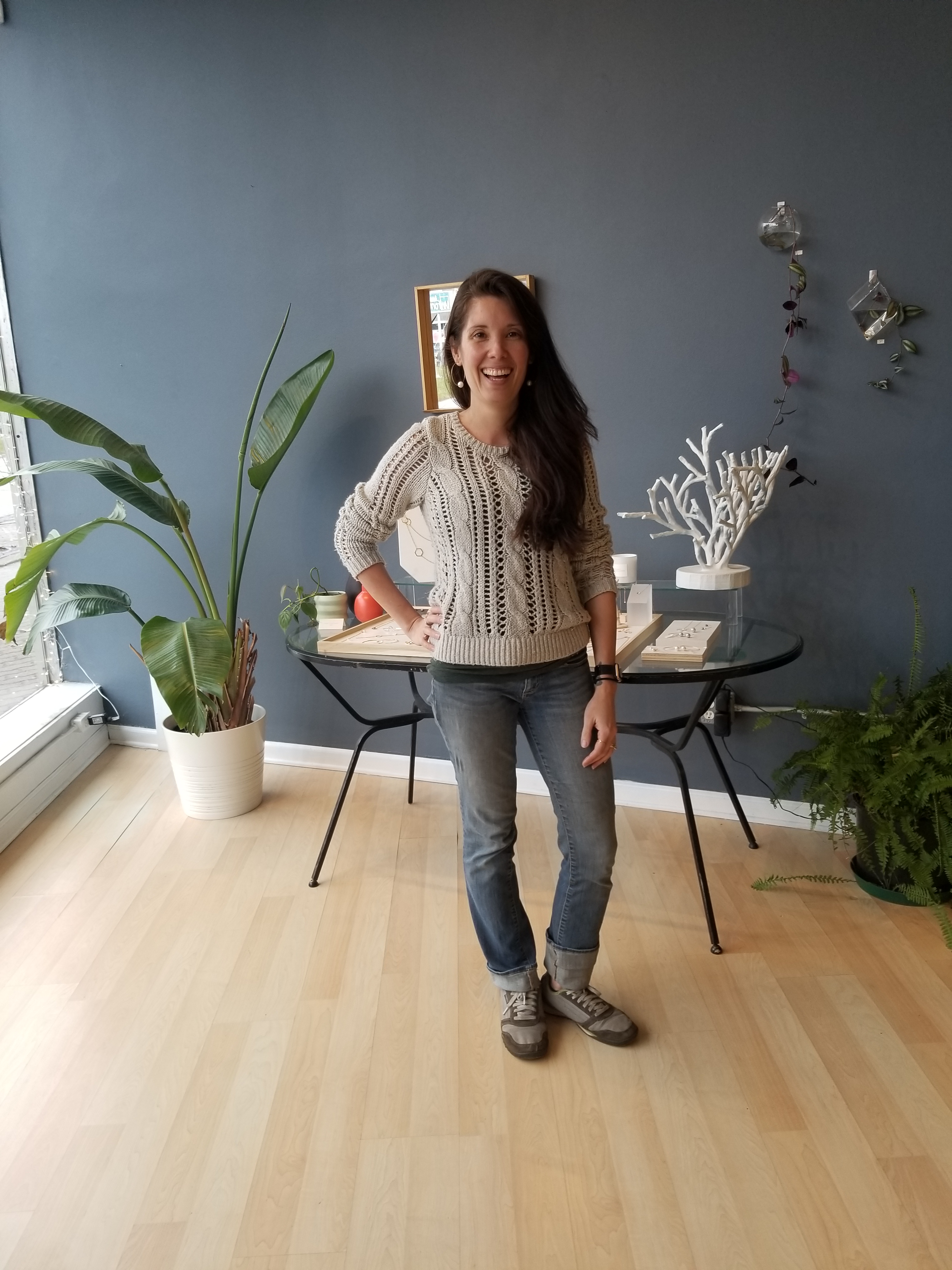 ELAINE JAGER
OWNER, ELAINE B. JEWELRY
While working with the master jeweler, she designed and created her own metal and glass pieces, developing a name for herself by selling at craft and trade shows and creating an online presence for her products. Six years ago, she took the plunge and went full time with her business, operating a small private studio in Virginia.
When her husband took a position with Ford Motor Co. three years ago, she moved to Ferndale and moved Elaine B. Jewelry into a Detroit warehouse, hiring like-minded artists along the way.
"I was very interested in Detroit and being a part of that culture," she said.
But having a daughter reduced her personal time and her willingness to travel to work, and when a storefront opened up six blocks from her home, she nabbed it. Elaine B. Jewelry opened in November 2018 on Woodward Avenue just north of Nine Mile.
Not just a storefront
"There's not a lot of foot traffic, but this is our season, so people come out more," said Jager. There's parking on Woodward and adjacent streets, but it's easy to overlook the shop while driving.
Elaine B. is more than just a storefront, though, Jager said. "At this time in the business world, you can't do just one thing," she said. "You have to do a little bit of everything."
To that end, Jager sells her jewelry online, at a few trade shows, and wholesale through some catalogs and to partner businesses.
"We ship our products across the country," she said.
With the help of Jager's new public relations manager, Elaine B. also maintains a social media presence.
"It's not enough to just have a good product," she said. "You can't just have a storefront."
Not just jewelry
The storefront posed a bit of challenge, she said, in that jewelry just doesn't take up much space. Customers need something else to look at and purchase.
Jager has a lot of different interests and enjoys partnering with like-minded businesses, so she supplements her jewelry displays with products like handmade goods in leather, wood and ceramics. She also carries a line of candles and skin-care products called Detroit Rose.
All of the products are either made in Michigan or in Virginia, her home state, she said.
"The storefront has allowed me to indulge in many of my other interests," she said.
Check Out This Week's Ferndale City News
The jewelry
Elaine B. specializes in unique, handmade jewelry, as the pieces displayed in the store are designed by Jager and her staff and made at the site. Just beyond the gemstone counter, you'll see the work area, where pieces are soldered, hammered, sanded, set and hand-polished.
"We partner with a caster," said Jager, but 90% of the work is done at the shop.
Jager characterizes her company's jewelry as "airy, with clean lines." Much of it is geometric — concentric hoop earrings and necklaces, cubed pieces, hexagon- and triangular-shaped designs and more.
Elaine B. offers a wealth of 18- and 14-karat gold pieces as well as sterling silver and vermeil, which is 18-karat gold plated over sterling silver.
The shop also offers a line of fine jewelry, with a variety of precious gemstones and ethical diamonds.
"We have pieces from $40 up to several thousand," said Jager.
Elaine B. caters to a wide range of customers, especially during the holiday season, but one target customer, she said, is a woman in her mid-30s who's professional and creative. She may have a collection of trendy jewelry from Banana Republic and the like, but she's looking to upgrade her collection.
"We try to be a nice medium price point," said Jager.
Custom-made
If you don't see exactly what you want in the store, you can have something custom-made, said Jager.
Elaine B. does a lot of custom engagement rings as well as other gifts and personalized pieces. "People can mix and match," Jager said. They might like the shape of a ring but want a different stone set into it, or want it created in a different metal type.
"We also do redesigns," said Jager. For example, she's in the process of taking the diamonds out of an heirloom ring and setting them into multiple pieces for the family members, she said.
Many customers also come in with older pieces that simply need updating, Jager said. There's not much she and her staff can't handle as metalworking experts.
Jager noted that the business's staff, six including herself, is made up of women who are art-school trained and share her philosophy of having a work-life balance.
"We kind of treat it like home," she said of the store, which includes not only a work area, which customers are free to see and visit, but a gated area for her dog. Her 10-month-old daughter used to be in the store every day, she said, until she needed more attention and playtime.
Workshops
Elaine B. brings more customers into the store through monthly jewelry-making workshops. She charges a flat fee for a typical three-hour evening and the materials, and participants can choose to purchase upgrades.
In December, she held a hoop earring workshop at a cost of $68 per person. She's planning a future ring-making workshop, she said.
Jager said she's not sure the direction the business will take, but she's optimistic about growth. "Oh, I love a challenge. We'll always keep growing and changing."
Elaine B. Jewelry's holiday hours are noon to 7 p.m. Tuesday through Friday and noon to 4 p.m. Saturday and Sunday.