A Passion for Fashion: Boutique Owner Marks 25 Years in Business
LBN Community Series
Berkley
On an unassuming side street in Berkley, a few feet from 12 Mile Road's relentless stream of daytime traffic, longtime boutique-clothing entrepreneur Patti Brock has created a cozy, richly stocked space for the apparel shoppers she's been serving for 25 years — and for those who've just discovered her here at Annabelle's Couture.
"I've always loved clothing and fashion," Brock said recently at her store. "For 10 years, in the seventies and eighties, I enjoyed working part-time at specialty clothing store Patti Smith's in Royal Oak. I became a buyer there. When I needed full-time work, I went to It Was/It Is, another Royal Oak boutique, where I worked for two years.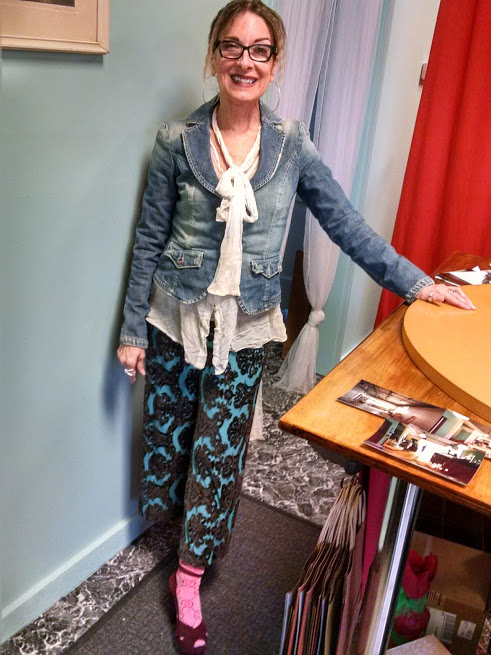 PATTI BROCK
OWNER, ANNABELLE'S COUTURE
"I finally realized, 'I think I could do this myself!' Was it a leap of faith? Stupidity? Passion? A little of all," she said with a laugh.
A Ferndale resident at the time, Brock noticed a Pleasant Ridge location for lease on Woodward.
"The landlord did not want a retail business there, but finally relented. That's when I went to work: knocking down walls, painting, decorating, doing everything I could to open my store on a very tight budget."
After operating Excelsior! Couture there for fifteen years, Brock downsized to a new location in Royal Oak and renamed the business Annabelle's Couture, after her first granddaughter.
"I had been caring for my mother, who was loved by our customers and had always worked with me as a seamstress," Brock said. "After she passed away, I took some time off. Eventually, I found my current space on Robina Avenue in Berkley and have been here for three years. And now I'm celebrating 25 extraordinary years of owning my unique clothing business.
"We don't carry any brand you find in a mall. We work with artistic companies that are able to produce things that are not mainstream, from America and all over the world, including lots of handmade jewelry."
Shawn Lombardo of Pontiac, a university librarian, has been a customer since 1999.
"I'd been looking for casual wear," Lombardo said, "and my boyfriend told me about a place where his co-worker shopped. It was Patti's store, Excelsior! Couture in Pleasant Ridge. It was an amazing personal shopping experience. Just as it is now at Annabelle's, there were brands you'd never seen before.
"I'm from Long Island," Lombardo continued, "and when my sister and mom visit, they say, 'Where did you get that dress? Do they have any more sweaters like that?' So, I long-distance shop for them.
"People might think of librarians as conservative dressers, but shopping here has made me take chances in what I wear. Patti is so enthusiastic and encouraging. She's also the first person to say, 'Take it off' if it doesn't look good.
"Annabelle's is almost like home," said Lombardo. "I'll be running errands, and I'll stop by just to say hi."
"It's a dangerous place! Very dangerous," teased regular customer Laura Lies of Berkley. "I live a block and a half away.
Check Out This Week's Berkley City News
"I came to this location when it was previously a Pilates exercise studio," Lies said. "I wish I had known about her previous locations.
"I get my fun clothes here, my dressy, jazzy, nobody-else-has-it things" she said.
"I love everything from here," Lies added later. "The velvet skirt I got, which goes with everything; the burned-velvet kimono I wore on New Year's Eve; all kinds of jewelry, shoes and accessories: in fact, everything I'm wearing right now. And every time you come in, it's like a little party. Even if you don't know the other customers, everyone is always having fun."
Nicole Artanowicz, another Berkley resident, has been a customer since 2014.
"I tagged along with my friend, Shawn," she said, "and I fell in love with Patti and Annabelle's. I bought a perfect dress for a Berkley school fundraiser. It was an Alembika burn-out velvet cocoon dress. I love the slimming illusion, and I can wear it all year.
"I'm also impressed that Patti is very community-oriented and always gives back. She has become such a bright spot in our community."
Annabelle's was a dropoff center for the Berkley Moms Club's diaper drive for the Judson Center, a social services agency, and also has a yearly fundraising fashion show.
"We had an extra-special event recently," Brock said. "Chemistry Salon, Ullman's Health and Beauty and Annabelle's — three business here in Berkley — treated a winning caregiver of a veteran to a fantastic prize of clothing, jewelry, shoes, beauty items and salon services.
"It's a great community here," added Brock. "I hope it grows but doesn't lose sight of the positive impact of retail."
There is no website for Annabelle's. "Shopping is an experience you cannot get by ordering online," Brock said.
However, a visit to the store's Facebook page is almost like being at a merchant event. Pictures of new arrivals are posted throughout the day, prompting enthusiastic requests that a dress or shirt be put on hold, questions about size availability, exclamations of product admiration, and encouragement for fellow readers' purchases.
"I also have my 'first-dibs' email list," Brock said. "When items come in, I can let customers know, especially when it's items I know they like.
"I love helping women feel beautiful in their clothing, jewelry, and shoes. And I love being part of this community. And, best of all," Brock added, "with Annabelle's, you definitely won't see yourself coming and going."
Annabelle's Couture is open from noon to 6 p.m. Tuesday through Friday and from noon to 5 p.m. on Saturday. Closed Sunday and Monday.