At Scrubbers, Dogs and Cats Are Groovin' to the Grooming
LBN Community Series
Royal Oak
Just off the corner of Webster and Woodward in Royal Oak, a steady parade of customers is streaming into Scrubbers, fur babies in tow, all of the latter in need of a good bath.
Dennielle McIver, a Royal Oak MS LPC (Master of Science, Licensed Professional Counselor) just popped in with Happy, an adorable Pomsky puppy that she is training to be an emotional support dog. The Pomeranian/Husky mix, hugging McIver like a baby, is a ball of thick black fur. Today is his first grooming.
Ilza Berzins comes in just after McIver, toting her Cockapoo, Fifi, and her Havanese, Lula. The Beverly Hills dog owner says she's been a Scrubbers customer for a year, for trims and other grooming. "They're great here—always on time, and they do a good job," she says, holding both dogs.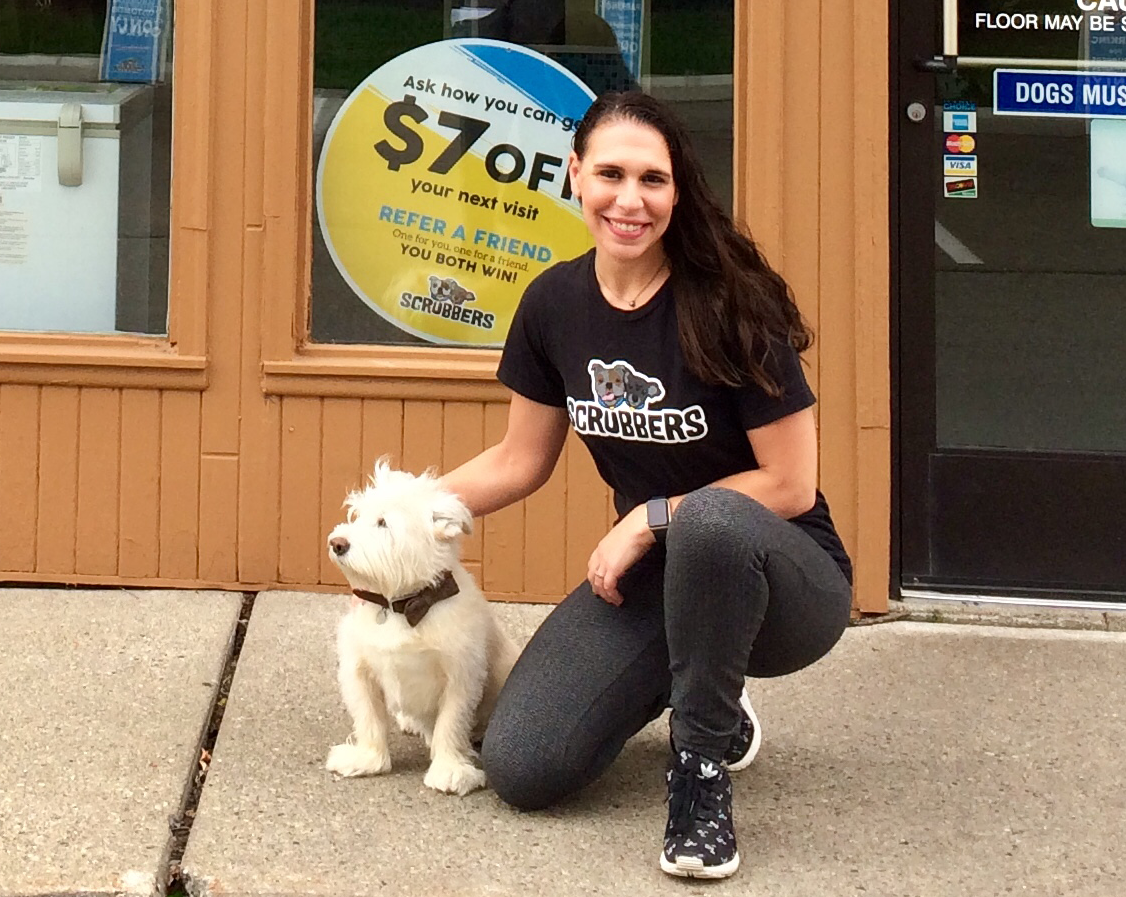 NIKKI BUDAJ-CHATFIELD
CO-OWNER OF SCRUBBERS DOG WASH
Buster—aka The Shop Dog—an 11-year-old terrier-mix rescued from the Michigan Humane Society, pads out near the front desk, sniffing the thrice-his-size Godendoodle that's just come in. As each new dog enters, the barking amps up. Buster, who belongs to Scrubbers groomer Candace Jude, seems cool with that.
Amid all of this canine cacophony is Nikki Budaj-Chatfield, 32, herself an oasis of calm. The mother of two young children and co-owner of this and two other Scrubbers locations in Oakland County stands at the counter, fielding new customers, phone calls and questions. The barking doesn't faze her. She knows once the dogs relax, they get into the groove and come out clean and manicured in the end.
Cats are welcome here, too, for professional nail and other trimming, shaving, bathing and brushing. "As long as owners are comfortable bathing their cats, they're welcome for self-serve as well," says Budaj-Chatfield.
While most clients are leaving their pets with the grooming staff for nail trims and other primping this morning, they're welcome to do their own, seven days a week. Scrubbers offers five tubs with shampoo, face wash, combs, rakes, scrubbers and even mouthwash, plus fluffy towels and blow-dry stations to make Fluffy even fluffier.
"It's great to build relationships with our customers and recognize them when they come in. The customers really appreciate that."
The tubs are large enough to accommodate Scrubbers' biggest canine customer, a 240- pound English Mastiff.
Budaj-Chatfield bought Scrubbers in May of 2012 as a turnkey business from its previous owner. "He was afraid the business was going to plateau, but we doubled the business within six months," says Nikki. 
Scrubbers has been growing ever since, adding locations in West Bloomfield, where she grew up, and Rochester Hills, the newest, almost a year old. Now the Royal Oak location is expanding 1,200 more square feet to the suite next door, with four new grooming tables, two tubs and a blow-dry and crate area, all of which should be completed by November.
"We've just rebranded ourselves so we can to get into franchising," says Budaj-Chatfield. She and her husband, co-owner Jim Chatfield, 50, plan to franchise locations starting in early 2019.
The couple met when she bought Scrubbers. "He was the previous owner's best friend. He was helping out to teach me the business, we became good friends, and then things just happened. I always joke that I bought the husband and got a free business."
Budaj-Chatfield has always loved animals. She rescued her first dog from a shelter when she was 18, and while attending Western Michigan University as a nursing student, she eventually fostered and adopted out 35 cats and dogs through the Kalamazoo County Animal Rescue.
That experience changed her career path. "I decided I didn't like (taking care of) people," she laughs. "I like animals way better."
After college, she moved back home and immediately started training as a groomer for the now-defunct Aussie Pet Mobile. "The girl who trained me back in 2009 is now my grooming manager, Crystal Goldsmith," says Budaj-Chatfield, whose employees number 15 to 20 during most months. "I love my employees—everybody is family here."
While there are many challenges as a small business owner, Budaj-Chatfield says the joys outweigh the perils: "It's always a fast-paced job, we're not sitting behind a desk, rotting away. It's a physical job, so we're always up and moving."
She says her favorite part of the job is that she gets to play with dogs all day, despite the janitorial duties that go along with it. "We're constantly cleaning floors, doing laundry."
Plus, she adds, "It's great to build relationships with our customers and recognize them when they come in. The customers really appreciate that."
Prices for professional grooming vary due to the dog type, coat and condition, from about $35 to $150 for double-coated breeds.
jfklsadjfklsjdklfjs
sdjfksdjfklsad
fasdjklfjsad
fj
asjdf
ksjdaf
kjsdk
fjsa
dkjf
sadjfjf
ksadj