Birmingham's
Primi Piatti Market: Sharing the Gifts of Italy
LBN Community Series
Birmingham
Monica Bisignano Zamler, owner of Birmingham's Primi Piatti Market, looks conspiringly at her manager, Brittne Drake, while recalling an experience with a long-time customer who recently had her first baby.
"Remember, Brittne?" she smiles. "Our customer who was no longer allowed to eat our 'Parma' sandwich with prosciutto (thinly sliced, dry-cured Italian ham), mozzarella, and tomato — that she ordered almost daily – once she became pregnant?"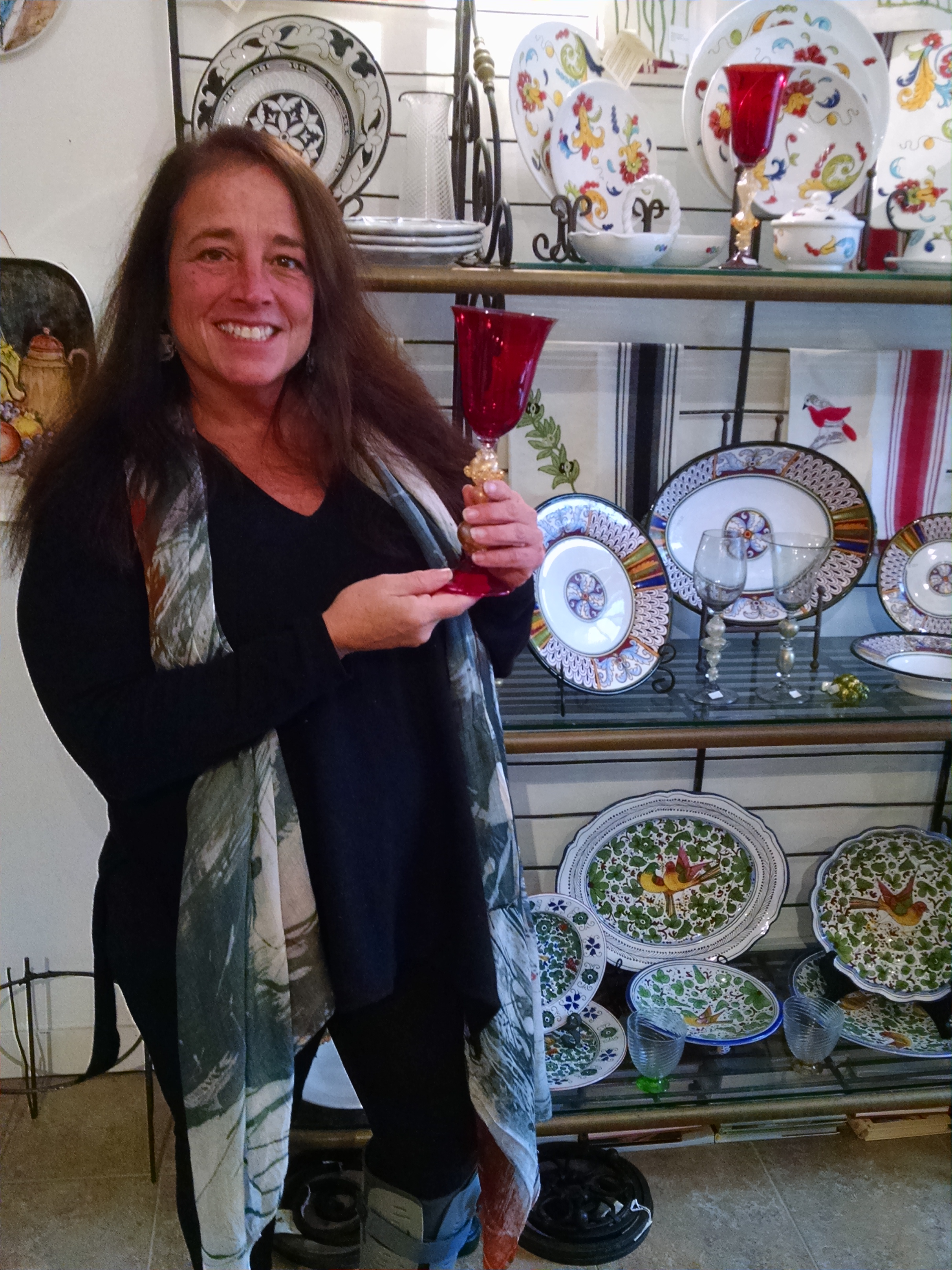 MONICA BISIGNANO ZAMLER
OWNER, PRIMI PIATTI MARKET
"As soon as she was discharged from the hospital," Monica laughs, "the first thing she did was come in to get that sandwich!"
"I remember that!" agrees Brittne.
At Birmingham's north end, "down the hill" and cozily tucked into a row of small, unique, and well-appointed shops, Primi Piatti makes a visitor feel like they've been transported to the most charming and abundantly stocked Italian deli, market, and gift store in all of southern Italy.
Tall metal racks are brimming with tins, bottles, cello bags, jars, and colorful boxes filled with breadsticks and biscuits, gift-wrapped cakes and cookies, oils and vinegars, spices, candies, olives and peppers – and more — all Italian-made.
Glass deli-display cases are lined with salamis and Italian hams and meats; wedges and bricks and slices of Parmigiano Reggiano, Pecorino, provolone, ricotta and other imported Italian cheeses; fettucine,  ricotta-filled gnocchi, rigatoni, or whatever handmade pasta has just been lovingly made in small batches using the trustworthy pasta-making machine (also from Italy) which stands like a benevolent sentry behind the counter, ready to loyally attend to its tasks; and homemade meatballs and sauces, their rich, swirling aromas tantalizing every customer.
Rustic cupboards and painted wooden shelves hold fine, hand-worked Deruta ceramics, pottery from Vietri Sul Mare, hand-blown Murano glassware and glass goblets from Tuscany.
"The Italian meal is not just about delicious food," says Monica. "It's also about the presentation: the serving bowls, place settings, glassware, tablecloths. The entire experience is beautiful!"
Monica, who was raised in Birmingham, warmly recalls her upbringing in an Italian household.
"The Italian meal is not just about delicious food. It's also about the presentation: the serving bowls, place settings, glassware, tablecloths. The entire experience is beautiful!"
"We were always about cooking and family," she says, "and we still are."
Monica recently purchased a home in Italy with her sister and brother-in-law and has been to Italy so many times that she no longer keeps count of the number of her visits. But she does bring home ideas for dishes and recipes – which her mom and son (a chef at a Metro Detroit restaurant) compete to replicate.
And she is always inspired by the Italian pottery she finds in her travels.
"I source from all over Italy," she says. "Everything is one-of-a-kind. And we have such wonderful pottery gifts, even dog bowls, cat bowls, and handmade jars for pet treats."
"We also offer an online wedding registry so couples can receive place settings, serving bowls and dishes, glassware, cutting boards, and other unique items that have a range of prices."
Twenty-five-year-old Brittne has accompanied Monica on a couple of her trips.
"I went to an olive grove to see how they make the oil that we sell here," she says.
As Brittne cuts the rows of roasted red-pepper shell pasta that exude from the machine she says, "I love anything Italian. My mom and dad are good cooks, and I've always liked to work with food. I heard about Monica, and am so glad to be working here, where everything is from Italy – except me," she laughs, "though Italy is in my heart. I've learned so much here!"
"I couldn't do this without Brittne," exclaims Monica, "or all of our loyal customer following!"
On Sundays, the store fills with many of that loyal following who come to buy the homemade ravioli that is Sunday's special item.
"It only takes three minutes to cook when you're ready to make your dinner at home," Brittne explains.
"I'm thinking about making beet and mascarpone or mushroom ravioli this week," Monica notes. "And we always have meat ravioli, too, on Sundays."
"On Saturdays in December, my mom, Nonna Bisignano, will be here making her pizzelles (thin, waffle-like cookies made using a special iron, sometimes with a light flavor of anise)."
"And I'll be traveling soon again to Italy, to bring back more beautiful pottery pieces and other items," says Monica. "I love to go to Italy, and it's good to have a reason to go."
"I've figured out what would make me happy," she shares, "and it's this!"