Lifetime 'Love Affair' with Comedy: Mark Ridley's Comedy Castle Celebrates 40-Year Milestone
LBN Community Series
Royal Oak
Comedy Castle owner Mark Ridley settles into his office chair, chuckling at the sight of a sparkly 40th-anniversary banner someone snuck in and hung on a cabinet.
He and his staff are pulling out the stops to celebrate the milestone by bringing in big-name acts such as Louie Anderson and Preacher Lawson.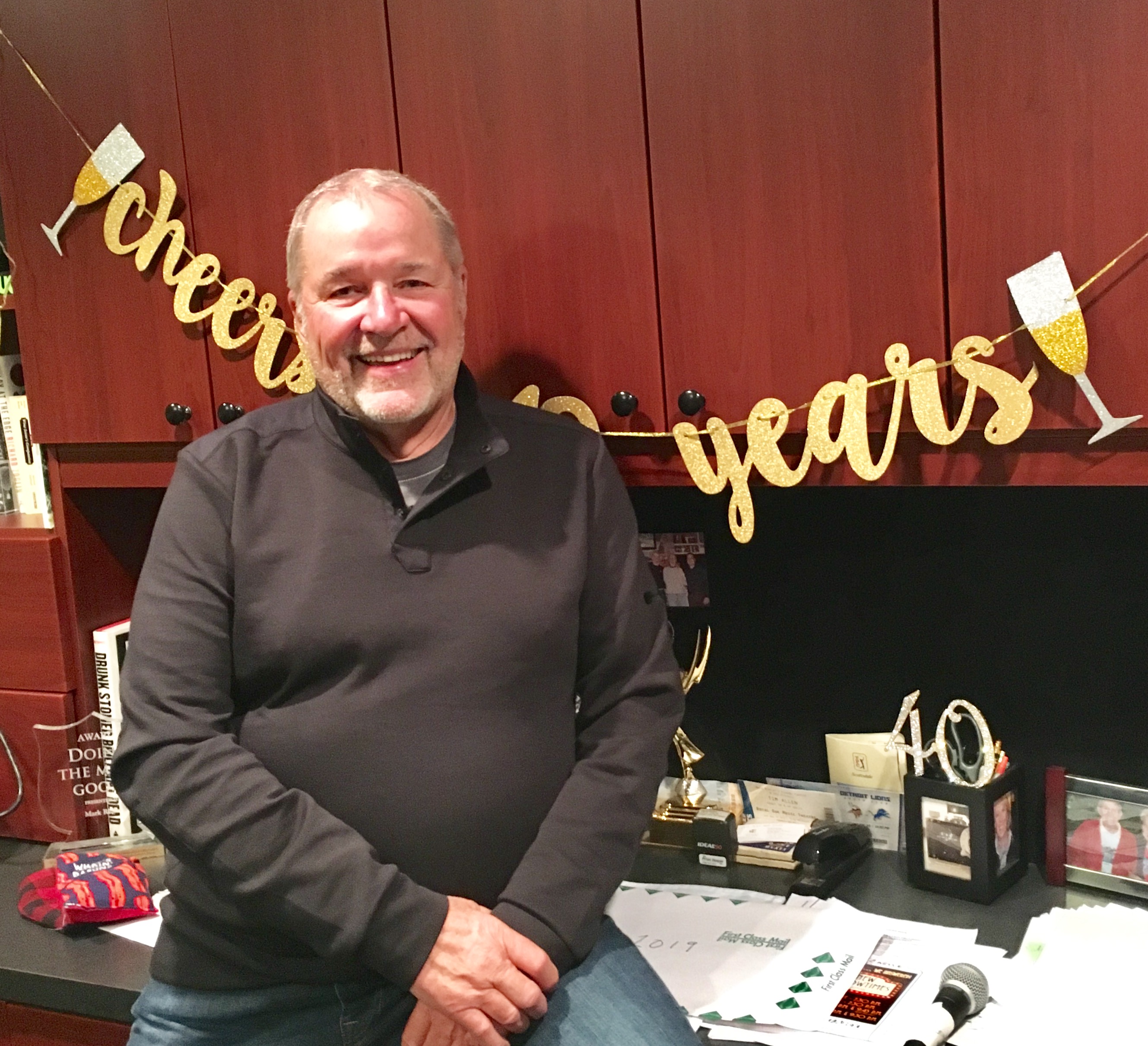 MARK RIDLEY
OWNER, MARK RIDLEY'S COMEDY CASTLE
A club regular for 20 years, Derek Boczkowski, 47, of Rochester Hills will be seeing as many shows as he can this year.
"Mark books the best acts and he has a keen eye for talent," says Boczkowski, who works in the sports and entertainment industry. "It's a very enjoyable night out for me. And he has a well-run club so it's a win-win situation."
Boczkowski handles the "social coordinating" for his friends, he says. "We meet up at a (nearby) barbecue place and then walk over to the club. It's easy to get to."
The comedy club Ridley has nurtured over four decades began because of his own "love affair with the art of comedy," he explains.
Ridley grew up in Walled Lake in a "showbizzy" family. "There was a cover charge to come to our family reunions," he says, laughing.
He loved comedy even as a kid. "My parents used to give me a comedy album for birthdays, Christmas," he says. "I had Don Rickles, Bill Cosby, Bob Newhart, quite a collection."
Ridley graduated from Wayne State University with the idea of going into the film business.  He ventured out to Los Angeles hoping to "get in on the ground floor."
At night he'd stop in at The Comedy Store and The Improv to catch rising comedians. "I got to see Richard Pryor, David Letterman, Robin Williams, all this fabulous live comedy," he says.
"Mark books the best acts and he has a keen eye for talent. It's a very enjoyable night out for me. And he has a well-run club so it's a win-win situation."
But the search for work didn't pan out so he came back to the metro area and worked as a waiter. "But I kept that thought (about live comedy) in the back of my mind," he says.
In 1979, he approached one of his restaurant connections with the idea of starting a club inside an existing restaurant, The Meating Place in Bloomfield Hills.
Ridley would get the door receipts, the owner would sell the food. "It was an immediate success," he says.
The club moved six times over the years until landing a permanent 400-seat home in Royal Oak in 1991.
Tim Allen, one of Ridley's early finds in comedy, was the headliner for that big night.
The club is open four nights for comedy, with Wednesdays devoted to newcomers trying out "Open Mic."
Club regulars Steve and Patty Smith of Warren went to an Open Mic Night three years ago. "We fell in love with (the club)," Patty says. "It's so much fun."
Steve, a teacher, loves how affordable tickets are. "Mark does a remarkable job of getting talent there on a regular basis," he says.
Patty, who handles purchasing for a small auto supplier, loves that tickets are easy to buy online and that she receives emails alerting her about upcoming comedians.
Comedy great Kathleen Madigan is one of Patty's favorites. "I've seen her there six times," she says. "Normally she plays larger venues but she is willing to come (to Ridley's club). That tells you something about Mark as a person."
The club offers comedy training, and also is the site of many charitable events. "We've got 25 events on the books already this year," says Ridley.
Two walls in the club are covered with photos of the comedians who have stood onstage over the years. Everyone from Jerry Seinfeld to Ellen Degeneres is up there.
Ridley, now 68, says he opened the club at "the right moment." There wasn't much competition and new young standup comics were just coming on the scene.
The club was remodeled a few years ago, and additional touches (carpeting, etc.)  are coming this year, says the boss.
Ridley is grooming his stepson Casey Cullen to take over one day, but not quite yet.
My wife Sara and I talked about who we'll have here for the 50th anniversary," he says. "I'm not quitting."
Open Mic Nights cost $5 and start 7:30 p.m. Wednesdays
90-minute comedy shows run Thursday-Saturday
Thursdays show 7:30 p.m., tickets $10-30
Fridays shows 7:15 p.m. and 9:45 p.m., $18-35
Saturdays shows 7 p.m. and 9:30 p.m., $18-35
Ample parking, menu includes burgers, fries, nachos, pretzel sticks, full bar. No smoking.