Mother Earth Products Target Pain Relief
LBN Community Series
Royal Oak
Arianna and Tory Welsh started their business out of passion and a healthy dose of empathy. The sibling team opened Mother Earth in Royal Oak in March. It's their third CBD store, the first on the West Side.
"We got interested in CBD when we were trying to help our dad with pain management," said Arianna. "He was getting overmedicated by health care professionals and was hospitalized because of the medications. We got him started on medical cannabis, but he didn't always want a head high."
That's where CBD came in.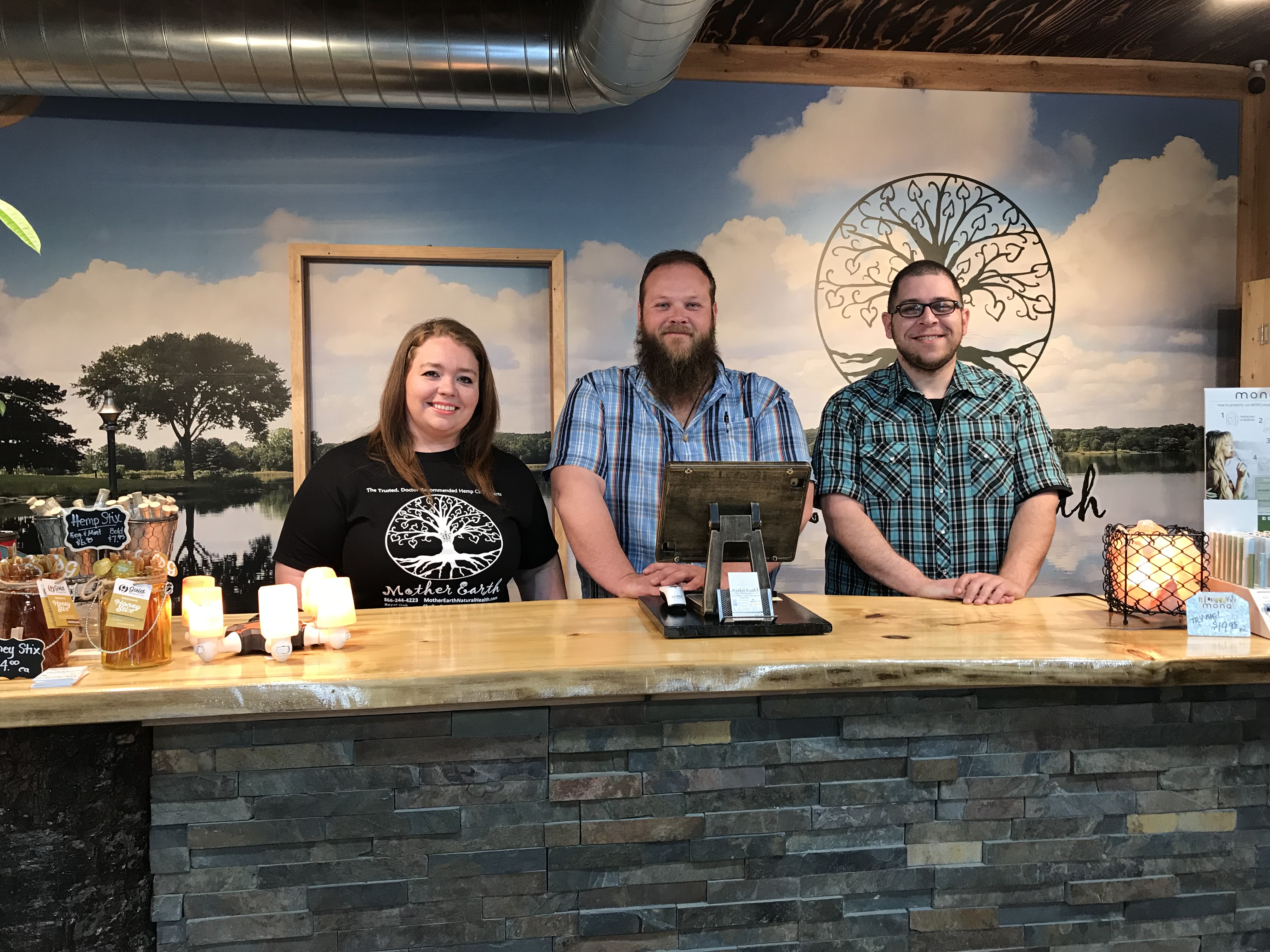 ARIANNA & TORY WELSH
CO-OWNERS, MOTHER EARTH NATURAL HEALTH
Cannabidiol, or CBD as it's commonly known, is made from the hemp plant. It is different from cannabis because it has a very low THC level—just .3 percent, the level mandated by the state and federal government. THC is the element in cannabis that gives the user a head high.
Medical marijuana, however, has a high THC level and a lower CBD level.
"They all have therapeutic benefits, but I say CBD is the straight-laced cousin," said Tory.
Arianna, 37, and Tory, 32, were concerned with the way their father's pain was being managed when he battled septic shock from an unknown infection — twice. He succumbed in February.
During their father's illness, Arianna worked in real estate and in an office. Tory had followed in his father's footsteps and became a heavy equipment operator and truck driver. But all that changed for them after their father's illness.
Tory refers to the Mother Earth stores as a calling to help people.
"We were here before the hype helping people," he said. "The market is saturated, CBD is available at gas stations and video stores. The difference is we do the leg work, so when people come in here, they have a warm alternative to a drug store. (Drug stores) don't have the passion to help people, they have the passion to make money."
The Mother Earth store in Royal Oak is on Woodward just north of 14 Mile Road in an established strip of businesses. When the Welshes first found the place, it needed a complete tear-out.
With his construction background and handy talents, Tory and a friend completely gutted the space and gave it a fresh, holistic look. He made all the shelving and did all the carpentry work himself using mostly locally sourced materials and even some reclaimed pieces. In fact, the large, rustic, wooden table in the center of the store is still seeping sap onto the floor when the weather gets warm.
"The design and color scheme were designed so our grandma would be comfortable coming in," said Arianna.
Tory also did the demo and remodel for the other two Mother Earth stores in New Haven and Shelby Township.
"There's definitely a lot of heart and soul in the stores," he said.
Customers, who often become more like family to the siblings, are greeted by a low-pressure, soothing atmosphere. Free to look at the ample supply of Himalayan salt lamps, essential oils and diffusers, natural vitamins and CBD products, those looking for pain relief or respite from other ailments have only premium, proven products at their fingertips.
"Our goal is to provide quality products and knowledgeable advice on what to do with them to target the relief they're trying to achieve," said Arianna.
In addition to oils and supplements, Mother Earth stocks gummies, topical creams, drink blends, CBD tea, bath bombs and even a line of CBD products to help pets with pain and anxiety.
Amanda Ware, 33, of Rochester Hills, discovered Mother Earth when looking for relief from a soccer injury.
"I was looking for something to help with pain in my neck and shoulder from an old soccer injury from high school," Ware said. "It gets worse when I work out. It gets worse when I sit too long."
She tried physical therapy and pain medication, but nothing helped for long and she didn't like some of the side effects. After researching options, she decided to head to Mother Earth.
"When I walked in, it was really nice. There was music playing. The décor is like a spa where you'd buy your face scrubs. It feels very comfortable. It felt like a real easy place to be able to ask questions," she said. "I talked to Arianna first. She asked me really good questions about my pain. Really personal questions, but she made me feel comfortable. I felt confident in her knowledge. It seemed like there was an expert there walking me through."
That was April. Today, Ware is sleeping better than she has in years thanks to the pain relief she's experienced. In fact, she also recommended CBD to her grandmother, who was struggling with osteoporosis and has had great results.
"I would encourage anybody if they are experiencing pain or anxiety to come down and just talk with one of the experts they will give you really great recommendations for your price range," Ware said.

Mother Earth Natural Health
32206 Woodward Ave.
Royal Oak, MI 48073
(248) 206-7476