New Treat Shop Adds Eastern European Flavors to a Dessert, Ice Cream Menu
LBN Community Series
Birmingham
It's been a circuitous path, but John "Ivan" Zaryckyj has reached his longtime goal of owning a neighborhood sweet shop.
The Beverly Hills resident and his family recently opened Splitz 'N' Blitz, which sells ice cream, custard, sodas, candy and a variety of desserts, on East Merrill in Birmingham. The shop is located in the space formerly occupied by Sweet Thing, a candy store, and is next door to the restaurant 220 Merrill.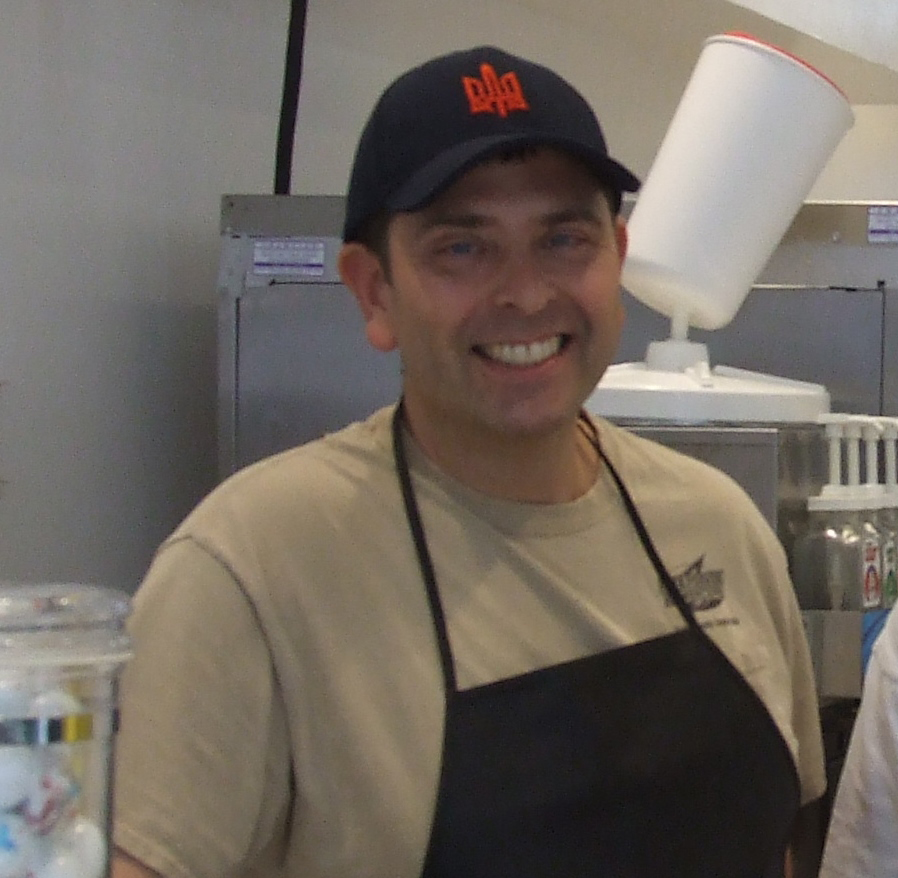 JOHN "IVAN" ZARYCKYJ
OWNER, SPLITZ 'N BLITZ
"It's a treat shop for kids and families," said Zaryckyj, adding that the shop offers "a little bit more than your standard ice cream fare," including desserts popular in Eastern Europe such as Marlenka, a layered honey cake produced by a Czech company of the same name.
Splitz 'N Blitz also carries back-in-the-day candies like Chuckles and Boston Baked Beans (peanuts in a candy shell) and desserts like strawberry shortcake and a "fudge brownie delight." There are also hot dogs and chili dogs; Zaryckyj plans to add to the hot food menu when the weather cools.
The shop's name, Zaryckyj's daughter and go-to server Tassia explained, combines two dessert ideas: banana splits ("splitz") and "an explosion of ice cream" ("blitz").
Zaryckyj, who grew up in southwest Detroit and graduated from Chadsey High School and Wayne State University — he is "straight from the hood" in his telling — traces his love of the treats business to a Dairy Queen on Michigan Avenue near his boyhood home, where he began working at age 11.
"This was always in the back of my mind my whole life," Zaryckyj said during a recent interview. As a preteen and a teenager, he said, he learned how to make everything that can be made with ice cream, and the importance of cleanliness in a place that sells dairy products.
However, Zaryckyj had a number of different careers before Splitz 'N Blitz, including asphalt and concrete paving (he started as a teenage "grunt" and later owned a small company), cellular tower construction and servicing, and a short stint with Dairy Queen's corporate office.
For the record, Zaryckyj is also president of the Michigan chapter of the Ukrainian American Youth Association, directs and dances in the Kolomeyka Dance Ensemble, which performs traditional Ukrainian folk dance, has run summer camps for kids and once owned a valet service. "I don't sleep," he said, only partially kidding.
Check Out This Week's Birmingham City News
The drive to work, to stay busy, is part of who he is, Zaryckyj said. "I was the kind that, on Saturday, I always showed up" for a paving job as a youth, while his peers might've been partying the night before or spending Saturday at the beach.
Zaryckyj's wife, Natalia, an executive at an auto parts manufacturer, is his partner in Splitz 'N Blitz and their children, daughters Tassia and Lesia and son John, help out there.
Zaryckyj planned for his shop off and on for years, scouting locations and making deals that later fell through. "We were just looking for the right spot," he said.
He found the place on Merrill Street, he said, when he stopped by the closed Sweet Thing to check out the fixtures that were being sold off. "One thing led to another," he said, and he struck a deal with the building owner. He likes the shop's location amid downtown Birmingham's heavy foot traffic.
The shop officially opened on July 21 and marked its first full day in business on a recent Tuesday. "Hopefully, before it ends up I'll have multiple locations," Zaryckyj said.
"I just thought I'd like to see what it's all about," said Ella Carroll, who stopped in with her mother, Stephanie Carroll. (They each ordered an ice cream flurry.) She used to frequent Sweet Thing in the same spot, Ella said.
"We drive by all the time and we're like, 'Oh, we should go in,' " Stephanie Carroll said.
Splitz 'N Blitz carries a small selection of toys, and Zaryckyj plans to add another product line that, along with ice cream, desserts and candy, will also appeal to kids: comic books.
"To me, it all falls together," he said. "Everything kids like."
Splitz 'N Blitz, at 230 East Merrill, Birmingham, is open from 11 a.m. to 10 p.m. Sunday through Wednesday and 11 a.m. to 11 p.m. Thursday, Friday and Saturday.
Splitz 'N Blitz
230 East Merrill
Birmingham