Royal Oak's Frentz & Sons Hardware: 87 Years of Having "Everything!"
LBN Community Series
Royal Oak
When repairmen from Clinton Township's Hoover Plumbing need a special part for a Dishmaster faucet, they drive miles past the many large-chain home improvement outlets and head straight to Frentz & Sons Hardware in Royal Oak.
"We'd rather come here than the 'big box' stores for those parts," they say. "Frentz & Sons has whatever we need."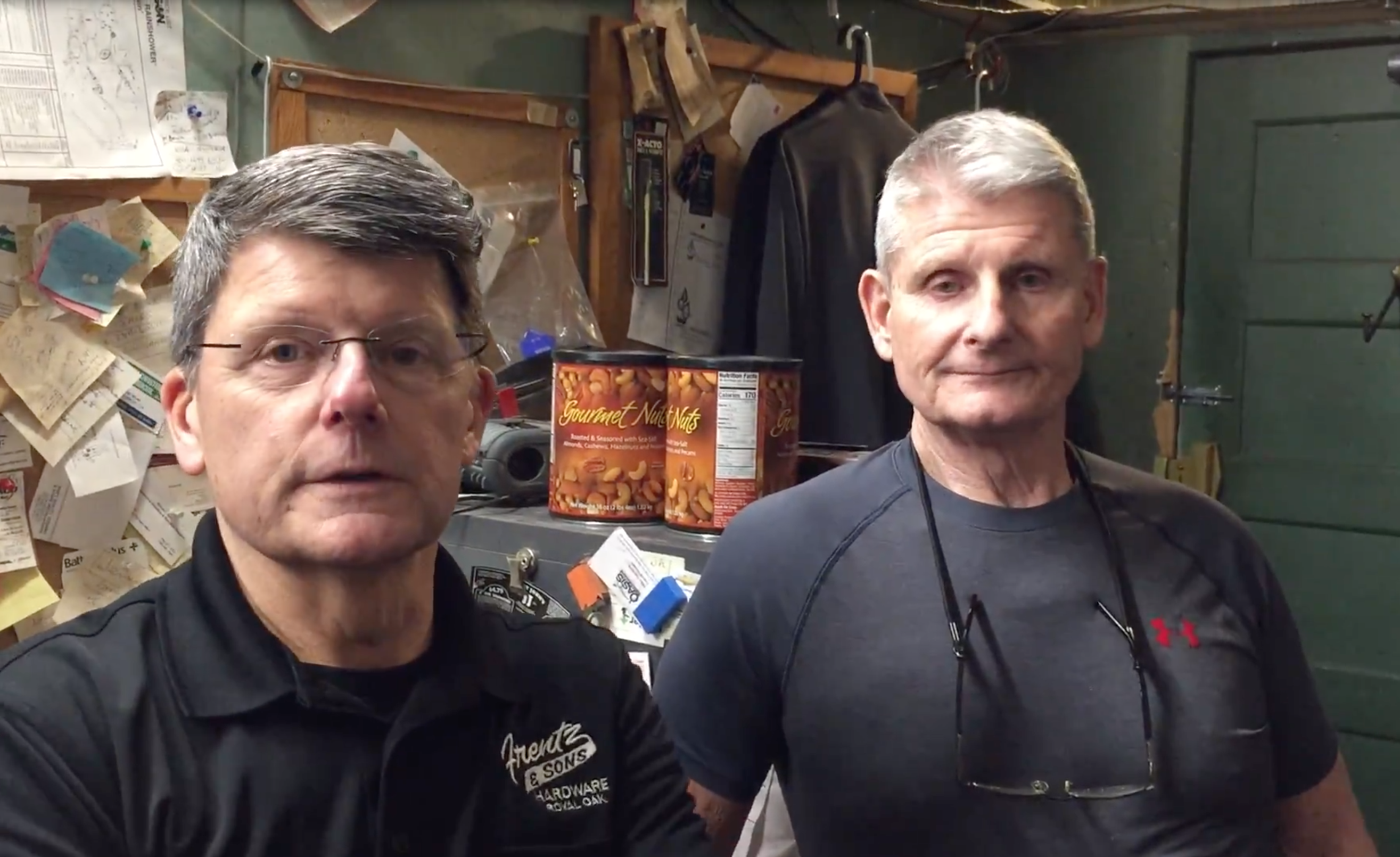 MIKE AND JOHN FRENTZ
CO-OWNERS, FRENTZ & SONS HARDWARE
"We hear that all the time," says Mike Frentz, who owns and runs, along with his brother, John Frentz, the iconic hardware store that was started by their father and grandfather and has been in Royal Oak for 87 years — and has been named Hour Magazine's Best Hardware Store thirteen years in a row as well as one of the twelve best hardware stores in the country by Popular Mechanics magazine.
"We have 1.2 million items of inventory," says Mike. "If someone comes in and asks for something and we don't have it, we try to stock it. And we end up having what people in this area need."
"And," he continues, "though people expect our prices to be high because we are a single, small business, customers are always telling us that what they're buying here actually often costs less than at the big-chain stores."
"We don't have a lot of just one thing," John adds. "We have a few of just about everything."
"I came in with my husband when he needed a special lightbulb," says Ferndale resident Gretchen Salsby. "I hadn't been here in a while, and I ended up staying for almost two hours! Walking up and down the aisles of linoleum tiles and wood and concrete floor, I found so many treasures: large pottery crocks, storage and kitchen tools and gadgets, books, and even craft supplies."
"I bought an 'old-school' enamel Dutch oven," she says, "in a perfect, small size that I didn't even know existed! And everything is so neatly displayed."
"I hadn't been here in a while, and I ended up staying for almost two hours! Walking up and down the aisles of linoleum tiles and wood and concrete floor, I found so many treasures…"
Mike chuckles when he is complimented on the store's orderliness.
"Well," he smiles, "in 2010, we installed our first computer system."
"From that time on," he explains, "we no longer had to price items individually, but have prices on the actual shelves. I said, 'If I have to go through and re-arrange everything anyway, I might as well really organize it!'"
One of those organized areas is the store's displays of nuts, bolts, nails, and screws.
"We have one of the largest assortments, anywhere," Mike says.
"Since a lot of it is metric, we have people come in from car dealerships and automotive stores needing a special nut or bolt for a vehicle."
"We also get lots of woodworkers and flea market shoppers who can find the replacement nails and screws they need for knobs, cupboards, pictures, etc.," John says. "And we can advise people about what exactly is best to use for their particular picture-hanging project."
"People come in and sometimes look at the nuts, bolts, nails, and screws for hours. When we offer them help, quite often they say they are enjoying just looking on their own."
For customers who do need help with products or projects, there is always an associate available.
"Our staff is great," Mike says.
"When we hire them, we throw them right into the deep end of the pool," John jokes.
"Since one of us is always here," he adds, "when someone needs help, we say, 'Stay with us while we explain, so you learn this.' They learn as they're doing."
Recalling an outstanding past employees, John and Mike simultaneously begin sharing stories about "Mr. B."
"We give all our employees nicknames," John says. "We had a worker, 'Mr. B.,' whose mom would bring him here on Saturdays when he was just a young child. She'd take him up and down the aisles and pick up things to show him, explaining what they were."
"Years later," John continues, "some high school kids were in the store and this now-teenaged kid was asking for a job. When he left the store, his friend approached us and said, 'You'd better hire him! He's the smartest kid I know and has helped me get through all my math classes!"
"We did hire him," Mike says. "Within two weeks, he knew where every single item was. He worked here through college and was hired directly from here, with an engineering degree, to be a steel plant manager. He's a great guy and still keeps in touch."
Generations of customers also keep in touch, bringing their children and grandchildren to run up and down the aisles' small hills that are part of the building's original floor.
"People have come in and told us, when they buy a new home and will be moving away, that the one thing they are going to miss is our store," Mike says. "They will travel from Mt. Clemens or Plymouth – or anywhere – to come back to shop here."
When customers purchase an older home, Frentz & Sons Hardware supplies the items and services they need for repairs and décor.
"We have lots of people who buy our glass doorknobs and skeleton keys for 'vintage-style' interior doors," Mike says.
"And, in our warehouse, we are able to cut replacement glass for older windows — as well as for picture frames. We also have a pipe cutter to replace and thread steel pipes, including for gas lines."
For older homes or businesses, they offer historic plaques with the building's date, specially made in Rapid City.
"The plaques are beautiful," Mike says, "and their sale benefits the Royal Oak Historical Commission."
"We've been here for 87 years. And we're happy to continue being part of this city's history and part of the lives of so many customers."