Sooth Your Sweet Tooth at Pops' Sweet an Treats
LBN Community Series
Mount Clemens
Michael Carpinski, 45, isn't ready to grow up, and he's not going to, either. He's also eschewing low-sugar, fat free, dairy free and gluten free. When you come to his candy and sweet shop, you better be ready for the real deal.
Carpinski is the owner of Pops' Sweets an Treats in downtown Mt. Clemens. The store, much like its owner, is full of surprises.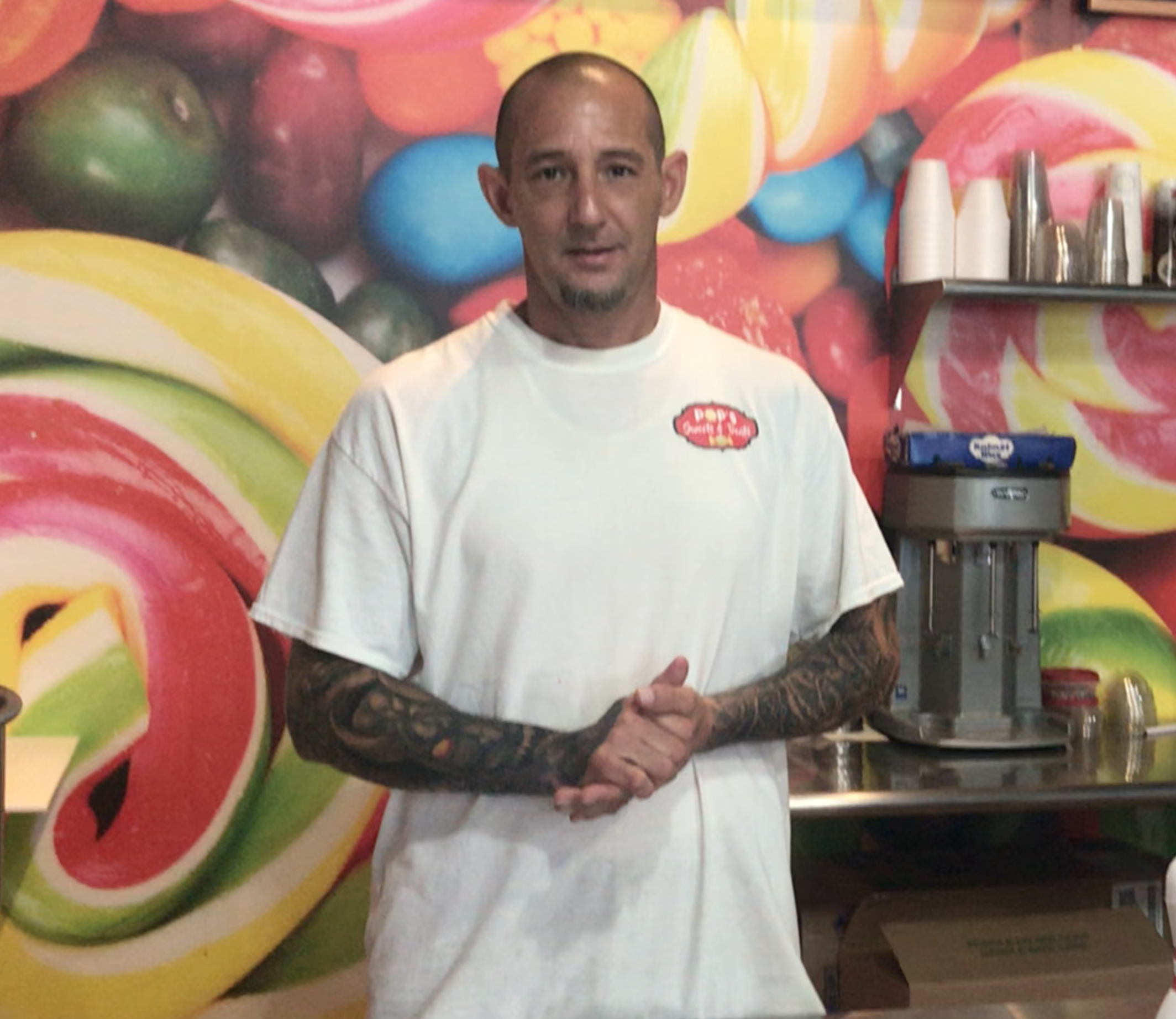 MICHAEL CARPINSKI
OWNER, POPS' SWEETS AN TREATS
"I did the store for people to have fun. It's nice to have people come in here cranky and leave with a smile," Carpinski said. "For me, there's no money in the world for that. Candy is the one thing we all have to connect with."
Pops' Sweets an Treats is a child's candy dream come true. The store is full of all the confections from childhood and features ice cream, Slush Puppies (the real ones, not the knock offs) and grab-and-go food such as walking tacos and kielbasa.
"With my stuff, you can walk around downtown, or you can sit here, have lunch, grab some candy. We're a one little stop shop for everything," Carpinski said.
With more than 400 bulk candies available at any time, customers can get lost in Pop's.
"I love my old candies," said Carpinski. "I like the idea of the things I created myself just from experience and feedback."
Carpinski has a lot of experience and many memories from which to draw inspiration. His memories stem from making the rounds with Pops, his grandfather, who was a father figure to him.
Growing up was rough for Carpinski. At 13, he became a ward of the state and Pops decided to take him in. He lived with Pops and his grandmother, raising him as their own.
"They were my rock. They were the ones who showed there was actually someone out there who loved me. This is my way of giving back," said Carpinski.
Pops was a popcorn machine repairman who supplied places such as the Fox Theater, the Silverdome and Olympia Entertainment. Carpinski would ride along on Pops' rounds.
"Those were the best times," he recalled. "I would go during the summers with him to work. We did the first Wrestlemania. As I got older, I appreciated all those times."
From those adventures, Carpinski owns one of the oldest cotton candy machines and popcorn machines.
As he got older and Pops passed away, Carpinski owned and operated a landscaping business, which he started in his 20s with a push mower and a weed whip in the back of his car. More than 17 years later, he had a dream about opening a candy store in honor of Pops.
Check Out This Week's Mount Clemens City News
His first try was a store in Richmond, in northern Macomb County, where he gave penny candy a go for three years beginning in October 2016. Things didn't work out as he hoped, but after seeing the storefront where Pops' Sweets now resides, he decided to give it another try.
Pops' Sweets opened in downtown Mt. Clemens in April 2019. This time, instead of penny candy, Carpinski decided to go with retro sweets instead.
The result is a sugary trip back in time combined with the next "it" experience to offer customers. Unicorn tacos, made-fresh waffle cones and flash-freeze ice cream are all top sellers.
"Taco shell, cotton candy burrito, cotton candy to order, things like that make us different," Carpinski said.
Pops' Sweets is a family affair. Carpinski's son, Michael, 15, also works in the store.
"Hopefully, this will be an experience for him like I had with my father [Pops]," said Carpinski.
More than candy to Carpinski, Pops' Sweets is a chance at redemption.
"I just figure giving back and doing the right thing is important," he said.
LATEST MOUNT CLEMENS POSTS