Specialty Paper Shop Provides Creative Spark
LBN Community Series
Birmingham
On a bustling corner in downtown Birmingham, Paper Source stands with hidden delights, gifts galore and elegant creative ideas.
One side of the store is floor-to-ceiling paper in all colors, patterns and textures. Some are elaborate, others are understated. Some are made of trees, other paper is made of stone (you read that right). All of them are gorgeous.
The opposite wall hosts cards for every occasion, the craft area and a demonstration corner.
In between is charming.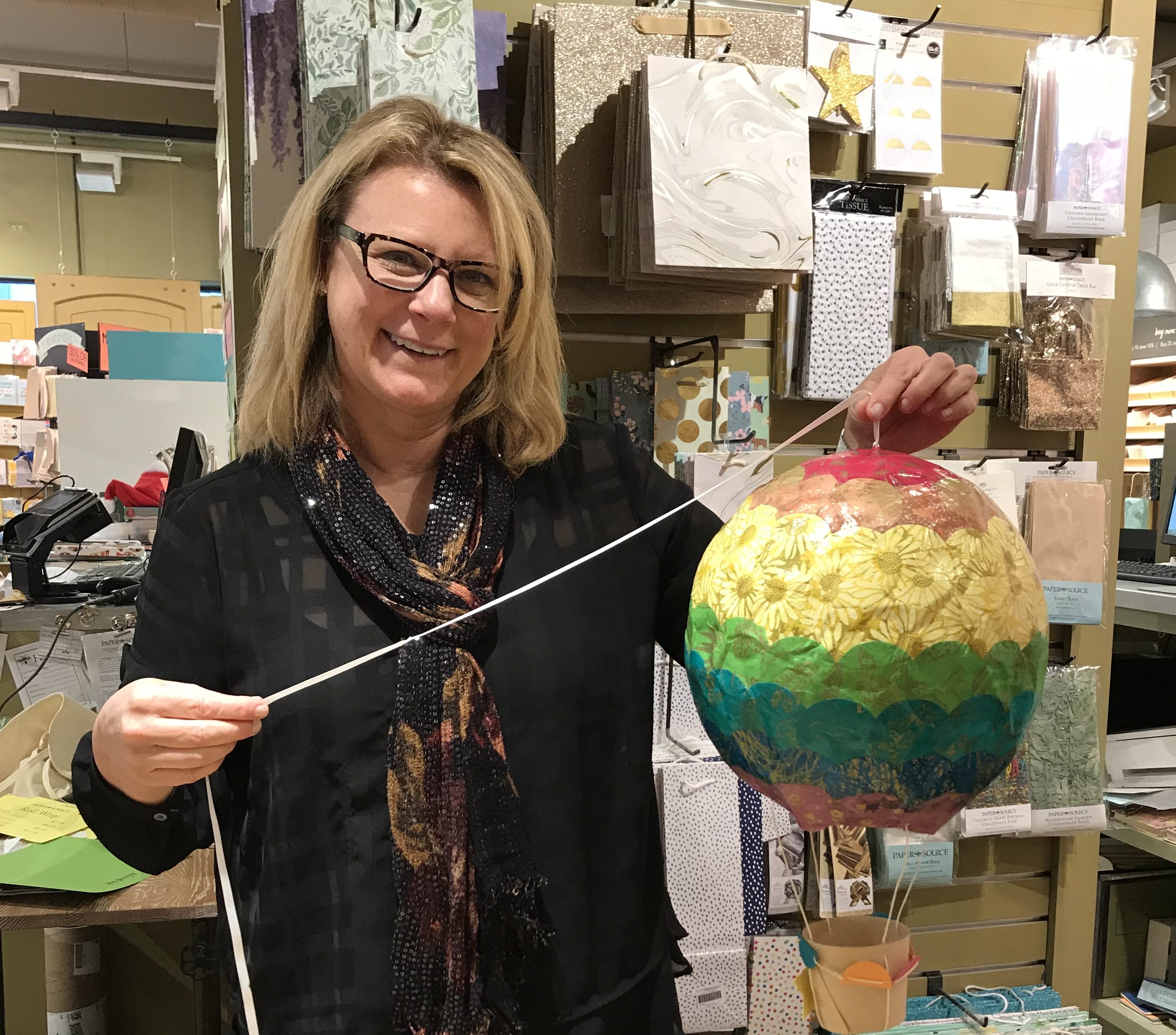 BETH CESPEDES
STORE MANAGER, PAPER SOURCE
Originally a seller of fine paper, Paper Source has branched out to become a go-to place for all kinds of things, especially when shoppers are looking for something unique.
"We offer custom printing, wedding invitations, Christmas cards, holiday cards, personalized stationery, custom coasters, napkins and more," said Beth Cespedes, store manager. "For us, our motto is, 'Do something creative every day.' We want to be ready to help with any project walking through the door. For us, it's creating the experiences. We do a lot of demos because we have a lot of fun things. We really try to interact."
Those fun things include classes, workshops and demonstrations right in the store. Paper Source offers workshops and private parties — anything from lettering classes each week to an open studio for kids
Sara Allingham is the community service chairwoman and has worked at The Paper Source almost a year after starting as a seasonal employee.
"I've always loved the crafty kind of things," Allingham said. "It's something I looked forward to coming every day."
As coordinator of the classes and parties, Allingham's enthusiasm can't help but spill over into her work. She likes the workshops because they givs people the opportunity to create something special.
"It's so much fun," she said. "And you get to try out the supplies, so if you like a stamp or a pen, you get 10 percent off."
If you're feeling crafty, get together a group of friends and book a private party.
"You choose your curriculum, bring refreshments and BYOB (and) host those, two hours," Allingham said.
Each private party is two hours and projects could include, for example, creating gift wrap, card-making, making a hot air balloon with Modge Podge (decoupage material), stamping, watercolors and more.
Classes and parties make great ideas for birthdays, holidays and team-building.
Paper Source is also a great place to find a gift.
Check Out This Week's Birmingham City News
"We have unique gifts that could be for man or woman: funny, interesting, with a sense of humor. It goes along with a happy place," said Cespedes. "We definitely get a lot of chuckles and laughs from people who find things on our gift tables."
Finding things on the gift tables is half the fun. Anything from Ruth Bader Ginsberg magnets to slime kits are on display. There are items for a woman who likes calm, men who like to grill, the politico in your life or just a little something to make someone smile.
After choosing the perfect gift, either from Paper Source or from another store, customers can pick from a wide variety of gift wrapping and have one of the expert team members beautify their packages. Simply purchase the gift wrap and pay a nominal fee per parcel.
A balloon station in the center of the store is a focal point.
"They're magical," said Cespedes. "Balloons always bring a smile to everyone's face."
Perhaps the best part of a visit to Paper Source is the originality of it all.
"We're excited we have those things to offer because you can't experience those things online," said Cespedes.
Paper Source is open 10 a.m. to 7 p.m. Mondays through Wednesdays, 10 a.m. to 8 p.m. Thursdays through Saturdays and 11 a.m. to 6 p.m. Sundays.