Surprises Abound at Mount Clemens
Vintage Boutique
LBN Community Series
Mount Clemens
There's nothing ho-hum about Max & Ollie's Vintage Boutique in downtown Mount Clemens. From the array of throw-back merchandise to the owner, the store is chock-full of pleasant surprises.
Diane Kubik has owned Max & Ollie's for 15 years, but the whole thing was a bit of an accident. Her sister saw the empty storefront just around the corner from where the store is now located. The deal was, Diane would put up the money and her recently unemployed sister would run the shop. When the sister was unexpectedly called back to work, Diane, then a stay-at-home mom of five, found herself in an unfamiliar position.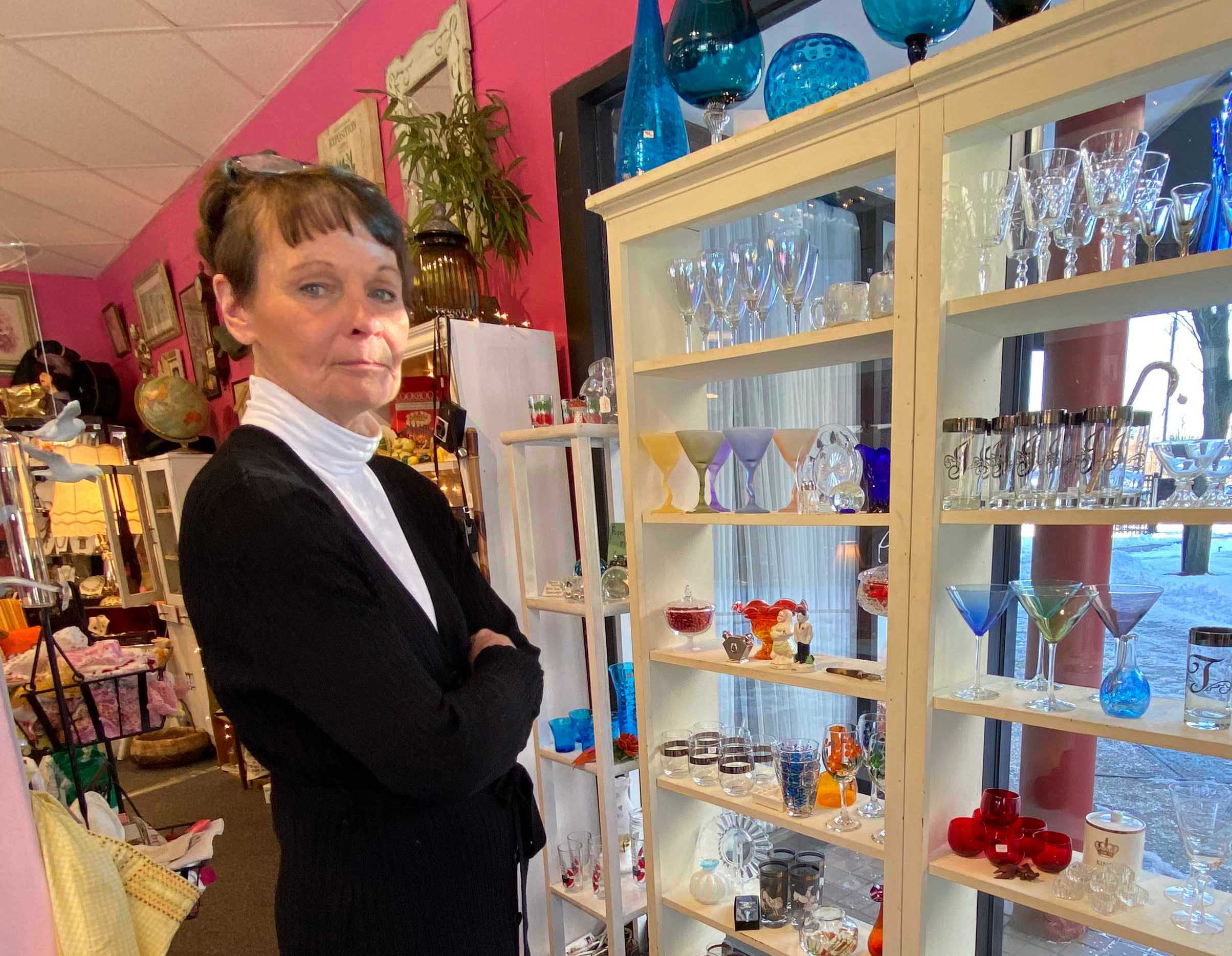 DIANE KUBIK
OWNER, MAX & OLLIE'S
"I could get diapers snowy white, but I knew nothing about vintage, antiques or running a business," Kubik said.
When Max & Ollie's first opened, Kubik's youngest sons and the store's namesakes, Max and Ollie, were 6 and 8 years old. Originally, the store was evenly split between crafts and vintage, but keeping up on the crafting was unrealistic, so Kubik converted over to strictly vintage.
"We had just one goal: Keep the doors open," said Kubik. "We just filled the shop with things we loved. We're not a high-end store and we don't want to be. We want people to buy things that are fun. People come in and reminisce and relive memories, and we hear a lot of, 'My grandma had that.'"
Within six years, Max & Ollie's had outgrown its 300-square-foot space. When a larger space opened on Macomb Place eight years ago, Kubik made the move.
The store is beautifully organized and displayed in a manner not typical for vintage stores. Instead of stacks of dishes and piles of knick-knacks, Kubik thoughtfully arranges her wares. Kitchen and home goods are on one side of the store, while the clothing is on the other.
"The biggest part of that is to make people fall in love with things. Keep it clean, keep it neat keep it fun," she said. "My strong background was crafting, but it really ended up that creative problem-solving was my strongest. You have to get really creative with the solutions and it worked out OK."
Check Out This Week's Mount Clemens City News
Customers can find anything from costume jewelry and clothing to kitchenware and linens at Max & Ollie's.
"Aprons are a huge seller," said Kubik. "We sell the sheer aprons for when something other than dinner is cooking. Valentine's is coming!"
In addition to the unique merchandise, Kubik likes to make a visit to her store an experience.  Her dynamic personality comes through in conversation. To each customer, she offers freshly baked cookies right out of a toaster oven next to the cash register.
You can also find Kubik in other shops in downtown Mount Clemens, helping with displays or giving a bit of business advice. It's just the kind of person she is.
"We've morphed a lot over the years, but the thing I wanted to be most is fun," said Kubik. "We managed to hold it through the toughest economy since the Depression. My favorite part has got to be the customers. I love the stuff, but the people have been incredible. It's been an adventure. It's the greatest job ever."
Max & Ollie's is open from 11 a.m. to 5 p.m. Tuesday, Wednesday, Saturday and Sunday and 11 a.m. to 8 p.m. Thursday and Friday. Closed Monday.
LATEST MOUNT CLEMENS POSTS