In the Bag: Women-Run Company Sells Trendy, Affordable Handbags
LBN Community Series
Auburn Hills
Not many companies have had their products selected by TV superstar Oprah Winfrey for her annual list of "Oprah's Favorite Things" in two separate years.
But that happened in 2016 and 2018 at K-Carroll Accessories in Auburn Hills. "We were shocked. It's phenomenal what Oprah can do for a small business," said Kelly Carroll Burgin, who owns the company.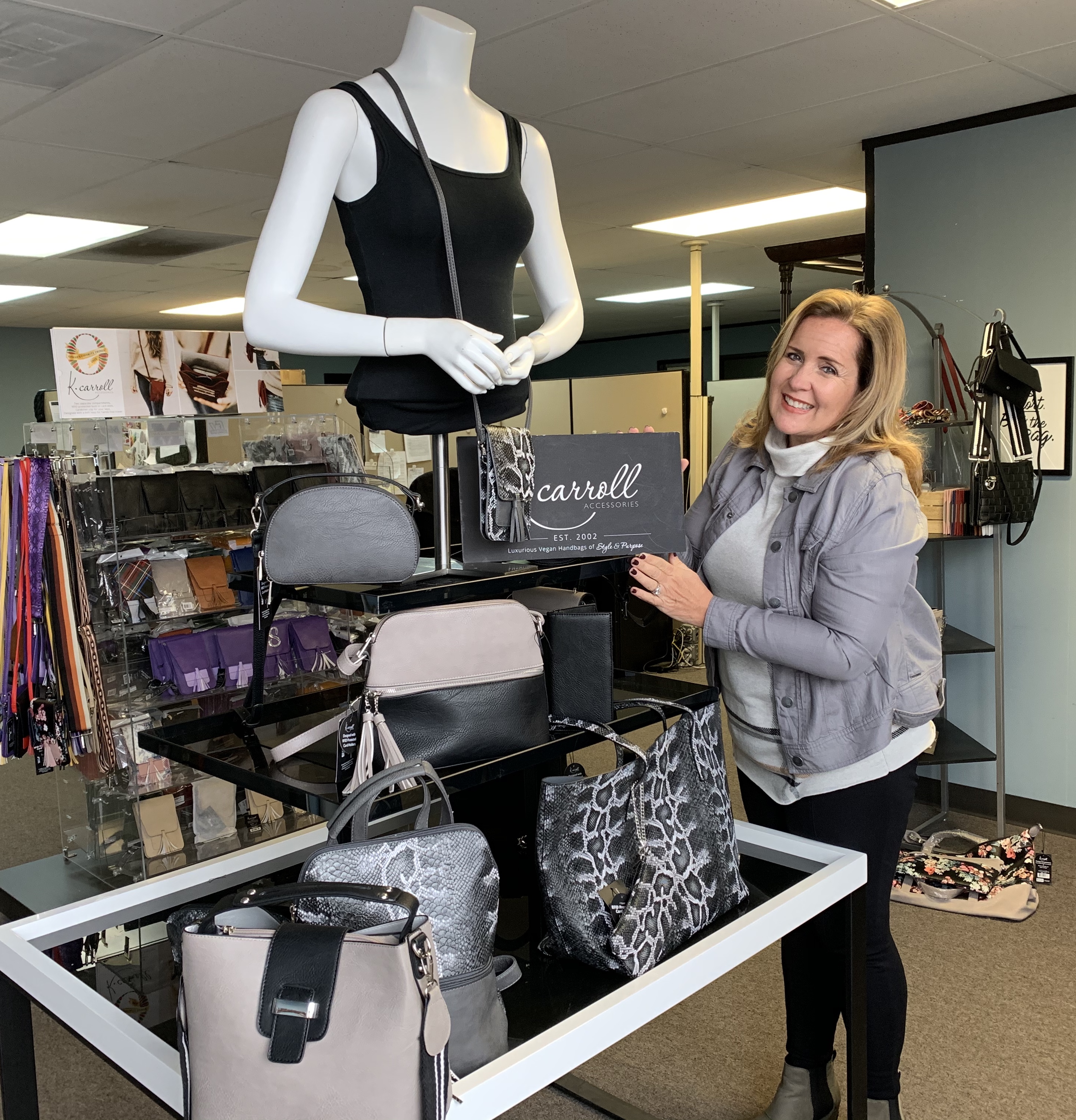 KELLY CARROLL BURGIN
OWNER, K-CARROLL ACCESSORIES
Burgin has been selling trendy handbags, wallets and tote bags, mainly through her website, K-Carroll.com, since 2002. Carroll is Burgin's maiden name.
The Favorite Things 2018 bag, a trim cross-body cell sleeve bag called the Harper, is still a big seller. The $20 bag has a metal lining to protect credit cards, a belt loop for people who might want to go hands-free and a carabiner if the owner wants to hook the bag to, say, a grocery cart.
"Sales went through the roof," said Burgin, who noted the bag is also featured on Amazon. In 2018 it was Amazon's number-one bag, she said.
Patti Eisenbraun of Shelby Township has been buying K-Carroll purses for the past three years.
"I love the quality and the safety that is there," Eisenbraun said. "The zippers, clasp and sewing are good. I have had the purses for all that time and they are still as good as new."
Eisenbraun, who runs Brown Iron Brewhouse in Washington Township (with another opening in Royal Oak in January), said the handbags are fashionable and affordable.
"I get compliments on them all the time," she added.
The friendly all-female K-Carroll crew has worked together for years.
Burgin, a Rochester native who had a background in retail, began her business after being displaced from her corporate recruiting job in 2002.
At first, she and a partner sold personalized bracelets.
"We'd go to these parties and notice (knockoff) handbag sellers were killing it," said Burgin, 51.
She and her partner decided to work with suppliers and come up with reasonably priced vegan handbags created from manmade materials.
"And it ended up being the right time," Burgin explained. "It was at a point where people didn't want to spend $500 on a handbag. We wanted to give them the ability to buy three handbags in fun colors for $50 versus buying one designer bag for $500."
They began selling at fundraising events at hospitals. Hospital gift-shop operators became aware of the products and wanted to sell Burgin's handbags in their shops.
That meant working on a bigger scale with wholesalers. "We had to figure that out," said Burgin.
Products sold steadily and the merchandise available expanded to include not only handbags but also totes, wallets, belts, sunglass cases and even passport covers.
Check Out This Week's Auburn Hills City News
Burgin has a small shop in Auburn Hills if people want to check out the products. But most of the business comes from online sales. "We focus on building our website and our following," she said.
Merchandise changes twice a year: fall-winter and spring-summer. Prices range from $10 for coin purses up to $60 for tote bags.
And what about that Oprah moment?
It started when a Chicago boutique owner — who by chance happened to be wearing a K-Carroll cross-body cellphone bag — went to a New York gift show, recognized a staff member from Oprah's show and asked if that staffer would pose for a photo, said Burgin.
The show staffer noticed the cross-body bag and said, "'I've been looking for something like that for two years."
Oprah's people reached out to K-Carroll and featured the bag (made then for smaller phones) on the 2016 show.
In 2018, the bag was redesigned to fit any size phone — and this time K-Carroll employees sent the new bag to Oprah. It was again featured among Oprah's favorites.
The accolades keep coming. K-Carroll has been selected this year as one of the 50 businesses to watch in Michigan. At https://michigancelebrates.org/2019-award-winners/
"It's an amazing opportunity," said Burgin.
A change coming next year will be the addition of men's wallets. And watch for straw bags to be added to the catalog.
Burgin appreciates the flexibility her business has afforded her. One example: When her four children were younger, she could bring them into the office.
"We're all women (at K-Carroll), so we're creating and designing what we would want in a bag," said Burgin. "Women making for women."
On her website, Burgin states she is "appreciative of customers for their input – from the constructive criticism to the rave reviews; all of the feedback has helped us build the engine we've become."