Mid-Century Modern, Present-Day Cool
LBN Community Series
Clawson
The market for mid-century modern designs is on fire and Modmart Detroit is the epicenter for all things Bertoia, Eames and Wegner.
Catering to a devout following of mid-century modernism, Modmart Detroit offers carefully presented furniture, home décor and even furniture refinishing.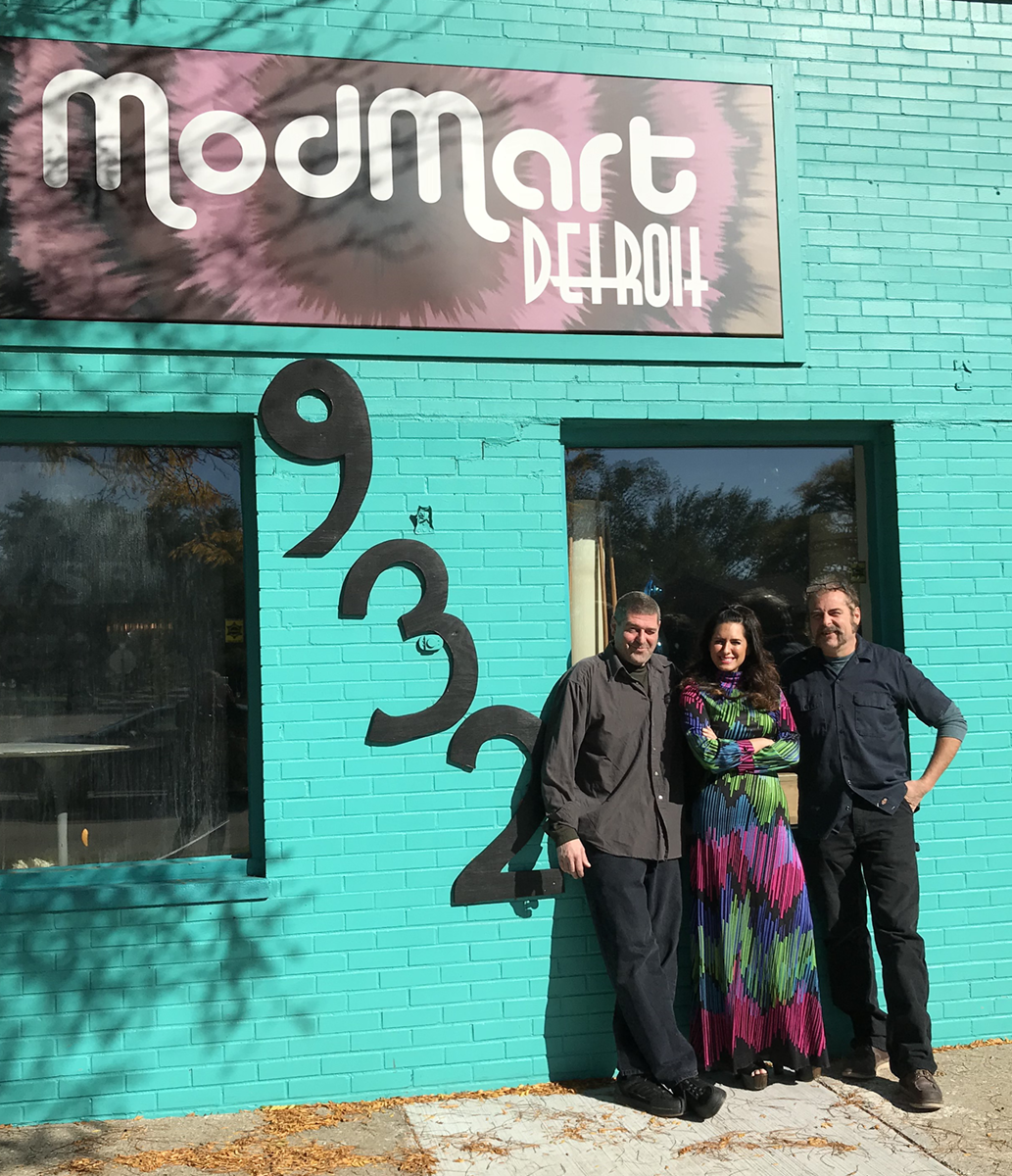 BRIAN LAUNDROCHE, LOREN WEINER & DAN LAUNDROCHE
CO-OWNERS OF MODMART DETROIT
"We also take a lot of pride in knowing we're rescuing furniture that is going extinct and bringing it back to life," said co-owner Loren Weiner. "People do want to display them in their nice houses because it's the pieces they want. There's also an aspect that these pieces are so highly collectible. They want people to look at their furniture and say, 'Oh yeah that's original.'"
The Clawson store wasn't always devoted to mid-century modern. Decades ago, it was a machine shop, which was converted into a furniture refinishing business by brothers Brian and Dan Laundroche.
The brothers worked in the building for 15 years, adding an antique storefront. However, it attracted more garage sale-type business, instead of clientele who want to make major home purchases.
That's when the Laundroches met Weiner.
Wiener is an artist and interior designer. She would bring pieces to the Laundroches to refinish for her clients.
"It used to be Affordable Solution resale shop, but the main business was always the finishing," said Brian Laundroche. "Loren suggested we go to mid-century modern and here we are. It just happened to work out the two go hand in hand. We've progressed a lot."
Now, the three are co-owners of ModMart Detroit.
The store is arranged in small vignettes, much how furniture would be in a home. Couches and chairs are matched with end tables, lamps, chairs and chandeliers. Vases, candlesticks, bar ware and area rugs complete the look for shoppers, making it easy to imagine each piece in their home.
"When customers are leaving the store happy, that's a good feeling," said Brian Laundroche.
Sidney Rausch is a nurse from Royal Oak. She wandered into ModMart Detroit looking for a couch.
"I just love the style of this place, I love all the items they have for sale. I haven't found a place like it that sells this style of furniture. Especially if you have your heart set on something, I feel like you'd find it here," Rausch said. "It's a call back to a different era and we're still honoring it. So much has changed, but these have a very classy, elegant look to them."
From tulip tables and square-backed couches to vintage bar sets and tangerine-colored everything, mid-century modern design runs in the Laundroche family. The brothers are relatives of Harry Bertoia, who's signature wire chairs are familiar to just about anyone who remembers the 60s and 70s, even if the name doesn't ring a bell.
"We've just always been hands on. We were the kids painting bikes hanging in the garage," said Brian Laundroche, whose mother is Bertoia's niece. "I've been finishing my whole life. We were painting something or doing something since we were 10 years old."
Modmart Detroit offers consignment, furniture sales, refinishing and even design consultation. "We're very passionate about rescuing the furniture. It's very important for people to know they can consign furniture. It's good for them to give us a call. There could be hidden treasures out there," said Brian Laundroche. "On the other hand, there's a lot of people into this mid-century modern, where they think their item is worth more than it really is worth."
Weiner continued, "A lot of times people don't realize their stuff has value. Rather than just donating it, you could sell it and donate the money."
According to Weiner, many people come in looking for work by Danish designers. "Our store mainly focuses on the 50s and 60s and our clients are looking specifically for Danish Modern," she said. "I learn about a new designer all the time, then I obsess. I'm really lucky where this is my passion and hobby. I'm a purist."
Weiner and Laundroche also encourage people to take pictures of their treasures and email them to modmartdetroit@gmail.com to find out if there's any interest. However, the shop only considers items that are specifically from the mid-century era and it has to be modern design.
In the refinishing area, the brothers refinish wood and metal items and even create their own lighting fixtures, which can be custom made to order.
"When you're refinishing a piece, you have to honor the design of it, otherwise it loses its value," said Brian Laundroche. "I have to match the application and color and in some cases, it can be tricky."
Mostly, the Modmart Detroit team aims to make customers happy. Customers on the hunt for a certain piece can work with Weiner to have it sourced, and families cleaning out grandma's attic can call and one of the Modmart owners will go to the house and determine anything of value.
"When customers are leaving the store happy, that's a good feeling," said Brian Laundroche.
jfklsadjfklsjdklfjs
sdjfksdjfklsad
fasdjklfjsad
fj
asjdf
ksjdaf
kjsdk
fjsa
dkjf
sadjfjf
ksadj