Royal Oak Food Truck Rally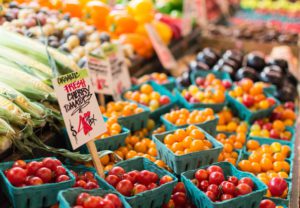 Did you know that, at one time, so much rhubarb flowed through the Royal Oak Farmers Market, that Royal Oak was considered the rhubarb capital of the world? Well, there probably won't be a whole lot of rhubarb, but there will be a great selection of other foods at the Food Truck Rally, so roll into the Royal Oak Farmers Market for free fun, great food and entertainment on Wednesday, January 9, from 5 to 9 p.m.
.
Ready to Have "The Talk"?
Would you like to be free of the responsibilities of home ownership, have ample opportunity to socialize and enjoy some of the other benefits of senior living? If so, you may be ready for the talk. A representative from American House Senior Living Community Hazel Park will be presenting and leading a discussion on downsizing, veterans' benefits and more at the senior center on Tuesday, February 5 from 11:30 a.m. to 1:30 p.m. Program will include lunch. Register by January 31 by calling 248.246.3900.
Southern Comfort Auditions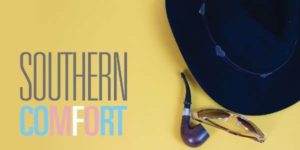 Southern Comfort is based on the true story of Robert Ead, a transgender man with ovarian cancer, who lives in rural Georgia with his chosen family of transgender friends. Like all families, they have their struggles and sometimes fall short, but ultimately, they hang on with tenacity and hope, refusing to be sidelined by any obstacles. The folk and bluegrass-infused score celebrates the true meaning of family and being your authentic self.
Stagecrafters will hold auditions for their production on Sunday, January 27 and Monday, January 28. Registration is at 6:30 p.m. The production will include 11 performances in April and May. Get more information or register to audition.
A Day On, Not A Day Off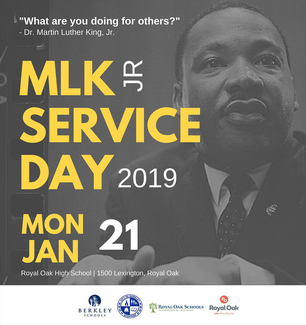 The MLK Jr. Service Day began in 2017 to celebrate the life of Dr. Martin Luther King Jr. with a 'day on' instead of 'day off' and inspire members of the community to get involved with local organizations past January and throughout the year.
The communities of Berkley and Royal Oak will honor the life Dr. Martin Luther King, Jr. for the third annual Day of Service on Monday, January 21 at Royal Oak High School. The event will begin at 7:45 a.m. with a light breakfast, followed by inspirational performances from students. Admission is free with the donation of one or more of the following items:
Gallon Ziploc bags
Bar soap
Full-size shampoo
Full-size conditioner
Lotion
Liquid Body Wash
Washcloths
Toothpaste
Toothbrush
Feminine hygiene products
Socks (children and adult)
Deodorant
Toilet Paper
Playing Cards
After the morning program, at about 9 a.m., participants will have the opportunity to join various onsite and offsite volunteer activities. Onsite, participants will be able to help collect and sort items for area charities, and craft blankets for the Children's Hospital. Offsite volunteer areas include Yad Ezra, The New Foster Care, Neighbors Building Redford, Brightmore and Cass Community Social Services. Sign up.
.
If You're Not a Polar Bear, Swim Indoors
It's great weather for indoor swimming. Grab your cap and trunks and head over to Royal Oak Middle School or Royal Oak High School for open swim during the following winter open swim hours:
Royal Oak Middle School
Now through March 9
Monday evenings, from 7:30 – 8:30 p.m. for children and adults, 8:30 – 9:45 p.m. for adults only (lap lane)
Thursday evenings, from 8:45 – 10 p.m. for adults only (lap lane)
Royal Oak High School
January 12 – March 16
Saturday afternoons from noon – 1:00 p.m. for children and adults
Open swim is $5.00 for adults and children over 5. Ages 5 and under are free. Senior citizens (retired and ages 60 and up) are free with pass for city residents. Passes are available at the Continuing Education Office. Discount punch cards are available for $40 for 10 visits. Cards can be purchased at the pool during open swim.
Vendors Wanted for the Think Spring Craft Show
Spring is just around the corner and it's time to start thinking about selling your wares at the craft show on March 14-15 at the Royal Oak Farmers Market. Applications are due by February 18.
For more information, call 248.563.4119 or email Robin at robinr@romi.gov.