Third Annual Ruck 22 March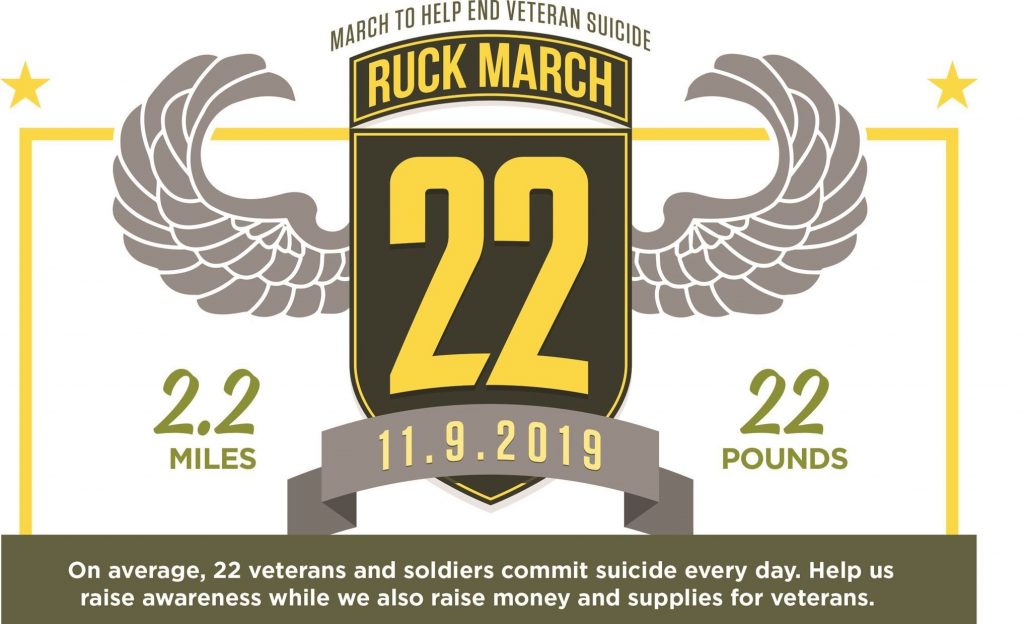 Help fight veteran suicide. Come to Royal Oak on the morning of Nov. 9 for the 3rd annual Ruck 22 March. The march starts at 10 a.m.
Here's how it works: You take a backpack or rucksack, you fill it with either 22 lbs. or 22 items to donate to needy and homeless veterans. You march 2.2 miles (untimed and at your own pace). At the end, you hear about how you can personally help fight the tragedy of veteran suicide.
Why? On average, 22 veterans and soldiers commit suicide every single day, a rate far higher than the national average. Together we can raise awareness of this problem and learn techniques to help those in need and spot the warning signs.
It's $22 to sign up and you get a shirt, dog tags, and bracelet. Food and drink will be provided at the end for participants. The proceeds go to the Michigan WWII Legacy Memorial and the donated items go directly to needy and homeless vets.
To register and for information on what type of things are needed for donations to help needy and homeless vets, go to www.22ruck.com.
Trivia Night for Teen Clean Closet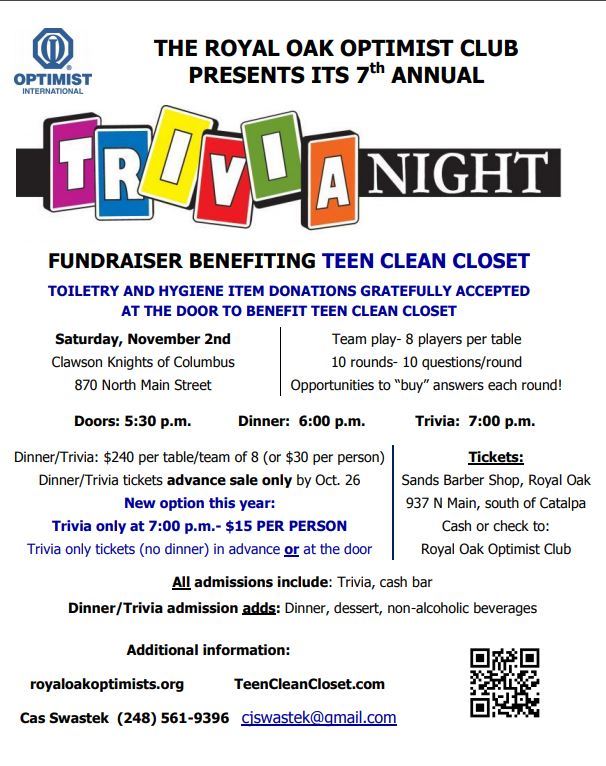 Head to the Clawson Knights of Columbus at 870 North Main Street on Saturday, Nov. 2, for a fundraiser benefiting Teen Clean Closet. Toiletry and hygiene item donations gratefully accepted. All admissions include: trivia and a cash bar.
The fun kicks off at 5:30 p.m. The cost for dinner and trivia is $240 per table/team of eight or $30 per person. For more information, call the Royal Oak Optimists at 248-561-9396.
Royal Oak Public Library Offers Homebound Service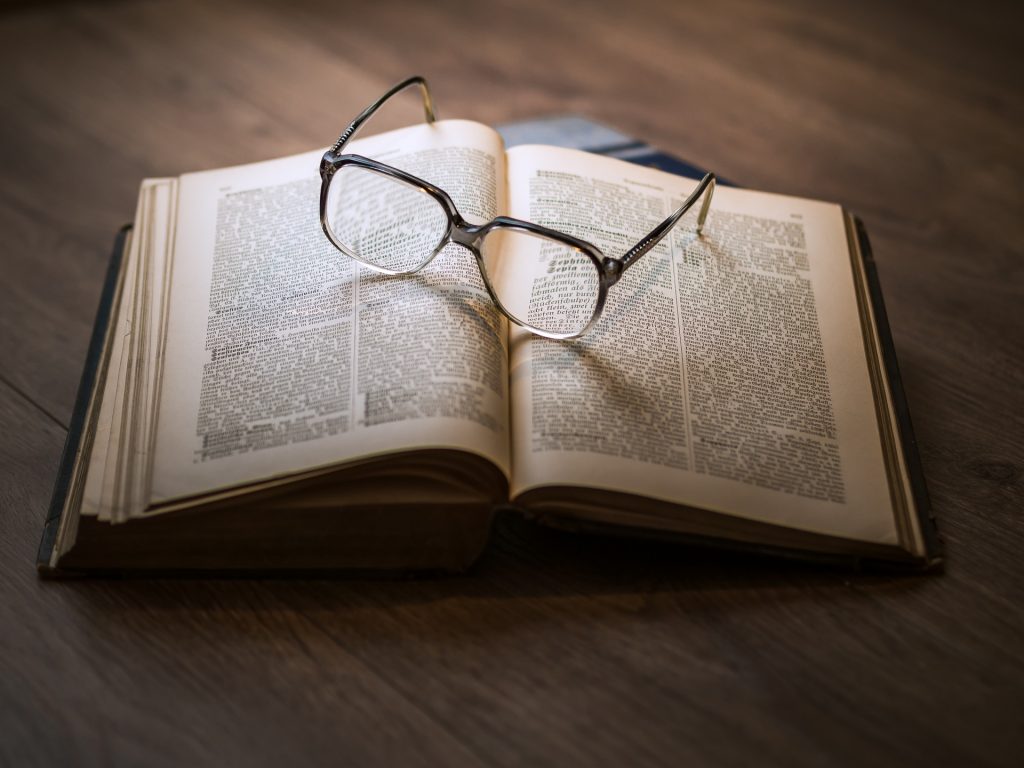 The Royal Oak Public Library Homebound Service program offers services to residents who are homebound due to disability or illness and are physically unable to visit the library. Patrons must have a ROPL library card to qualify for this service.
The library will mail up to three items at a time to patrons, along with a return-postage address label. Additional materials may be requested and sent after the current items checked out are returned. Patrons participating in the program will become ineligible for the service, and responsible for the cost of the items, if they do not return library materials.
How To Sign Up For The Service:
Fill out the Homebound Service Application, which is to be signed by a physician, nurse, clergy person or social worker. Please have the signee note whether the applicant is permanently or temporarily unable to travel to the library. Medical details are not necessary.
Fill out the Reader's Profile Survey
Sign the Opt in Agreement, if you desire this option
Hand the completed materials to any staff member at the library or mail it to 222 E Eleven Mile Road, Royal Oak, MI 48067
Please contact Mick Howey, homebound services coordinator, at 248-246-3724 or email michaelh@ropl.org with questions.
Parenting Workshops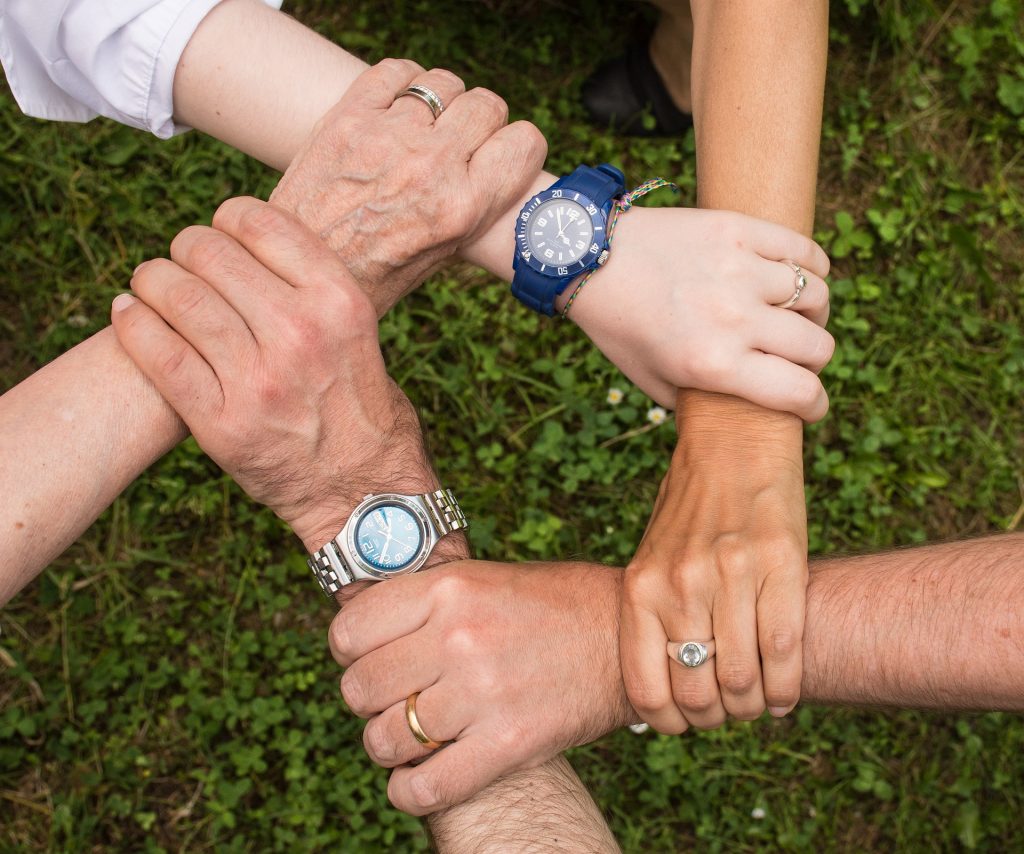 Royal Oak Middle School is hosting workshops open to parents of children of all ages. Check out the free workshops for more information on topics such as brain development, substance abuse and student mental health.
All workshops are free and open to all district families. They take place in the Royal Oak Middle School Learning Commons and kickoff with dinner at 5:30 p.m., followed by the presentation from 6 to 7:30 p.m. Free babysitting is available for all families.
Thursday, Nov. 21 – Drugs 101
Stay informed about current trends in substance use abuse among teens.
Thursday, Jan. 16 – What's Bugging Them
Learn about factors that can impact school and home responsibilities including lack of motivation, social media and mental health.
Thursday, Feb. 20 – How to Deal
Coping skills for students, coping skills for parents when helping their child and how to create a homework friendly home.