Royal Oak Welcomes LifeWorks Chiropractic
LBN Community Series
Royal Oak
Royal Oak threw out the welcome mat for a new chiropractic clinic, LifeWorks Chiropractic, on Aug. 15.
A grand opening at LifeWorks, located on Catalpa Drive near Main and Crooks, drew local business people, Royal Oak Chamber of Commerce members and friends and family members of the practitioner, Franklin Norton. There were hors d'oeuvres, clinic tours and door prizes donated by area businesses and even a local church, and visitors lined up out front for a formal ribbon-cutting and picture-taking session.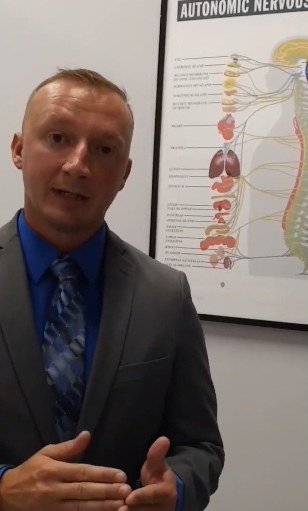 Norton, who'll be assisted by chiropractor Eric Axmacher, said chiropractic care, which focuses on the spine and neurological system that "controls and coordinates every other part of the body," can successfully manage a range of conditions, such as headaches, back pain and more.
"We're basically removing any pressure off the nerves and allowing the body to function the best," Norton said. "You can see different systems of the body start to work a little bit better through chiropractic care."
Norton said he wants to help people without drugs that, in his view, treat the symptoms instead of the root causes of bodily dysfunction.
"We are the most medicated country in the entire world. I want to try to treat people naturally without, you know, opiod drugs," he said.
"I have yet to see a condition that I don't think chiropractic can benefit," said Axmacher.
Nick Miko, a longtime friend of Norton who was giving clinic tours during the grand opening, said Norton successfully treated his back injury several years ago. It was the first time he'd visited a chiropractor and he was "a little nervous," Miko said. The pain in his back, though, had become hard to bear with a job in retail that kept him on his feet for most of the work day.
"I felt great again" after treatment, Miko said. "Got back to biking, running, all the physical stuff I used to do."
Norton, who majored in biology at Oakland University and graduated in 2013 after four years of chiropractic study at Life University in Marietta, Georgia, said he had intended to become a neurosurgeon when he was bumped off that career path through his family's personal experience.
His athletic younger sister, he said, was diagnosed with scoliosis, a curvature of the spine, as a teenager; the condition affected her lung function and she had trouble staying active. She underwent surgery to straighten her spine with the help of metal rods, and though the surgery was successful, her mobility at age 27 remains partially affected, he said.
Later, their younger brother was also diagnosed with scoliosis, and his situation was complicated by injuries suffered in a vehicle crash. But chiropractic treatment and physical therapy, Norton said, helped keep his brother's spine curvature below the point at which surgery would have been recommended.
Check Out This Week's Royal Oak City News
His siblings' challenges, and the differences in the way they were addressed, changed Norton's mind about what kind of medicine he wanted to pursue. "I wanted to go more of a preventative route," he said. He wanted to help people like his sister, he added.
LifeWorks office assistant Moria Austin also came to the field because of personal experience. Austin, who's previously worked in medical settings, said she's battled several health issues and has spent the last two years working to manage them. She credits chiropractic care with helping her maintain her ability to walk several years after being told she would lose it.
"I'm really fortunate I'm able to do something I'm passionate about," Austin said.
LifeWorks uses technology in patient diagnoses, including X-Rays and a machine that measures heat differentials on the skin, which could indicate areas of inflammation and thus pressure on the nerves.
Norton said he plans for LifeWorks to become a family practice, and that the clinic makes it affordable for families with a capped family treatment fee. LifeWorks accepts a variety of insurance plans and will do insurance checks free of charge.
Norton, who lives in St. Clair Shores, has long been drawn to Royal Oak, which, he said, has a vibe that works for his clinic.
"It's a lot of young families. It's an up-and-coming area," Norton said. "There's a lot of new building happening. There's a lot of energy in this area."