Troy's I Love Juice Bar:
Renew Energy and Health Deliciously with Fresh-Made Food and Drinks
LBN Community Series
Troy
When Maggie Morgan's babysitter began raving about I Love Juice Bar on Crooks Road near Big Beaver in Troy, Morgan began to have new hope for her family's health and wellbeing.
"My husband is in medical school," Morgan shares, "and, since I work full-time and have two pre-school children, sometimes it's hard to make sure everyone eats right all the time."
"But my babysitter recently brought me a bottle of I Love Juice Bar's 'Sweet Green Juice,' an order of the most amazing spring rolls – in gluten-free rice paper! — and some of their vegan Pad Thai, and now I am hooked on their combo special: an entrée item and a sixteen-ounce bottle of juice for $9.95, packed with nutrition and so delicious! And my husband can drink all of their great juices instead of the horrible Mountain Dew he'd been living on…."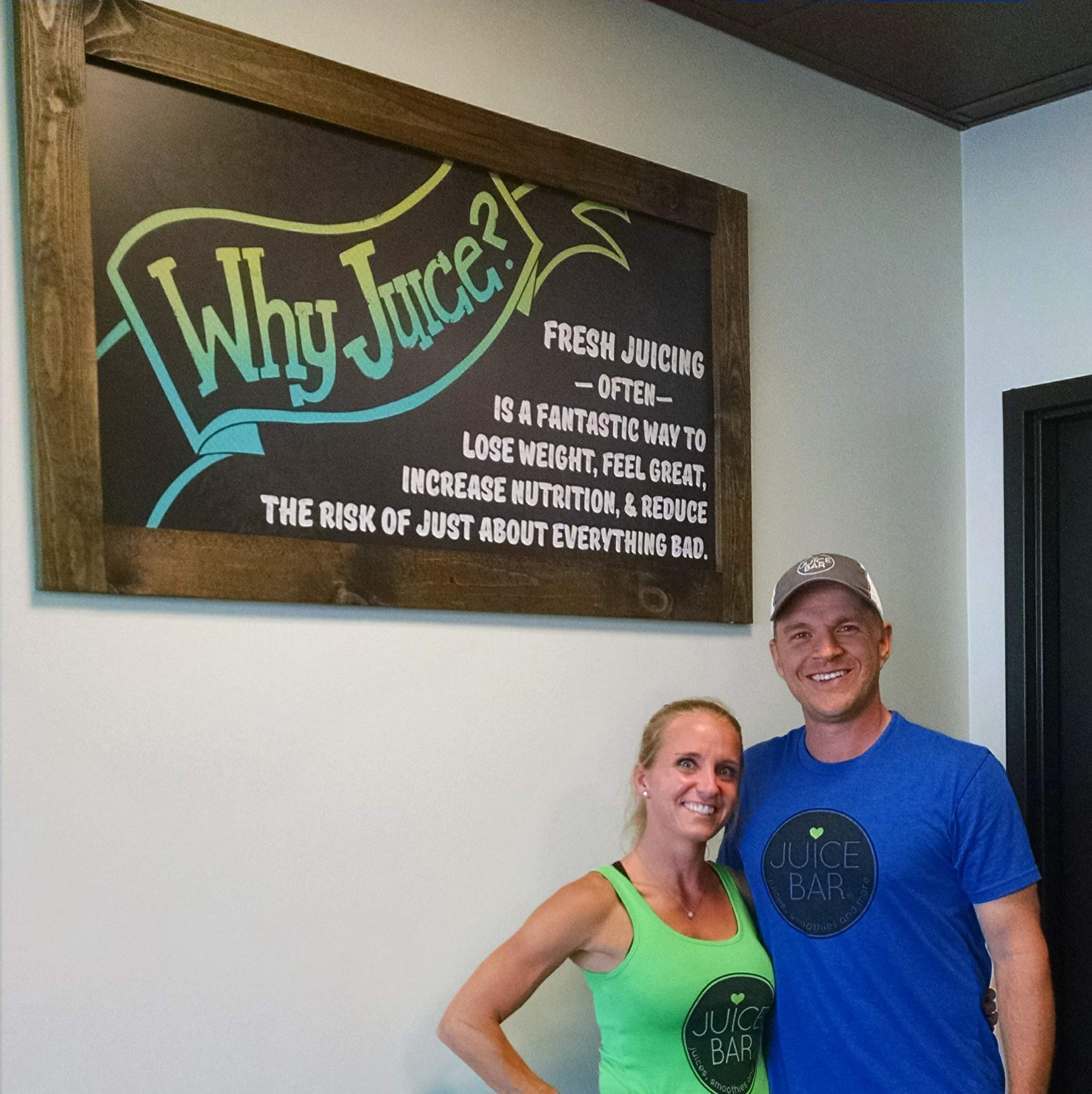 HILLARY & GREGG WARNER
OWNERS OF I LOVE JUICE BAR
"The best thing," Morgan adds, "is that after I first had some of the juice, my post-work brain fog and my mood lifted, and I had a wonderful feeling of energy. I happily started some laundry and then took the kids to the park for the evening. We even walked there instead of driving!"
"So many of our customers tell us about the almost-instant feeling of wellness they experience after having our all-natural juices, smoothies and 'shots,'" says Gregg Warner who, with wife Hillary Warner (who is a nurse anesthetist), opened I Love Juice Bar in April.
"It's amazing," adds Hillary, whose favorite juice is We Got the Beet (beet, carrot, apple, ginger, and lemon). "My hair and nails are growing like crazy since we've been here – and I have the energy to maintain our wonderful, busy life of raising three young children, working at the hospital, and having the Juice Bar."
Gregg and Hillary have always enjoyed a lifestyle of health and fitness maintenance.
"The company motto is 'Have fun and be amazing,'" says Gregg. "We love what we do. We're very glad to be here, catering to businesses, families and individuals, in this fun and amazing city of Troy."
"After workouts, I'd visit a local smoothie place," says Gregg. "One day, the customer in line ahead of me ordered his smoothie without sugar. I asked him, 'You mean, they actually add sugar to their smoothies?' That's how I learned that many places' smoothies and juices are not actually as healthy as we might think."
That experience prompted Gregg and Hillary to research area juice and smoothie restaurants and, when they discovered the I Love Juice Bar franchise, the passion and product of that business resonated so strongly with them that they decided to open one in Troy.
The first I Love Juice Bar was opened in 2013 in Brentwood, Tennessee, by John and Vui Hunt.
On their company's website, John describes a time when his corporate job was creating such stress in his life that he was eating poorly and had gained 50 pounds.
"One night around 11 p.m., I found myself on the couch, eating cookies and ice cream, looking for relief," John relates.
"I stumbled on the documentary
Fat, Sick and nearly Dead
(about an overweight, unhealthy man who regains his health after going on a two-month juice cleanse), and it really inspired me."
He found a juicer in his garage that belonged to his wife, Vui, a vegetarian chef who had owned an Atlanta restaurant called Veggieland. After a two-week cleanse and with renewed health and vigor, the Hunts decided to purchase a Brentwood sandwich shop that was for sale and to sell healthy drinks – without sugar, ice or artificial ingredients of any kind — and vegetarian soups, salads, sandwiches and entrees.
According to Barron's investment insight magazine, the juicing industry is $5 billion annually, with a growth rate of 4-5%. There are now more than 50 franchise I Love Juice Bar locations throughout the United States and Canada.
"We help people by providing a great product – quickly – that is tasty and good for them. Just because many people are in a hurry these days does not mean that we should still not be able to eat well," John says. "People bring us thank-you cards, telling us how much weight they lost or how they were able to stop taking as many medications…That's really what we want to do for our customers. That, and offer a great experience daily."
And at Troy's location, many customers are enjoying a great experience daily.
"We really love seeing the high school students and other kids who come in after hockey practice or on their way home to get their favorite drink," says Gregg.
"And," Hillary adds, "Many of the kids get a 'smoothie bowl,' which is like a healthy version of an ice cream sundae. The Dragon Fruit Bowl, with frozen mango, banana, strawberries, and dragon fruit; apple juice and local honey, topped with granola, is very popular."
"So is the PBJ smoothie, which tastes just like a cool-and-creamy, peanut butter-and-jelly sandwich," Gregg smiles. "It happens to be my favorite!"
Local retiree, Patricia Caverly, comes in once a week.
"There is nothing better than stopping by I Love Juice Bar while I'm running errands," Caverly says. "Yes, I could make a green smoothie at home. But I live alone, and would have to buy so many different greens and vegetables to make one this good. So, I treat myself here."
"Our Super Greens Juice is one of our most popular," says Hillary. "And the ounce of wheatgrass juice in it is equivalent to two pounds of greens! We're very lucky to have our assistant manager, Jeremy Curry, to prepare everything and to prep the produce."
"Jeremy has a great palate and a special knack for tweaking the juices with just the right amount of lemon, or mint, or ginger." 
"The Warners are great to work for," says Jeremy, as he creates a glass of Orange You Glad, a favorite of Gregg's, with carrot, apple, pineapple, mint, ginger and lemon. "Gregg and Hillary care about you personally. It's also fantastic to work where everything is so fresh."
"I love how good it smells when you walk in," Jeremy says. "We put a lot of love in these juices and into the care of all the produce, all the vegetables."
"The company motto is 'Have fun and be amazing,'" says Gregg. "We love what we do. We're very glad to be here, catering to businesses, families and individuals, in this fun and amazing city of Troy."
jfklsadjfklsjdklfjs
sdjfksdjfklsad
fasdjklfjsad
fj
asjdf
ksjdaf
kjsdk
fjsa
dkjf
sadjfjf
ksadj