As a 13-year-old growing up in Beirut, Lebanon, Mike Chalhoub couldn't wait until his school day was done.
Unlike most of his friends, he had more to look forward to than playing ball or riding a bike after classes.
He was going to his job as a busboy at The Summertimes restaurant, where he would soon be immersed in the aromas of cumin and coriander and freshly chopped cilantro, onions and garlic, while the chefs sliced, sautéed and shouted orders to each other for chicken shata or the lamb and chicken shawarmas, for which the restaurant was known.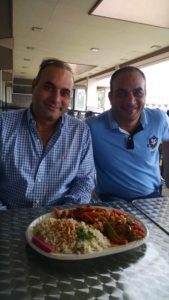 "My boss saw my passion for food and hard work," Chalhoub says, "and soon promoted me to cooking."
By age 18, Chalhoub was running the snack bar, night club and main restaurant of a nearby hotel.  At 23, he opened a restaurant on the Ivory Coast.
"Soldiers came and took it over," Chalhoub said.
He moved to the United States and worked in several Mediterranean eateries until starting the Troy location of Grape
Leaves in 2004.
"It was challenging," Chalhoub says. "I wanted everything to be perfect: fresh, delicious, healthy and, especially, consistent. And, you know what? Everything, thirteen years later, is still the same consistent quality.
And," he says, "I guarantee that what you enjoy here today will taste the same when you order ten years from now!"
Each morning, Chalhoub and his brother and general manager, Brian, shop for fresh vegetables and meat and deliver them to the three Grape Leaves locations (Troy, Oak Park, Southfield). The chicken will be marinated; the lamb, roasted; the vegetables, washed and sliced: all readied for the stews, salads, sautees and specialty dishes that will be made-to-order for dine-in or carry-out lunches and dinners, as well as catered events.
"I wish I had photos of one wedding we catered," Chalhoub says, "with a whole, baked lamb. It was fantastic. Everyone loved it!"
Diners eat there often and are treated like family.  "Hello, Squash Guys!" Brian says, greeting longtime customers, Dodie and Warren, as they enter.  They hug Brian warmly.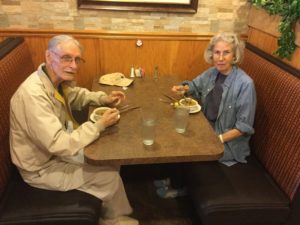 "We started coming here eight years ago," Dodie says. "Currently, we've had to omit dairy, sugar and meat. Here, we can always have the most healthy and delicious meals." Warren laughs.
"That's why you get to know the boss! Look! They made me these fresh-cooked cottage fries to go with my cousa (stuffed squash)," Warren says.
"My crew is the best," Chalhoub says. "Though some of the wait staff leave for other careers after college, 90 per cent of my cooks have been with me for many years."
And, though Chalhoub now leaves most of the cooking to his staff, today he motions, "Come! I want you to see the creation of my favorite dish: chicken ghallaba!"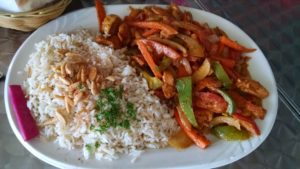 He washes his hands and dons gloves, apron, chef hat. With a 10-inch, razor-honed knife, he slices onions, peppers, carrot – even mushrooms – with lightning quickness and tosses them into a sizzling pan. The vegetables are cheerfully thrown in air and then land amid marinated chicken breast he's added.
"Now," he says, spooning a red powder over the skillet, "here is for the special taste: my own spice blend!"
Holding the plate of golden chicken with its mound of brilliant vegetables and rice, Chalhoub smiles and says, "If you want to stay healthy and eat delicious food, come to Grape Leaves. A visit a day keeps the doctor away!"
Location Info:
grapeleavesrestaurant.com
Troy: 2850 West Maple
Phone: 248.816.2000
Southfield: 29181 Northwestern Hwy.
Phone: 248.359.0000
Oak Park: 24700 Greenfield Rd.
Phone: 248.968.0008