With a sleek and efficient website, a gleaming service area stocked with state-of-the-art equipment and a computerized, eye-catching marquee flashing on Maple Road, Troy Auto Glass is an ultramodern and ever-evolving enterprise.
But what makes owner Gary Laviolette most proud is that Troy Auto Glass is so "old-fashioned."
"It's hard to find good, small businesses that work like they did 20 years ago," Laviolette says. "Social behaviors change, but you can't underestimate what customer service means."
And each member of Laviolette's staff provides customers needing auto and windshield glass replacement the kind of service that generates five-star online reviews and enthusiastic referrals from highly satisfied clients and local car dealerships.
When Troy resident, Laurie Albert, needed to replace the windshield of her Mazda, she called a business she had used in the past.
"They were kind of nonchalant," said Albert. "They didn't ask me any details about my car, but said they could take care of the work and the insurance when I came in."
"I then called the Mazda dealership for their advice, and they recommended Troy Auto Glass," Albert added.
Albert's concerns about the replacement process and questions about the windshield product were answered by Laviolette himself, who happened to take her call.
"Gary took time to explain what would happen, that he had the proper inventory, and that he'd easily be able to process the insurance claim. But the best part," Albert said, "is that work was finished almost an hour ahead of the time they'd estimated!"
"Also," she said, "the facility is clean, pleasant, and professional. It's much more like a nice office building than an auto garage."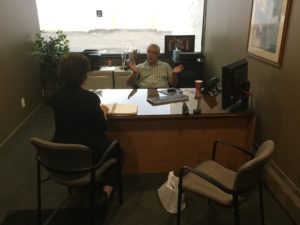 The 55-year-old business was started by Gary's dad, Ronald Laviolette, in Waterford, in 1962 and has been at its current location on Maple Road since 1978.
"As a 10-year-old kid," Gary said, "I would drive in with Dad on Saturday mornings and do deposit slips, and take orders and phone calls. In high school, I did a co-op program here, attended staff meetings and learned even more. After high school, I was here fulltime."
"And half of our employees have been here 20 years," he added. "For some, it's been 25 or 30."
In those years, windshield technology has continued to change.
"Along with customer service, our concern is driver safety. We only use OEM (Original Equipment Manufacturer) products," Laviolette said.
"Often, people looking to save money will have a service station replace their windshield. But that product may be from China and, in an accident, may not withstand a safe airbag release."
He added, "And, with sensors, cameras and brackets, after-market and cheaper products cannot provide a safe fit."
"Even the type of glue used contributes to safety," Laviolette explains. "Ours is the highest quality, and we provide the proper drying time so that when a job is finished, the vehicle is completely safe. If a customer left here and was in an accident, the windshield would definitely remain intact."
Laviolette and his staff are ready to meet the challenges of future auto innovations and heightened technology.
"Our technicians are highly skilled – and they care," said Laviolette. "We are excited to keep up with the future, but we'll always remain old-fashioned."
Info:  troyautoglass.com
1700 West Maple Road
Troy, MI  48084
248-649-3109
Like this article?  Checkout other Troy business stories featured on LBN
Troy's Grape Leaves celebrates 13 years of healthy eating