From a 2 KB Memory to Today's Laptops, Tech Has Seen it All
LBN Community Series Royal Oak
Ray Lareau has been working on computers for a long time — about 44 years, which takes him back to the dark ages of personal computing.
The owner of Royal Oak-based Computer Services of Michigan, Lareau built his first computer at age 9.
Armed with some computer books given to him by a brother-in-law, including one on building a computer, Lareau said, he also taught himself to program.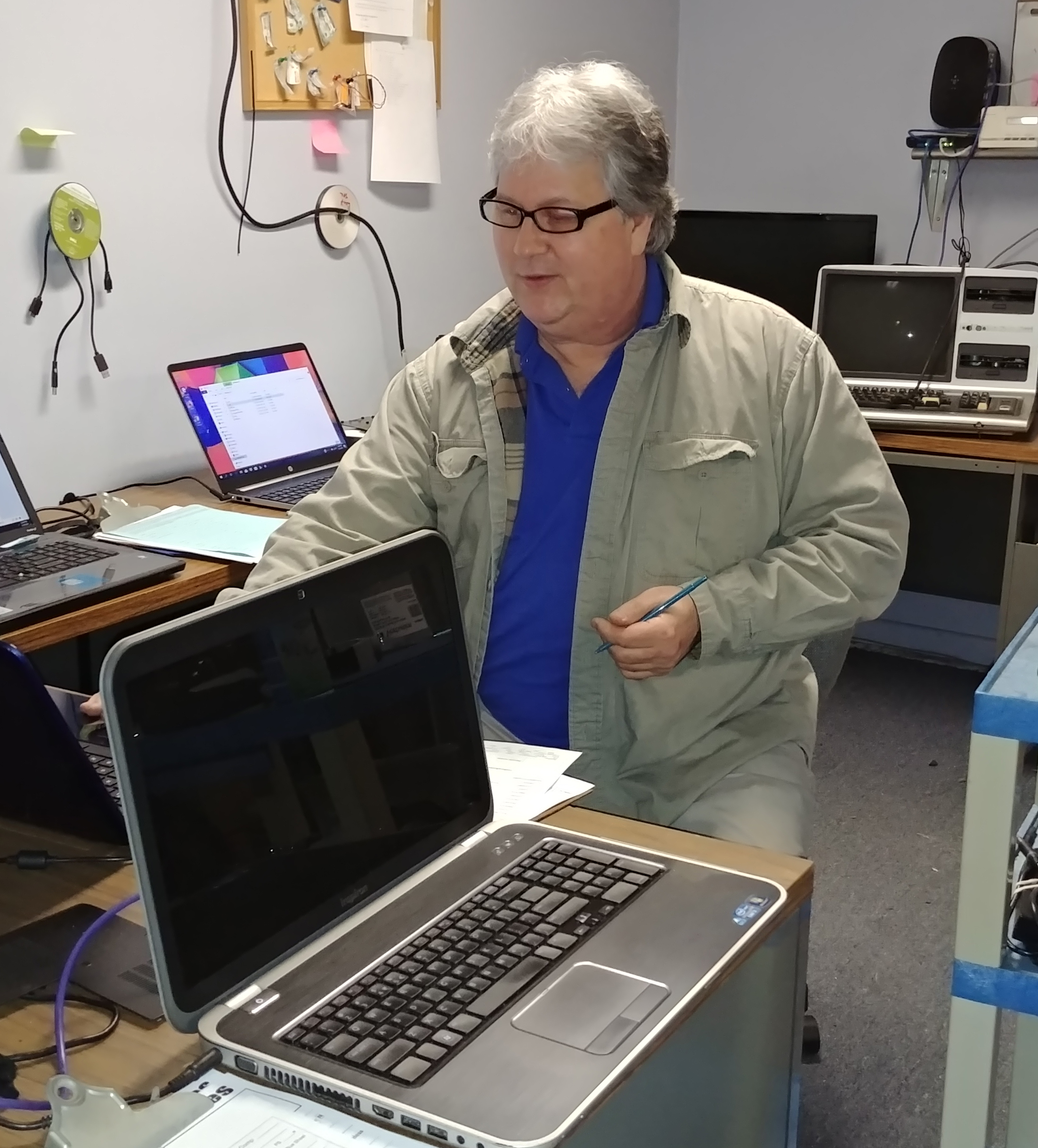 RAY LAREAU
OWNER, COMPUTER SERVICES OF MICHIGAN
  "I built a computer that would flash eight lights. I didn't care what it did — I was interested in the process," said Lareau, who has learned about embroidery, cookie-decorating and other skills while writing programs on those tasks. In the 1970s, Lareau got a TRS 80, a cheap computer from Radio Shack. Having saved up $200 in paper-route money, he said, he went to a store to buy what he needed to expand the computer memory from 2 kilobytes to 64 KB. (The typical laptop today has 8 gigabytes — that's more than a million KB.)
"The store owner didn't want to sell it to me. He figured I'd just burn it up. He finally agreed to sell me the memory after a second visit," said Lareau. "I installed the memory. The computer still works — it's in the back (of the business)." With his partner Maureen Landau, Lareau opened their business on Rochester Road just south of 13 Mile in Royal Oak 22 years ago. They had met while working at Michigan Bell/Ameritech and originally struck out on their own with a voice-mail business.
Eventually, the primary business became servicing computers, and Lareau and Landau have seen public preference move from desktops to laptops, with the latter now predominant in the market. "No one has been doing this longer than Ray. He's very picky," said Landau. Having a background in psychology, Landau had worked in communications and marketing. That's a role she still has with Computer Services. "Ray is the technology, I'm customer service. I talk to the customers. I calm them down and serve candy," said Landau. "I adopt the customers like they are my kids."
"She talks to people about their kids and puts them at ease. I listen to figure out what they need," Lareau added. Flyers about the business say, "You Click It We Fix It." "People believe what they see on the Internet," Lareau said, and that causes them to click on things they should leave alone.
Check Out This Week's Royal Oak City News
Landau points out, for example, that before clicking on an e-mail about a package delivery problem, it's a good idea to think about whether you were expecting a delivery. An even more common problem, especially with laptop computers, comes from food and beverages. "Your laptop is not meant to be eaten over," Lareau said. When it comes to soft drinks, he said, diet pop can cause more problems than drinks with sugar — because the sugar residue can be more easily be cleaned up than that left by diet pop. "Kids will tell us that they spilled orange juice on the computer but we can tell it was beer," said Landau. "We had one laptop come in just stuffed with cat hair. The husband would turn on the computer at night for the cat, who liked to sleep on it because it is warm. Never do that — get the cat an electric blanket." Physically cleaning the computer when it is brought into the shop is always the first step on any service, Lareau said, even if it turns out the computer won't run again. The two are proponents of customers getting what they need from their computers and keeping the devices running well. "It's always cool to get a new computer. Do you know where your data is and all your passwords are? No? We have a sheet for people," Lareau said.
When it comes to computer services at a big-box store, the emphasis will likely be on getting the customer to buy a new computer rather than providing his or her existing computer with needed repairs or upgrades, the couple said. For many customers who are getting a new computer, Landau said, a popular service is to have Computer Services transfer data and software to the new device.  
Customer Pat McKinley stopped in with her old laptop and a new one to have it set up in the same way the old one has operated. "I'm keeping both computers. I love my old computer — I'm used to it. Windows 7 isn't supported anymore. They can fix that for me," said McKinley. "I've been in here a few times. They do a great job. I had a really old computer. It was 15 years old and the screen went out on it. They fixed it." For customers used to a certain setup on their computers, Landau said, the company can set up a new computer in a way that is familiar and easy to use. Along with servicing personal computers, Computer Service also works on corporate accounts and handles forensic work, often involving divorce cases. Landau and Lareau, the latter one of 16 siblings who grew up on a Commerce Township farm, operate a self-described mom-and-pop business. The lobby has some computer accessories on display along with photos of family members, including grandchildren. On a recent day off from school, granddaughter Sadie Falcon, 10, was spending the day at the business. She sometimes helps with intake as customers drop off computers. Sadie noted she has sometimes provided some technical support when it comes to her grandmother's cell phone. "People feel more comfortable with a family business. Customers will ask if Ray can see all their personal data when he works on their computer, and he can," said Landau. "I had a customer say, then, he'd take the computer somewhere else. I told him anyone who tells you they can't see your personal information is lying. There has to be some trust." Computer Services of Michigan is open 9 a.m. to 5 p.m. Monday through Friday and 10 a.m. to 1 p.m. Saturday. Closed Sunday.