Hollywood Markets Keep Neighborhood Feeling in Era of Big-Box Stores
LBN Community Series
Royal Oak
When it comes to Thanksgiving dinner, it's all about the turkey. That's not the case when it comes to the other big holiday meal on Christmas.
"At Christmas, we get a lot of special requests — crown pork roast, standing rib roasts. We have a full-service meat counter with a lot of specialty cuts," said Bill Hoemke, meat department supervisor at the Hollywood Market in Royal Oak.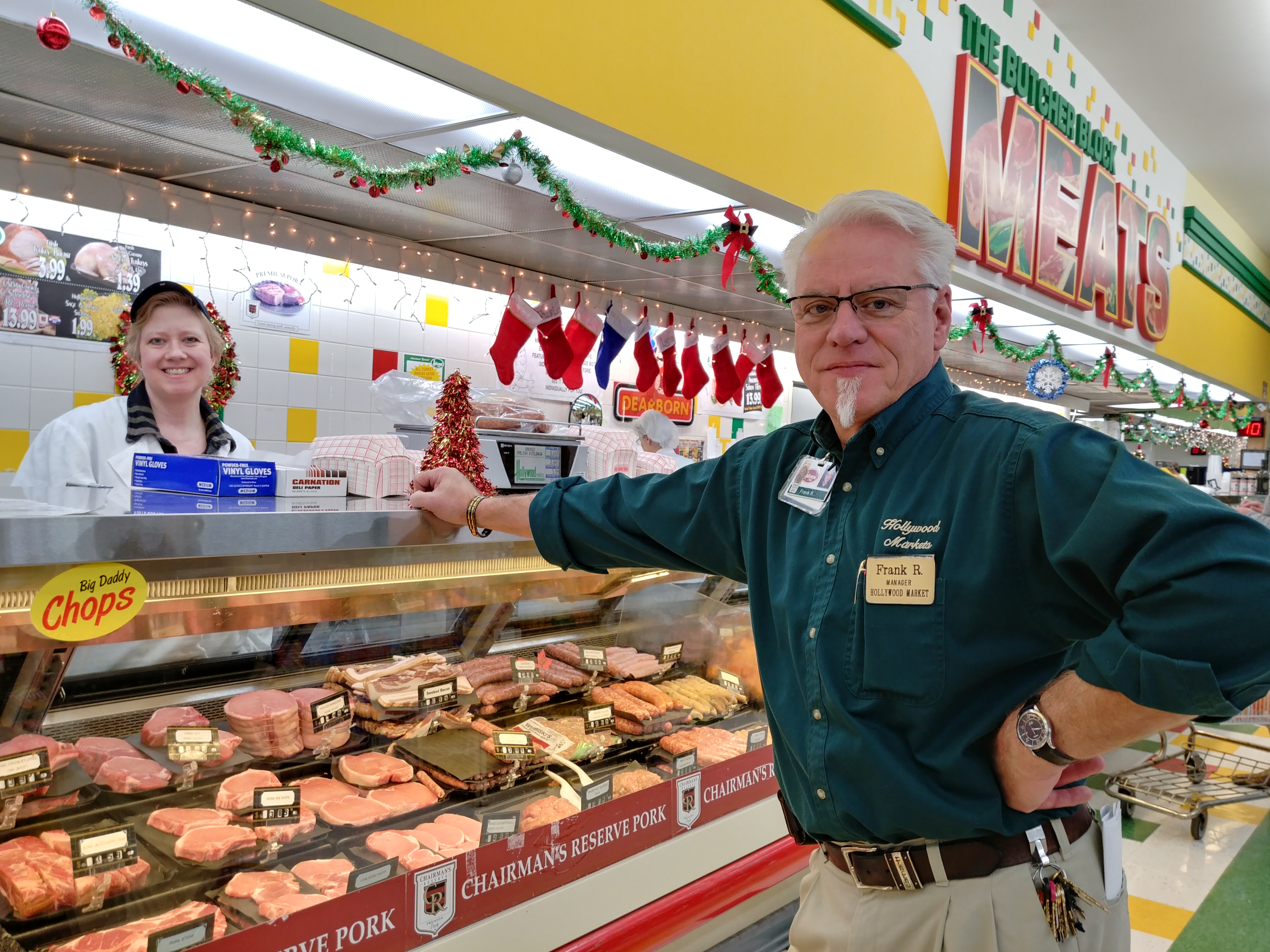 FRANK REMLINGER
STORE MANAGER, HOLLYWOOD MARKETS
Located on Main Street, the store also offers a wide range of specialty sausages all made in-house, as well as popular products from Kowalski and Dearborn Ham. The Royal Oak store has a facility for smoking meats and fish that provides products for meat counters at all Hollywood Markets, a total of five stores in Oakland County.
Some products such as marinated or stuffed chicken breasts are oven-ready, while others, such as crumbled smoked fish, may be more likely to be incorporated into a dish.
"We can help with recipes. We have the best knowledge of the product. It's what separates us from the big chain stores," said Hoemke.
At the adjoining counter, deli manager Becky Carver said a special ham is offered in the hot-food case, with party trays, chicken wings and other holiday party favorites.
"Last year, we did 42 party trays December 23-24, not including all the other trays we had done," said Carver. "We make batches and batches of ambrosia (salad). We have special dips that we make by hand only at Christmas."
Carver is also in charge of putting up the holiday decorations around the store.
Store manager Frank Remlinger has worked for Hollywood Markets for 42 years. "I started as a part-time cashier in 1977. I was supposed to be working my way through college," he said.
As Remlinger moves around the store, he talks not only with employees but also with customers — they're often on a first-name basis.
"I like talking to the neighbors who come into the store," he said.
He added: "People come in every day. You know people on a first-name basis, you know their kids."
The Welch family owns and operates Hollywood Markets, with third- and fourth-generation family members carrying on the tradition of working for the company.
"It's different working for a family owned store. It's a different vibe than a big company-owned store," said Remlinger.
Check Out This Week's Royal Oak City News
The Welch family's experience in the grocery business actually dates back to 1924. Having served during World War I, John Welch Sr. opened his grocery store on Detroit's east side. During the 1930s, he was killed during a holdup at his store.
Known as Jay, John Welch Jr. opened a grocery store in Detroit in the years after World War II.
The first Hollywood Market opened in Royal Oak on Campbell in 1950, founded by brothers Jay, Richard and William Welch, working with their stepfather, Charles Ross. A fourth brother, Robert, the eldest, had died while serving in the military during World War II.
"Each of the brothers had three kids so there were nine of us from the third generation involved in the business," said Hollywood Markets president Tom Welch, whose late father was Jay. "There are six of us (from the third generation) still involved today and five from the fourth generation actively involved."
At eight or 10 years old, Welch said, family members of his generation would start helping out at the store by getting carts, handling returnable bottles, cleaning and bagging groceries.
"We all got our feet wet. It's part of our DNA," said Welch, whose uncle William is still active in the business at 88.
Not surprised that Remlinger and customers were on a first-name basis, Welch said that's what the company expects from store managers, who need to know what customers like.
"We encourage that contact with customers. It differentiates us from other stores," said Welch. "That customer contact makes the whole experience more enjoyable."
With competition from big-box stores and more people ordering dry goods online for home delivery, Welch said, fresh specialty items like those found in the meat department are a forte for Hollywood Markets.
"When people have a holiday gathering with family and friends, they come back to us. They trust us and the quality," said Welch. "When they want to make a presentation, they come to us, with the full-service meat counters. The same with the deli and produce. There are always ways to buy cheaper but you get what you pay for."
There are several stories about how the Hollywood Markets name originally came about. Welch prefers one crediting his grandmother with picking the name.
"Nana Ross in 1950 flipped open a phone book and landed on Hollywood. That's where the name comes from. It's as a good a story as any," said Welch. "There is Hollywood, California. The customer is always the star. We don't use that slogan anymore but we still stick by that. It has to be that way for us to survive."
Hours at the Hollywood Markets Royal Oak store are 8 a.m. to 9 p.m. Monday through Saturday and 8 a.m. to 8 p.m. Sunday.