Flipside Records in Clawson is a trip back to Hippie Detroit time, somewhat reminiscent of Plum Street, with its chartreuse walls and incense burners.
If you came of age in the '70s, picture the Trading Post, another long-gone Hippie haven on Woodward and 10 Mile.
For those much younger, it's your Boomer parents' basement, minus the parents — just the tunes and the ambiance, plus lots of new music your folks never heard of.
"You never know what you'll see in here," says Todd Fundaro, Flipside's owner, who proclaims you'll find "anything I can legally sell and make money on."
Royal Oak's Frank Wilder, a self-proclaimed movie freak, stands in front of the store's "Death of Digital Sale" sign, leafing furtively through the DVDs.
"I usually stop in every couple of weeks," Wilder says. "It takes me about 15 minutes to see if there's anything I want."
Another regular customer, Jim Morrissey from Clarkston, is rummaging around in the "Audiophile" section of original master recordings and says he owns a $30,000 stereo system that fills one wall of his house. He prefers LPs to CDs. "Mostly you can find things here that you can't get anywhere else," he says.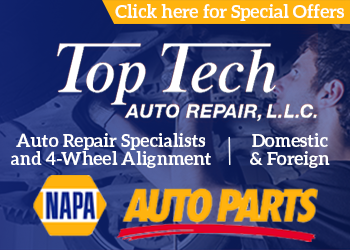 Today, Morrissey brought in some stereo equipment that he hopes to sell to Fundaro, who features a whole section up front with some very good deals on used models, and also new equipment such as turntables and accessories. Under $200 for a used Bang + Olufsen turntable, for example ("but the needle needs replacing and that costs $150," the store owner explains).
Fundaro, who grew up in Ferndale, started working with his father, Frank, when he was a teenager. Frank and a partner sold coins, stamps and other collectibles in a shop at 10 Mile and Coolidge in Oak Park. Then the market fell out, and they needed something else to do. That was 1980.
"We tried used books," Fundaro recalls, then added used records, competing with the only other place around at the time, Sam's Jams in Ferndale. When Frank's partner split in 1983, he and Todd moved to Clawson, putting Flipside on the must-browse Oakland County circuit ever since. Frank passed away in 2012, and Todd has carried on with a small staff and an enormous inventory. Like maybe half a million things under one roof. Nobody knows for sure.
"We sell, buy and trade here," says Fundaro, now 55. "A lot of our super expensive vinyl we sell online. We just bought a huge bunch of Kate Bush LPs from the '80s and '90s. We bought another collection recently of 4,000 LPs and 6,000 CDs, and way back in the day, we bought a 10,000-LP collection."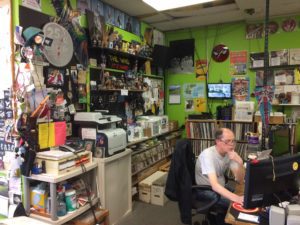 Younger kids come in and buy older LPs, music that their parents turned them onto, "but mostly they're buying the newer stuff, which is very expensive," Fundaro says. "We used to buy new records when we were young for $8.99. Now they buy three new albums and it's $70 to $100."
But LPs are just some of the inventory here.
Look up, and a pair of silver Led Zeppelin blimps hang above, along with other musical ephemera. Look around and there are video games and accessories, toys, posters, band-related T-shirts, head-shop stuff, 45s, books, board games and weird toys—unlikely combos of mixed heads and torsos (a monkey face on a fuzzy Mickey Mouse, for example) created by local artist Gwen Joy.
Up near the front counter of this cavernous, 3,300-square-foot outpost, find Beatles memorabilia, a roll of Trump toilet paper, a rack of Hot Wheels (a steal at $2.99 each), "Mystery Bags" with 10 CDs for $5, Indy-label artists, and new and used music in nearly every form and genre, from Ambient to Zydeco.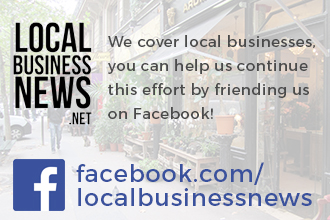 Well, not everything, at least not on this visit. Toward the front of the store, another regular, Denis Nobliski, is having no luck finding a copy of the "Fragile" album by Yes.
"I originally bought it in the '70s, says the Rochester Hills resident, who, like Morrissey, says he favors LPs over CDs, adding, "Albums just blow the CDs away."
Flipside's Fundaro knows that truth: Today, vinyl, which fills a large percentage of the racks in his store, is gold. LPs survived the onset of 8-tracks, tapes, CDs, MP3s and streaming, and so has Flipside, now in its 35th year. Flipside just received a plaque from the City of Clawson to commemorate the event.
And if it weren't for the fact that Clawson's main intersection is ripped to shreds, traffic is down to one lane and miserable, and anybody's GPS will take them in circles to find parking near his store, on 14 Mile Rd., just east of Main, Fundaro would be celebrating.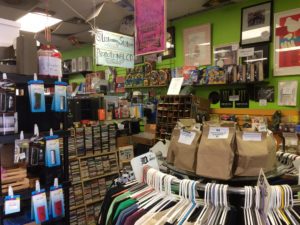 Instead, he has to wait until at least the end of June until the mess on the streets clears out and sales can get back to normal.
"We're down 40 percent since the construction began (in April), says Fundaro. "Everyone around here has the same problem."
But the good news: When construction's over, summer will be in full swing, Clawson's streets will be beautiful, and Flipside can break out some cake and candles. Let the summer begin.
Flipside Records
41 E. 14 Mile Road
Clawson, Michigan 48317
248-585-4090
shopflipsiderecords.com
email: flipside41@sbcglocal.net
(Hint: Park in the rear of the store or in the nearby Ace Hardware lot.)