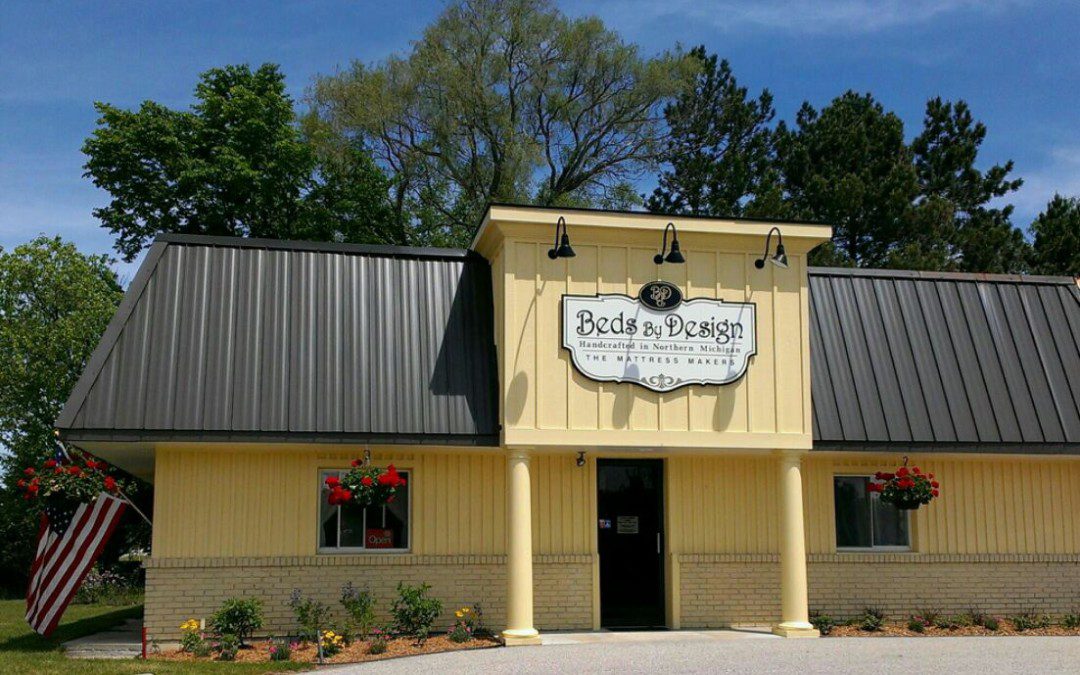 Michigan Mattress Manufacturer Opens Store in Downtown Rochester
By GLENN GILBERT
Editor, Local Business News.net
Rory Karpathian was at the top of his game but something didn't feel right. He was a highly successful executive making a six-figure income in the mattress industry, and his services were in demand.
"I actually had a great job," Karpathian, 53, recalls. "I had worked for all the major companies. But I just got sick of the changes in the industry.
"You just saw so many changes that really bothered me. Everything was planned for obsolescence. It used to be you bought a mattress and they never wore out. You're lucky to get three years out of a mattress anymore. "They're all foam, they're all synthetic. Nothing is natural anymore. Everything is petroleum-based," said Karpathian, who has worked in the industry for 30 years. Karpathian felt he could do better. He wanted to take a step backward and make something he could feel good about.
So in 2005 he bought and renovated an old 12,000-square-foot facility at 8643 M 119 in Harbor Springs, a resort area that sits on Lake Michigan, and started making high-end mattresses using a process he believed in. He named the company Beds by Design.
Today its five employees are producing nearly 800 mattresses a year and Beds by Design has just opened a new retail outlet with three employees at 111 W. 3rd St. in Rochester, Mich.
Karpathian said that what's different about his handmade mattresses is that they rely on old-fashioned box springs, natural materials — wool, cotton and natural latex and very little foam. Each two-sided mattress is custom made for the customer. Prices range from about $1,000 to $4,500 for standard sizes.
Beds by Design also custom makes bedding for boats. The "older generation remembers when this kind of stuff was around," Karpathian said. "I didn't invent this. I just brought back all the old-school stuff. I wanted to go back to the healthy way of sleeping and build something that lasts, something I felt good about ."
The mattress industry has seen significant consolidation and contraction in the past decade and the number of small, independent manufacturers — once the bedrock of the industry — has declined, according to a report in Bed Times, a publication that covers the sleep industry.
Beds by Design offers a lifetime warranty. A sign in front of the Harbor Springs location says it is the last bed you will ever need to buy. That caught the attention of David Marvin, vice president and chief operating officer of Stafford's, which operates three lodging facilities in northern Michigan.
Marvin walked into the store on a day when he needed a replacement bed in a hurry. Karpathian and his crew dropped what they were doing to meet the need in two days. It was the beginning of a lasting relationship between the two companies.
"We saw the way he made his mattresses," Marvin said. "His mattresses cost quite a bit more than ours," Marvin said, but with the lifetime warranty and no need to keep replacing beds, buying from Beds by Design made sense, Marvin said. Marvin said Stafford's had been replacing beds about every five years.
Beds by Design now furnishes mattresses for all of the Stafford locations. "We put our name on it," Marvin said of the beds made for Stafford's. Stafford's calls it the Pineapple bed — actually it is Beds by Design's Moonbeam model.
"The guests responded to it. We can get more money for a guest room. It's one more amenity for our properties," Marvin said. "Almost half of the time you spend in a hotel room you're spending in a bed," Marvin notes.
Many of Karpathian's customers have been guests at Stafford's and want a similar mattress of their own. Marvin said Stafford's now has an interest in the survival of Karpathian's business.
"We need him to be around." That suits Karpathian well. He wants to eventually open three more stores in Chicago, Indianapolis and Naples, Fla.
Karpathian said his typical customer is 50 years old or older, and usually wealthy. Seventy percent of his customers "have bad backs, bad hips, bad shoulders," Karpathian said.
"People expect our mattresses to cost $20,000 to $30,000" and his audience could probably afford that. Typically, he said his customers might live in Birmingham, a wealthy community in Michigan's Oakland County, have a summer home in Petoskey or Harbor Springs in Northern Michigan and a winter home in Naples. The health issue could provide a niche for bed makers as the Baby Boom generation matures. Getting a good night's sleep depends on factors such as comfort, stress level, room temperature, but the first essential is a good mattress, according to the Sleep Disorders Center of WebMD.
"If you wake up in the morning and have some low back pain and can stretch and get rid of it in 15 or 30 minutes, that means you're on an inappropriate mattress for you," sleep specialist Michael Breus states on the WebMD web site. "The right mattress, on the other hand, is one on which you feel no pressure, almost like you're floating in air," Breus said.
Stafford's Marvin was experiencing back problems himself and Beds by Design customized a bed for him and his wife. The company built him "a left-and right, his and hers bed. And I've never slept better," Marvin said.
Karpathian said local chiropractors send their patients to him and want him to set up a booth at their conventions. Karpathian said launching out on his own "was a dream of mine five or six years before I started this company. I just had something driving me to do it. "There's nothing like this on the planet. I'll stick by that."
Beds by Design is reachable by phone at 248-923-2153 in Rochester and at 231-347-0696 in Harbor Springs.