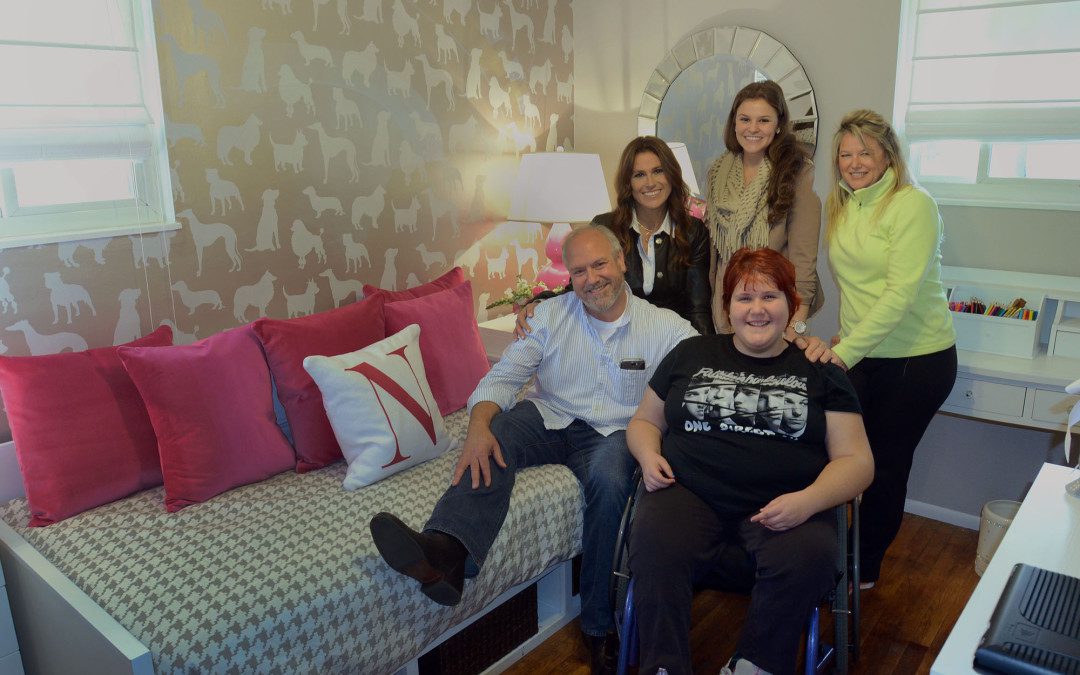 (Nicole McClelland, 16, of Waterford (center) surrounded by (from left) Rory Karpathian, owner of Beds by Design, and Suite Dreams Project's Kay Ponicall, Lauren Tonne and designer Kristin Smith of Jones-Keena and Company, were all involved in the total transformation of Nicole's bedroom. [Photo by: Vaughn Gurganian])
"I love it," said a tearful Nicole McClelland as her new bedroom was unveiled to her over the weekend.
Nicole is a 16-year-old spina bifida sufferer who is the recipient of a bedroom makeover project supervised by The Suite Dreams Project of Rochester, Mich.
Suite Dreams provides children with various medical challenges a custom-designed bedroom created to meet their specific needs, tastes and preferences — all at no charge to their family.
Kay Ponicall, co-founder of  Suite Dreams, called the refurbished bedroom in Nicole's Waterford Township home "a chic, sophisticated space" that follows an animal theme.
The bedroom's design was provided by Jones-Keena and Company of Birmingham and Beds by Design, a Rochester mattress maker, donated the bed. The bed is custom fit for Nicole and "makes it easier for her to get in and out of her wheelchair," Ponicall said.
Beds by Design is donating a mattress to the Suite Dreams Project for every mattress it sells through the end of the month. Seven mattresses have been donated so far.
 For more information on The Suite Dreams Project, visit suitedreamsproject.org. To learn more about the twin mattress donation promotion being held by Beds by Design, call 248-923-2153 or visit bedsbydesignmi.com.