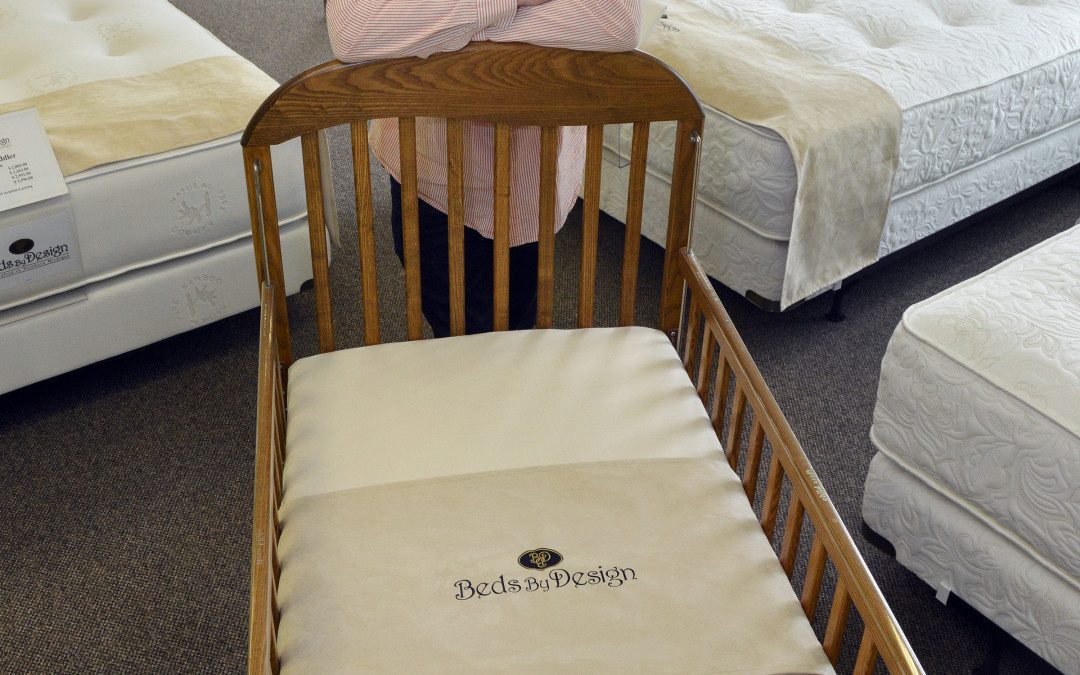 By Mike Scott
Local Business News
Since infants can sleep upwards of 12-18 hours a day, the mattress on which they sleep should be made of the most natural materials possible.
That's why Rory Karpathian, owner of Beds by Design, now sells all-natural crib mattresses from his store in downtown Rochester. This brand-new line of crib mattresses offers a major difference from the typical mattress that consumers can purchase at "big-box" or other name-brand mattress stores.
Karpathian understands the differences between mattress products. He worked many years for some of the largest mattress companies in the world, and Karpathian wants to educate consumers on the differences.
"You're talking about mattresses where the materials are actually toxic," said Karpathian. "These are petroleum-based products that aren't in any way natural."
That can be particularly harmful for infants, who are going through their most critical developmental years. It is during the first three to five years of an infant's life when parents should be the most conscientious about their child's health.
The typical mattress is made of petroleum-based foam, an artificial, synthetic product that does not breathe. A crib mattress from Beds by Design is made of wool and natural-rubber, and comes with a lifetime warranty. It is better able to support the head and body of an infant.
"One of the benefits of an all-natural mattress is that it is really good for posture, and again this is a major issue for infants," Karpathian said. "The bones and bodies of an infant are developing and you don't want to take shortcuts. It's something that parents should be aware of – but it's not the type of message you see or hear on television because the large manufacturers don't want you to know how their crib mattresses are made.
Crib mattresses should be extremely firm by nature so that there will be less danger of an infant suffocating, Karpathian said. Consumer Reports agrees, saying that the biggest mistake parents make in picking a mattress for their children is selecting "a mattress that's comfortable for them." And where a foam and petroleum made mattress doesn't breathe, wool and natural-rubber moves perspiration and drool from an infant away from their body. That's because wool naturally wicks away moisture and helps maintain a constant body temperature. An infant will sleep cool in the summer and warm in the winter without overheating. Wool also does not hold in heat.
One of the many benefits of this fact is that a naturally-made mattress can help to prevent bed rashes on an infant's skin.
"Wool maintains your body temperature which is just common sense," Karpathian said.
Consumer Reports agrees that a foam mattress offers several drawbacks. According to the respected product testing publication, "the cheapest foam and innerspring mattresses have thin vinyl coverings and edgings that can tear, crack, and dry out over time."
Beds by Design can make a customized, all-natural crib mattress for infants that have a lifetime guarantee in just two weeks on average at its Harbor Springs manufacturing and showroom facility. Each mattress is made to order than shipped to the customer eliminating the need stock mattresses in the store, and doesn't wrap them in plastic as a way to maintain that level of integrity. The quality of such mattresses means that they can be kept within a family for many years for future infants.
Each Beds by Design mattress is purposely designed to relieve pressure from hip and shoulder areas, allowing the contours of a body to be properly supported. It allows your infant to feel like he or she is sleeping on a cloud without the threat of body impressions that will mar that mattress forever.
An all-natural crib mattress also makes for a perfect shower gift for a family, Karpathian said. The cost of the handmade, all-natural crib mattress starts at around $650. Special sizes and orders are also available. Mattresses for youth, teens and adults are also available at the Rochester location of Beds by Design and all are made with the same natural materials.
"The key is really to educate people about the differences," Karpathian said.
Beds by Design is located at 111 W. 3rd Street in Rochester. It is open five days a week, 10:00 to 6:00 Tuesday through Friday and 10:00 to 5:00 on Saturday. Learn more by calling (248) 923-2153.