Jane Miles of Clawson's American Flag and Banner shakes her head and laughs as she recounts how, in 1978, she came to own the long-standing business.
"Yes, we've been around for 101 years, though I haven't been here all that time," she quips.
"It was time, after college graduation, a B.F.A., and unrelated jobs, for me to find work in my artistic field. I didn't want to teach, so I was considering other outlets and saw an ad for a 'sew-er' for American Flag and Banner, located in Detroit, and owned by  Robert Erdman."
"During the employment interview, which was the weirdest of my life, Mr. Erdman asked me several personal and what I thought to be bizarre and, maybe, inappropriate questions: 'Did I want to start a family? If so, when? How much education did my husband have? How much money did he make?'"
"I was offered the job on a Friday afternoon and thought about it all weekend, but decided not to take it."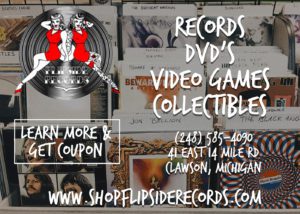 "When I called Mr. Erdman on Monday morning with my decision, he said, 'that's too bad … I was thinking you and your husband might like to buy the business.' Well, my husband's dream was always to own his own business. So soon after that interview, we did end up buying it."
First located in Detroit on Fort Street and called Detroit Flag at that time, what is now American Flag and Banner finished, in 1923, the original flag that draped across the J.L. Hudson store on Woodward for Armistice Day and other patriotic holidays. The world's largest flag at 3700 square feet, its stars were six inches tall, and a mile of rope was required to hang it. Its replacement, made in 1949, was seven stories high and needed 55 men to put it in place. Stars for Alaska and Hawaii were added in 1960 by six seamstresses and in 1976, after being hung a final time, the flag was donated to the Smithsonian Institution.
"There's another flag we are known for, too," says Miles. "During the initial year or so after we bought the business, we created the first flag for the African country of Liberia."
Flags for every state and from every country – as well as items for schools, sports teams, and the armed forces – are available, and American Flag and Banner continues to create custom items.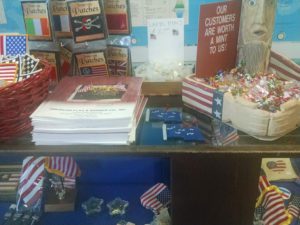 "We just made the 'Roaring Lions' flags for the Detroit Lions," says store manager Emily Dancy, "as well as their 'WCF' flags, the initials for William Clay Ford."
"We also repair flags," Dancy adds. "And if they can't be repaired, we can dispose of them properly."
Longtime customer Marc Secontine, owner of The Varsity Shop on Adams Road in Birmingham,  says, "This is such a nice business. It was great to buy the American flags, flagpoles – and flagpole lights – from them for our business."
Currently, spread out on tables in their store's adjacent workshop, are fabric, patterns, tools and "goop" for making a special-order sports banner for Orchard Lake St. Mary's.
Though at one time American Flag and Banner had ten employees who did the sewing of flags, there is now one main sewing staffer, Claudia Geiger, who is also a commercial artist, the store's design manager and Miles' longtime friend and schoolmate.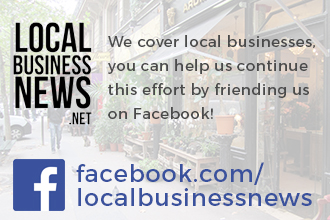 Working in perfect unison as the team they've been since their days at Cass Technical High School in Detroit and as BFA students and sorority sisters at Wayne State University, Miles lays out the pattern pieces that Geiger has made, applying the sticky liquid over them that transfers the outline to the underlying fabric.
"It's easy for people to order inexpensive, computer-printed flags online from China, for example," Miles shares. "But our handmade flags and banners are gorgeous, hang beautifully, and they last."
"My computer's up here," Geiger adds, chuckling as she points to her head. "And it seems that when we make their flags and banners, the team really does win more often!"
With a wall of storage for patterns that she has drawn as a testament to their work, Geiger recalls past projects.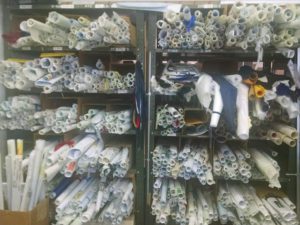 "Years ago, we had a whole room full of patterns, and we made the most amazing, hand-sewn felt and appliqued flags and banners. It was art. Now, clothes are so inexpensive, and there aren't that many people learning or wanting to sew. And fabric and patterns do cost a lot! But I meet people and ask, 'How do you live without a sewing machine?'"
"We've been so fortunate with our sewing machines," says Miles, pointing to the wall-length sewing table. "These are the original machines that came with the purchase of the business. They have old-school ball bearings. We maintain them, and repairmen are in awe of how well-made they are. And parts for them are still out there!"
Many of their other tools and supplies were also included with the business's purchase by Jane Miles and her husband, Bill, who passed away early this year, and were brought with them when the business was moved to Clawson in 1980.
"Clawson is a great spot for us," Miles says, "a most wonderful and patriotic town and place to be."
And in the immediate aftermath of the 9/11 national tragedy, hundreds of people, in a line that circled their building, waited in the rain to purchase flags and show their patriotism.
"The people were amazing. They were patient and supportive as we made each sale – which, for those who needed flagpoles, took extra time, then, to drill the proper holes for installation," explained Miles.
"There were no planes flying, either, so luckily Bill found an empty truck that was able to bring us products. Meanwhile, customers were buying everything we had and stripped the place of U.S.A. knickknacks – and even bought my own patriotic clothes off of me!"
"But the best thing was the sense of community as those in line became acquainted during their wait. You could hear people wishing those behind them, 'Good luck with that wedding!' or 'I hope your mom recovers quickly!' as they entered our store."
"It's a wholesome business. Through all of our years, even though a good flag can be a luxury item, no one has ever written us a bad check or lied about their history to receive our veterans' discount. And that," concludes Miles, "is just another form of patriotism."
American Flag and Banner
28 S. Main Street
Clawson, MI  48017
248-288-3010