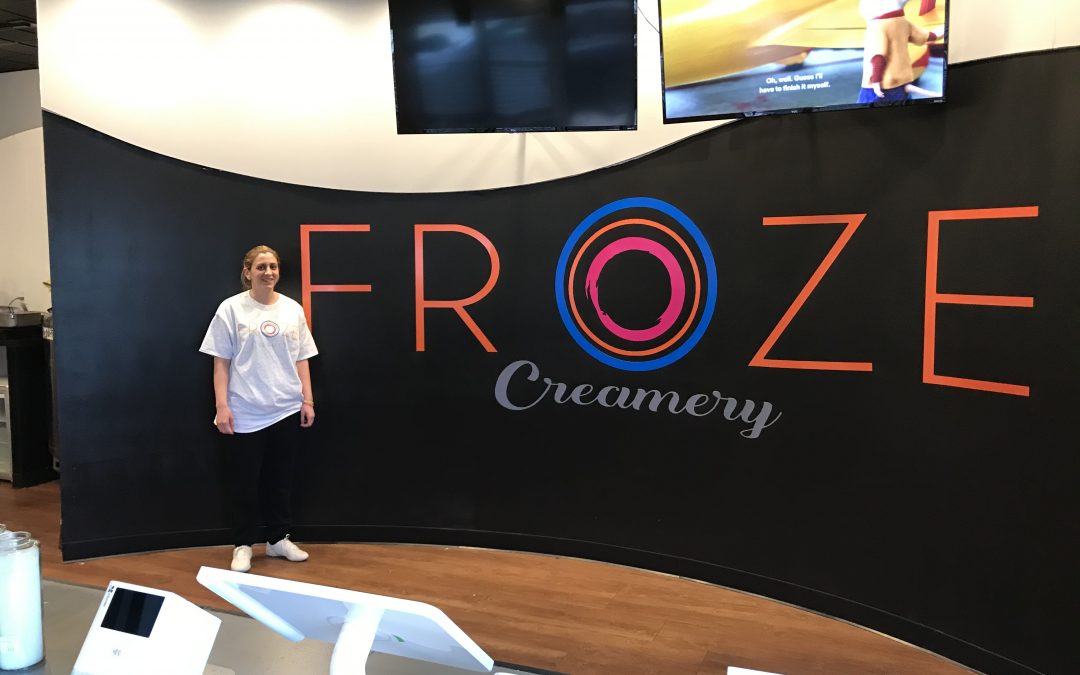 Chill Treats Get Hot Reception at Clawson Ice Cream Shop
LBN Community Series
Clawson
Froze Creamery owner Cynthia Haddad has no qualms about opening up her Clawson ice cream shop in the middle of winter.
She and her husband, John Haddad, are banking on the notion that if they "roll it" people will come.
And so far, their unique offering of made-to-order rolled ice cream is garnering raves and repeat customers just a couple weeks after they opened the doors at 230 South Main. The actual grand opening will be Saturday, February 1, after a month or so of getting the place up and running.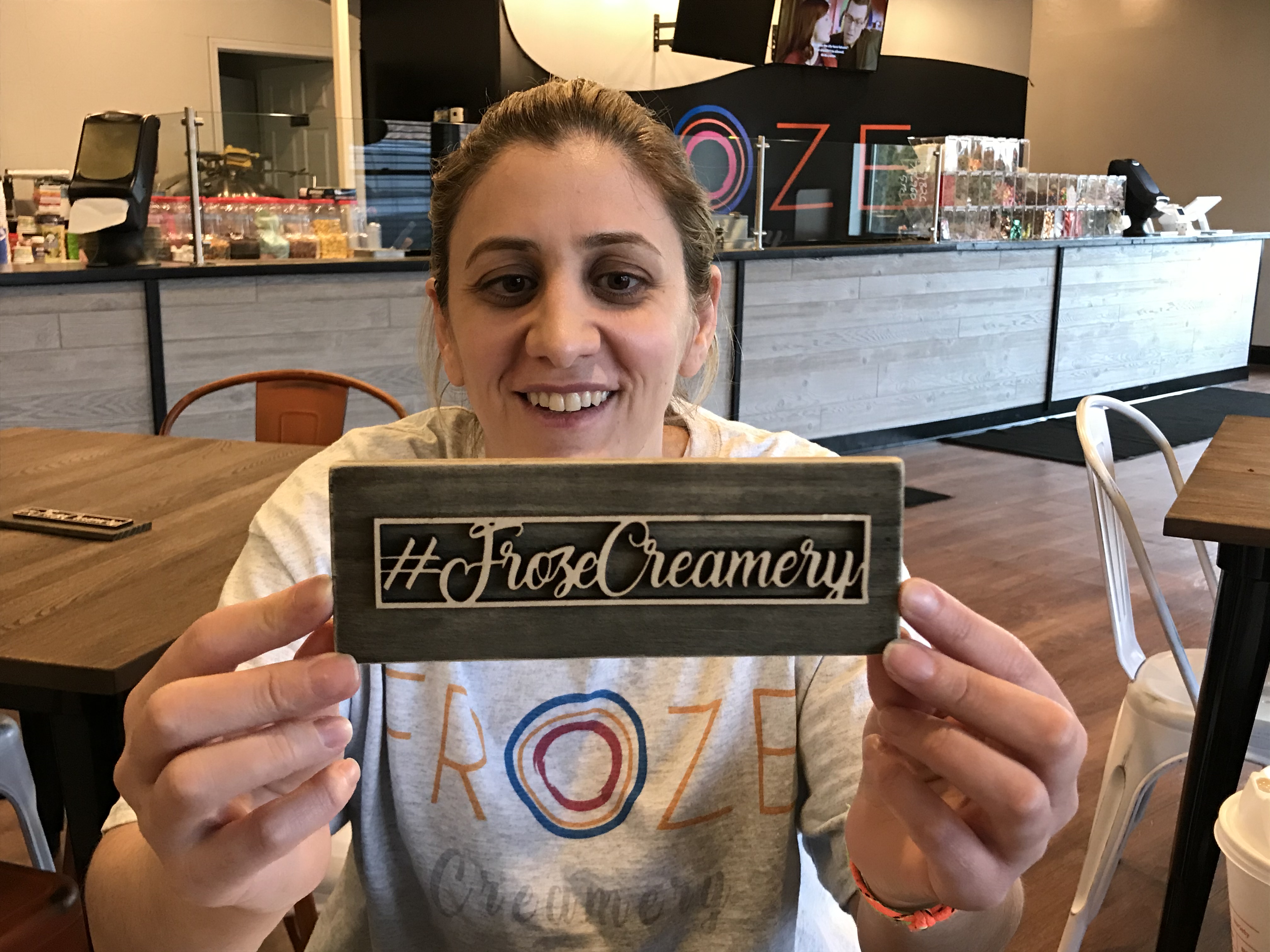 CYNTHIA HADDAD
OWNER & CEO, FROZE CREAMERY
"People have been waiting, they've been waiting," Cynthia Haddad said. "The first day we opened we were slammed. And none of the employees showed up; it was just me and my husband."
Just weeks into their new venture, social media (Facebook, Instagram, Twitter) and word-of-mouth are paying dividends. On tables are wooden signs with the handle #FrozeCreamery. So far there are more than 600 likes on Facebook.
"That always helps anyone build their business, the social media," Haddad said. "It's always from family and friends that people come in here and try the ice cream. If I didn't have that, I don't know.
"Clawson's a pretty tight community though. A lot of people are always around here. They needed a new ice cream place that was open all year 'round. … A lot of people, I'm telling you, are already obsessed with some flavors."
Haddad said it was coincidental that she and her husband opened their business next to the seasonal Dairy O (which remains closed until spring). But she welcomes the chance to give customers an ice cream option.
"He has nothing like what we have. Ours is completely different," she said.
Rolled ice cream is the main attraction. But Haddad will provide novelties such as Dragon Breath and Snow Ice along with bubble tea.
"Nobody has the Dragon Breath around here," Haddad said. "They're like cereal puffballs that we soak in liquid nitrogen and when the customer eats them it blows out smoke.
"It is popular (with kids) and with adults ­— you'd be surprised. And then the Snow Ice is a special mix that we make."
Haddad said it was her dream to open a newfangled ice cream shop. Now that it is a reality, she plans on working long hours (not to mention commuting from Canton) to make it a successful one.
The detail and décor underscore how much the business means to the Haddads.
When customers walk in, they see the colorful Froze Creamery logo painted on a wall behind an enticing display of dessert toppings.
Check Out This Week's Clawson City News
After choosing from a menu — with options such as Fruity Pebbles, Caramel Pretzel, Matcha Lady and more —  they can watch Haddad go to work on their ice cream order.
"We're getting a lot of feedback that customers are really enjoying the fresh flavor, not like freezer-burnt ice cream," Haddad said. "And they're really enjoying watching us make it."
Among repeat patrons is Clawson's Melissa Liford, who recently made her second trip to Froze along with 13-year-old daughter Evie.
"It's good, very good," said Liford, who discovered Froze on Clawson's community Facebook page. "It's a different texture than the soft-serve, and you get to add the flavors that you'd like. They have the menu that you can choose from and you also can make your own flavors."
Having tried the Birthday Cake offering her first visit, she opted for Morning Toast her second time there. Morning Toast combined elements of French toast and cinnamon toast.
Evie chose Strawberry Chocolate. "It's really good, it's just something different and something new," she said.
Watching Haddad create their rolled treats added to the experience. After pouring vanilla base onto a circular cold plate, she added all the ingredients and mashed them together before spreading the mix as flat as a pancake.
From there, Haddad pushed a spatula forward in the same way a house painter might scrape old paint.
With each scrape of the plate, circular tubes of ice cream are created. They are then dropped into paper cups or (very popular) waffle "taco" shells, and customers tell her which toppings to add to personalize their choice.
"The base that we use, we get it specially made," Haddad said. "We put that down on that cold plate machine we have. Then we mix in the toppings and spread it out flat, and then we roll it.
She can also take care of vegan customers by using a specially made coconut-water base.
Plans call for eventually serving food (chicken wings, cheese sticks) at the shop, and expanding to add more of the 24-inch diameter cold plates. That would allow more employees to work on the rolled ice cream orders as business increases.
For those who can't make it to Froze Creamery, Haddad intends to take a portable cold plate on the road to elementary schools and birthday parties.
The personal touch is quickly reaping benefits for the new business.
"During the day, they (women customers) brought their kids in and at night they brought their husbands," said Haddad, smiling.
The hours at Froze Creamery are 2-9 p.m. Tuesday through Thursday, 2-10 p.m. Friday, 12-10 p.m. Saturday and 2-8 p.m. Sunday. Closed Monday.