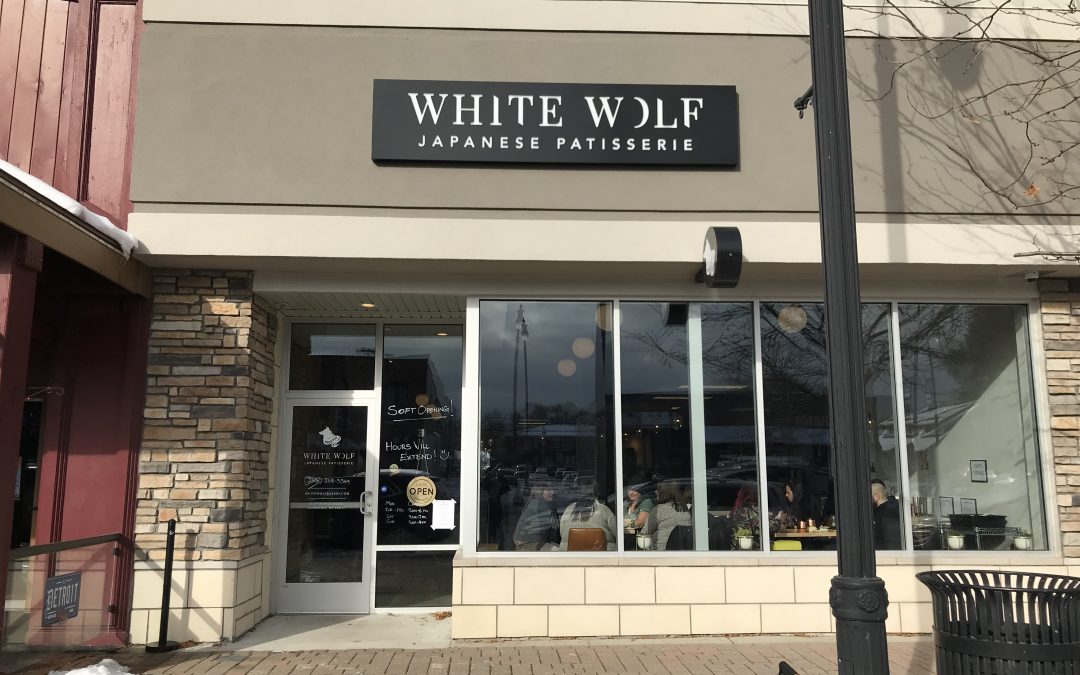 Neo-Japanese Pastry Shop Opens to Raves in Clawson
LBN Community Series
Clawson
It's an almost other-worldly experience that greets customers at Clawson's new White Wolf Japanese Patisserie.
The sights and smells inside White Wolf bedazzle those who visit the shop on 14 Mile near Main. Upon entering the recently opened bakery-café, patrons see a colorful display of treats and a wide-open food preparation area. Behind the counter, executive chef Doran Brooks sprinkles ground-up green tea over the popular Matcha Mille Crepes.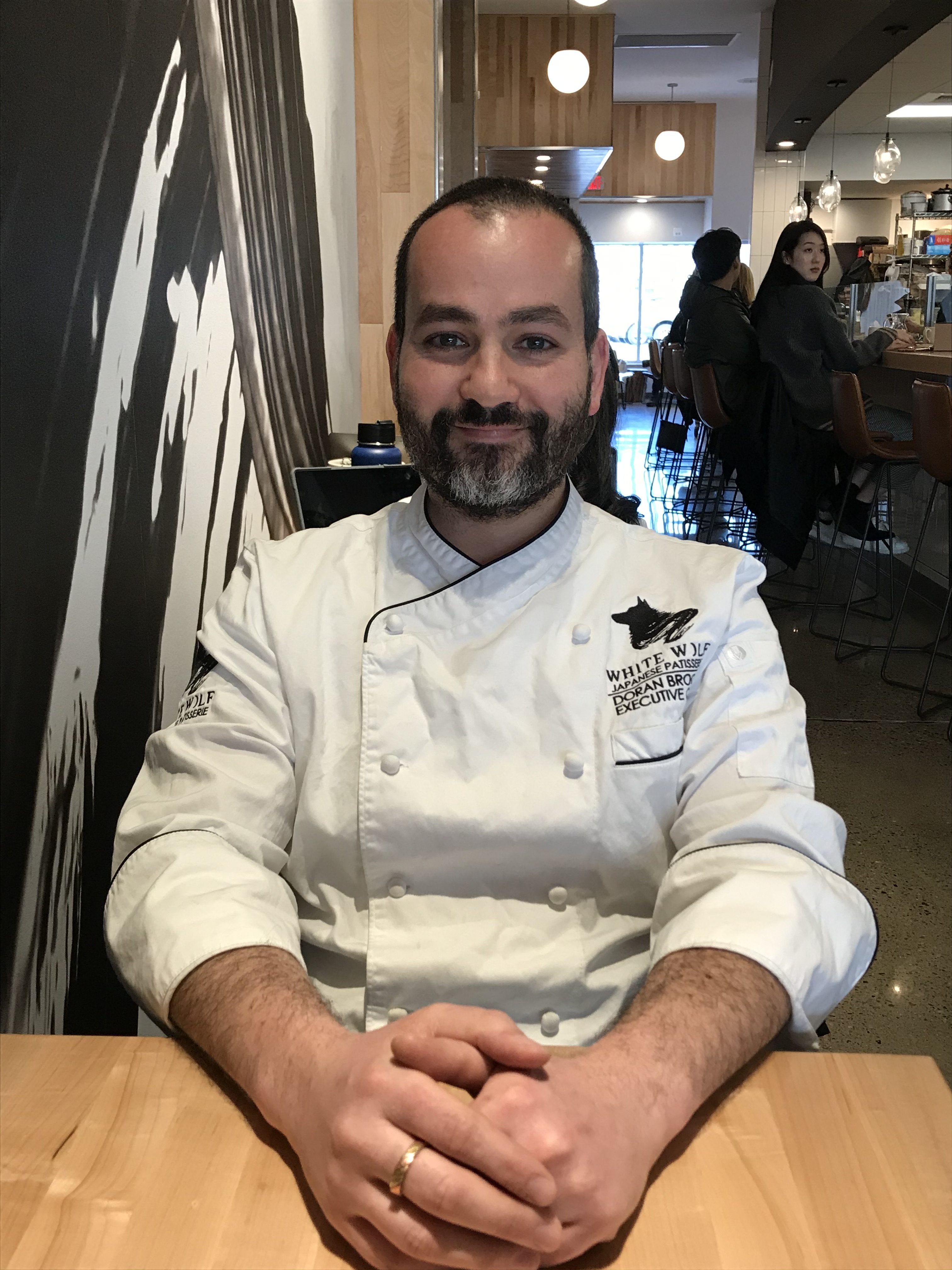 DORAN BROOKS
EXECUTIVE CHEF, WHITE WOLF JAPANESE PATISSERIE
White Wolf has drawn an increasing number of people from different cultures since a soft opening in September. Enthusiasm continues to grow, Brooks said, thanks to word of mouth and glowing reviews on websites such as Yelp. And, he emphasized, the best is yet to come – the full menu soon will be unveiled, when White Wolf moves from limited hours to a seven-days-a-week venture in December or January.
"Customer response has been outstanding," said Brooks, who worked with parent company True World Group (which also owns the nearby Noble Fish) to take the White Wolf concept to reality. "People have been enjoying their time here. We get three, four, five hundred people through here on the weekends. It's just been very, very good and we're getting busier and busier every weekend, which is awesome.
"A big part of this was to do something in an area that wants this quality and this level of product but doesn't quite have it yet."
On a busy Saturday afternoon, Joe and Soo Kim of Sterling Heights came for the coffee and left with high praise — and a bag of the savory, not-too-sweet Japanese-French-style pastries assembled by Brooks and the kitchen staff using organic and fresh ingredients.
"Essentially, it's a Japanese pastry shop," Joe Kim said. "We like the fact that the desserts aren't overly sweet. We tried some of the desserts today and it was fantastic."
The Kims had slices of Matcha Mille Crepe with their medium-roast coffee.
"With cakes and stuff like that, it's sometimes overly sweet with too much crème," Joe Kim said. "But we realized that the Asian-inspired desserts are not as overly sweet and that's something our taste buds appreciate."
They said the location is perfect for the area's large Asian population.
"I think it's not only going to attract the Japanese," Joe Kim said. "We're Korean, and it seems like the dessert preferences are very similar. We've been waiting in line, and we noticed that there were more Koreans here as well. Just because we hear them speaking the language. And it's very close to Troy. We know there's a big Korean community in Troy."
According to Brooks, whose global approach to baking was formed while working in famous restaurant kitchens, the concept for White Wolf was to "build something that was different and unique. A lot of food establishments in this day and age are driven towards high-margin, high-volume products. They are trying to make a profit.
Check Out This Week's Clawson City News
"We wanted to build something that was more driven towards customer service and value for the customer."
Visitors to White Wolf can see Japanese Strawberry Shortcake or Kare Pan (a Japanese vegetarian curry in a deep-fried bun) take shape before their eyes.
"One of our core values here at White Wolf is transparency," said Brooks, who was also classically trained in French cuisine. "So, if you look at the way that the whole kitchen is open, there's a lot of glass, there's not a lot of things hidden."
Brooks said having the successful Noble Fish nearby provided a good jumping-off point in Clawson for White Wolf.
"Noble has such a strong reputation in the metro Detroit area for the best Japanese sushi. When this location became available it made perfect sense for us to move here," he said.
Brooks underscores that White Wolf is a "neo-Japanese patisserie bakery and café" rather than a traditional one.
"We are taking the best part of what the Japanese approach towards those parts are (and) improving on, making them special."
Also certain to be special will be the holidays, when patrons can pre-order (by calling or visiting the store) strawberry shortcake with Christmas themes.
"All the leavening's incorporated by hand, so it's a very light, very tender, very unsweetened, textured chiffon cake," Brooks said. "And then we just use fresh whipped cream and fresh strawberries. That's it, those are the main components. There's no butter crème, there's no fillers, there's no chemical leavening agents or anything like that."
Whether folks stop by for a coffee and a muffin, gluten-free macaroons or Melon Pan, they are in for a global culinary experience. Yet Brooks also wants to incorporate local input when tweaking his menu.
"There's a lot of room for creativity, a lot of room to try things, to gauge customers' response to it and help the menu develop with the customers based on their feedback," he said.
He added: "If something is going really, really well then we'll make more of that and more things similar to that. If people don't really like something we're doing then we'll change it up."
Judging by a jam-packed Saturday, Brooks won't need to worry about that any time soon.
White Wolf Japanese Patisserie is open 8 a.m. to 5 p.m. Thursdays and Fridays, 9 a.m. to 6 p.m. Saturdays and 9 a.m. to 3 p.m. Sundays.