It's a perfect 76 degrees on a stellar blue-sky afternoon at the Royal Oak Golf Center. The air is sweet with the smell of new-mown grass and the constant sound of range balls being whacked, and pals Matt Song of Franklin and John Calso of West Bloomfield are geeked about the new Power Tee system they're trying out.
Unique to Michigan, Power Tee offers up to 24 different adjustable-height settings. Load a basket of balls into the lower hopper, press a button on the console, which raises the tee, then take a whack. To readjust, hit another button and watch it move to the height you desire.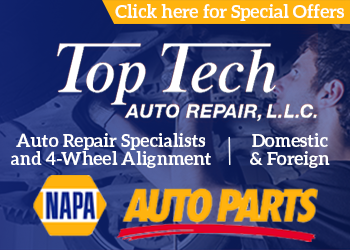 It's the first time Song and Calso, who call themselves "rising juniors" at the University of Michigan, have visited the center. They've been playing for the last hour with a jumbo basket of balls. "He's winning," says Song.
"I'm surprised to see new technology here," says Calso, happily, and somewhat in awe. "The sensor knows if you hit the ball or not."
For decades, throngs of golfers have flocked to this verdant corner near 13 Mile and Coolidge to sharpen their game and take in some fresh air. The vast driving range and practice facility, which dates back to the 1950s and is owned by the City of Royal Oak, has long been an oasis in the middle of one of the busiest sections of North Woodward, a beloved place to sneak in some golf at lunchtime, get in a golf fix in a hurry after work, or take the kids for some leisurely mini-golf on a summer afternoon.
But those who haven't been here in awhile are in for a treat. After a $1.5-million renovation and upgrades throughout, the 20-acre/ 250-yard-deep golf center is all bright, shiny and, with its automated ball-teeing system called Power Tee, techie enough to tantalize the most jaded Millennial. Many seniors like Power Tee because there's no bending, no loss of grip on their clubs, just exhilarating fun.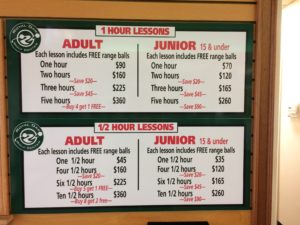 Down the row of practice stalls are Ray and Anne-Marie Eklund of Beverly Hills, who have been coming to the center for 30 years. They're impressed with the transformation.
"The whole facility is so much nicer," Ray says. His wife adds: "We've seen all the changes and upgrades, and this is the best place for all kinds of weather." She recently had back surgery and is taking lessons at the center to get her swing back. "The pros are great here," she says.
For chilly days and evenings, the center added 33 covered and heated tees, making year-round driving practice a reality, one of the aims of the expansion. The new stalls are also equipped with fans for summer. In all there are 87 tee boxes, including open-air.
"Basically you can practice every shot here that you can do on a golf course—full swing, short game and putting," says Pulice, who has been in love with all things golf since he was a young lad. "It's kind of a cult," he laughs.
Beyond the sheer joy of playing, it's all about learning the game here, with three PGA golf pros to hone the skills of beginners on up via groups, camps, clinics, hour or half-hour lessons. There are 32 other employees on staff, plus a well-respected repair shop to keep equipment in shape.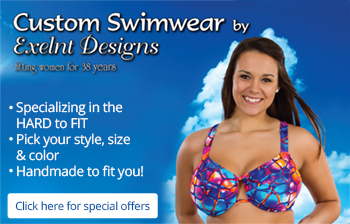 Walking around the facility with Glenn Pulice, the center's general manager and PGA professional, he points out the just-hung directional signage and the Adventure Golf area, with newly renovated "mountains," a waterfall and carpets for mini-golf, all redone by Big Sky Miniature Golf out of Wyoming.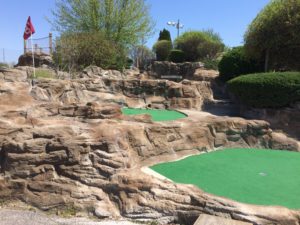 "We adjusted the golf holes together to make the entire golf course more fun and playable," says Pulice. Krieger Klatt Architects and Ronnisch Construction Group, both of Royal Oak, oversaw the entire project. This area is where families or couples can enjoy a fun afternoon or date-night under the stars, and indeed they do; customers here range in age from three to 95, according to Pulice.
Thanks to the recent expansion, it's also a fine place to party, whether celebrating a birthday, corporate event or any other kind of soiree.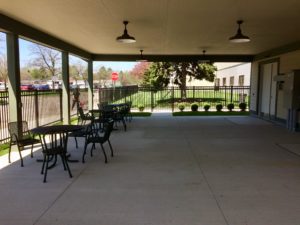 "We tore down three small buildings to create a new 1,400-square-foot pavilion, adjacent to the 2,400-square-foot mini-golf complex. It's a great event space," Pulice says, which can accommodate anywhere from five to 200 people. "We cater the bigger events," he adds, "and Tania's Pizza (Royal Oak) helps us out with the rest."
There's also an 800-square-foot tent for overflow and Michigan's unpredictable weather. A small concession area is nearby and also is upgrading the entire concessions menu.
Watch for more improvements as the season unfolds. There's something here for everyone, and a good time is guaranteed for all.
Royal Oak Golf Center
3500 Edgar Avenue
Royal Oak, Michigan
248-549-4653
royaloakgolfcenter.com