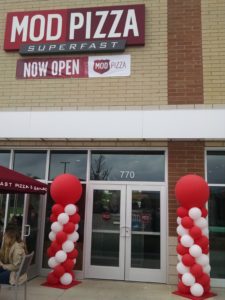 Kevin Hamilton, general manager of MOD Pizza on Big Beaver Road in Troy, smiles in awe as he stands in the midst of his restaurant's frenzied, first-day activity.
"Opening this store has been a wonderful, uphill roller coaster," he says. "This team is amazing. Their personalities bring the MOD experience to life as we serve the freshest, fastest pizzas while also serving the community with employment opportunities and local philanthropy."
MOD Pizza, with over 330 locations around the United States and Canada, was founded in Seattle in 2008 by Ally and Scott Svenson as they sought out places with healthy, quick and delicious food to eat with their own family of four children.
Having traveled to Italy and enjoyed the thin, crispy, freshly made individual pizzas of the street vendors, the Svensons decided to try the "individual pizza" concept in their hometown of Seattle.
They also wanted to develop a business that would provide special support to its workers and its neighborhood.
Opening at the start of the recession, the Svensons hoped to feed families affordably and to provide jobs for those having trouble finding work, including people with special needs and people rehabilitating from addictions or with past crime records.
"The last thing the world needed was another pizza place," Ally says on the MOD Pizza website, "but maybe this one could be different…and everyone could get what they wanted, made fresh on demand, for as little as possible with employees paid as much as possible, with opportunities for real growth – and even second chances."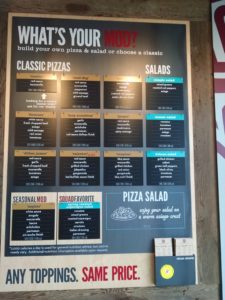 And, as customers approach the counter to order their pizzas made assembly-line style, they can see and get exactly what they want from a choice of crust sizes, dough type, sauce, cheese and over 30 fresh meat and vegetable toppings, temptingly displayed.
"I've just come from a performance I gave at Rochester Schools," says professional storyteller Barbara Ann Poelman (storiesandplay.com).  "I don't eat carbs, so all these toppings on my pizza are actually like a hot salad, and the crust is my plate."
"I predict," Barbara Ann adds, "that one day MOD Pizza will have an almond crust on the menu, for those of us who eat ketogenically."  A ketogenic diet, sometimes referred to as "keto," is very low in carbs and high in fat, producing ketones (broken-down fatty acids) instead of the glucose that would be produced from the metabolic breakdown of carbohydrates.
Bill Thompson stopped in on his way home from work and looks around at all the balloons and jovial staff members.
"I didn't realize this was their grand opening today," he says, waiting for a six-inch pizza to eat in the store and a nine-inch pizza to take home in a specially designed, recyclable box that keeps the pizza straight-from-the-oven fresh for twenty minutes.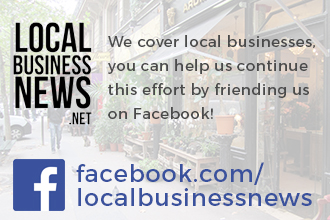 "It's my first time at a MOD Pizza," he continues, "but it won't be my last! It's hard to believe that you can get as much of as many toppings as you like for one, set price. And I don't think I waited even five minutes!"
The pizzas cook quickly in a large, 800-degree brick oven.
"I like my pizza a little more well-done, so that's how they cook it for me," says Maureen Neil, who usually goes to the Rochester Hills store with a daughter and grandkids. "And I love the chance to have very light cheese and lots of greens – or anything I'm in the mood for. The salads are fantastic, too. Made-to-order, and just like I'd do at home."
The Mod Pizza locations in Troy and Rochester Hills are owned by TEAM Schostak (teamschostak.com). They also own locations in Brighton, Canton, Chesterfield Township, Livonia, Northville, Shelby Township, Southgate and Woodhaven, and they have plans to have 25 Michigan locations within the next five years.
Paul Whitmore, general manager of Livonia's MOD Pizza for three years and a Schostak team member for seventeen years, helped with the opening of Troy's MOD Pizza.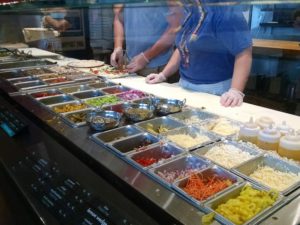 "Our best asset is our team of workers," Whitmore says. "We hire for personality and train for skill. One of our core values is 'individuality with responsibility.' And, we empower our staff to go above-and-beyond in their service."
"I love working here," says Jen Hayton, who has worked at the Rochester Hills store for almost two years and helped with Troy's grand opening. "We have the best boss ever! I love the environment and the people. It's incredibly fun making the food, and it's like a second family here."
"We offer the opportunity for workers to truly be themselves – like butterflies out of their cocoons," says Hamilton. "And our staff really enjoys our giving-back efforts, when we have events and make donations and thousands of meals for the needy and homeless."
"Every experience here is special in its own way," Hamilton says. "And so is every pizza!"
MOD Pizza
modpizza.com
770 Big Beaver Rd.
Troy, MI  48083
248-237-3221