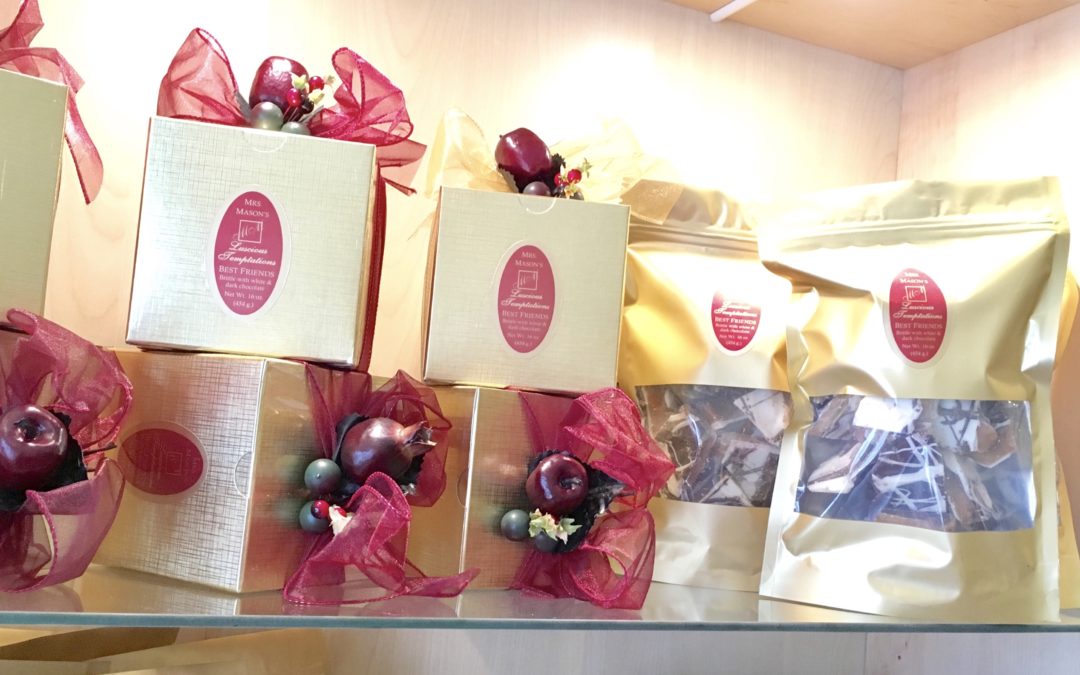 Sweet Treat: Mrs. Mason's Co. Premium Brittle
LBN Community Series
Royal Oak
Vonnie Miller has been hooked on Mrs. Mason's scrumptious brittles nearly 20 years.
"It's crunchier than other brittles," says Miller, who is the community development director at Stagecrafters in Royal Oak.
"Hers is so natural."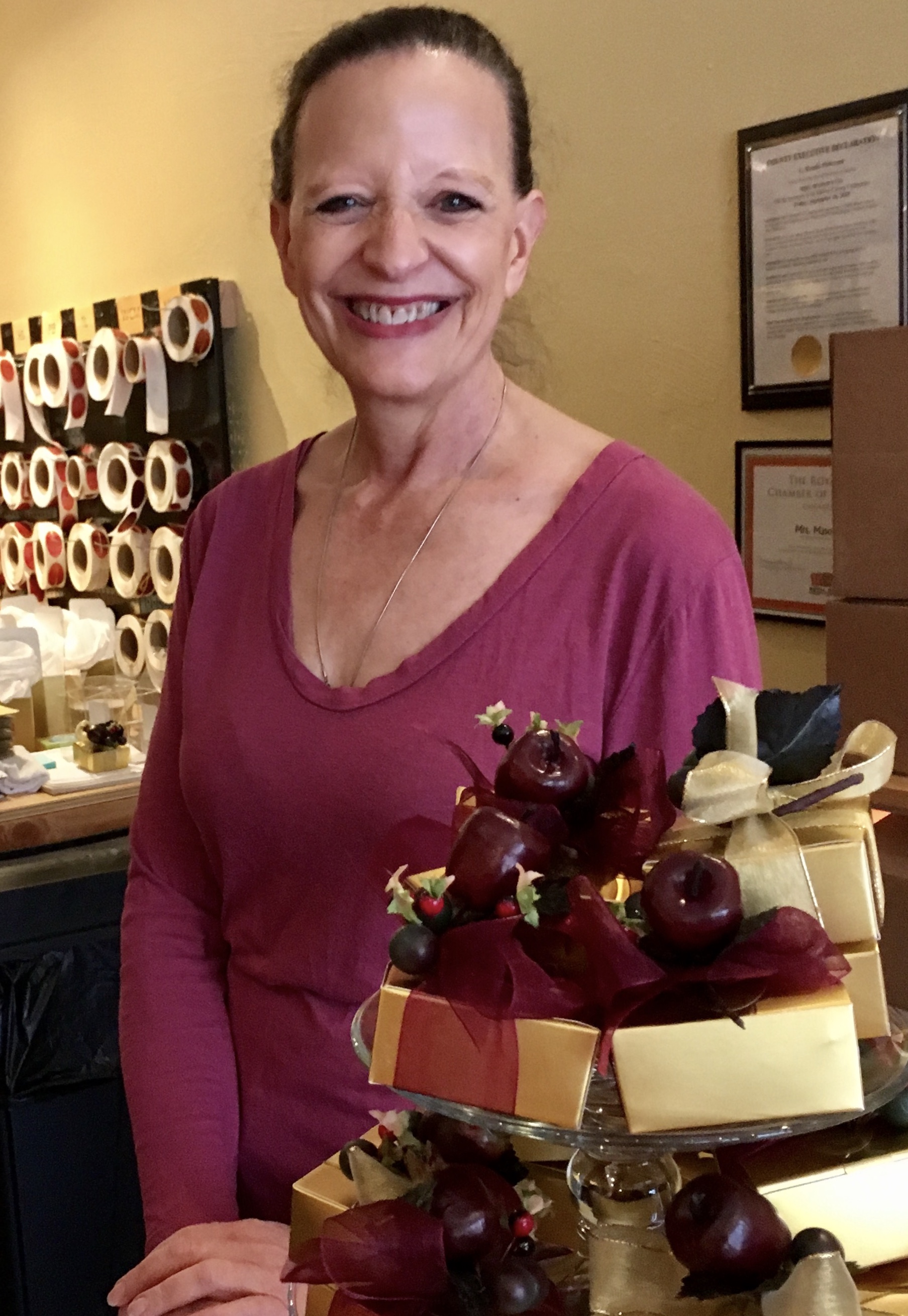 MARGI MASON
OWNER, MRS. MASON CO.
Brittle is candy generally created with embedded nuts. But don't assume Mrs. Mason's in Royal Oak is anything like the thin, hard version you find at holiday gatherings.

Hers comes in eight delectable varieties, many covered with chocolate. What's so different?

"The texture is crisp, not hard," Mason explains. "We have unique ingredients. Five of the varieties have a dried fruit in the middle."

Rick Carmody has known Mason since they worked together in the 1990s.
"She would occasionally bring in her brittle (to work)," says Carmody of Detroit.
Carmody admits he isn't a "sweets person," but there is something about Mason's candies.
"I have four boxes now to give as gifts and I walk into the kitchen and think, 'Do I have to give one to so-and-so?' Hers is just so correct, so great," he says.
Carmody will buy a tray of Mrs. Mason's brittle for dinner parties. "And the tray will be gone by the end of the evening. Maybe they're putting (the brittle) in their purses?" he wonders.
Mason sells her brittle online and in her shop on South Washington Street.
The adventure started when a friend gave Mason a peanut brittle recipe years ago.
"I immediately changed it," says Mason with a smile. "Why? Because I'm a creative person."
She went to work upgrading the ingredients, substituting pure cane sugar for corn syrup. Creating the mouth-watering brittles in her home, she gave them away to friends and her children's teachers as gifts.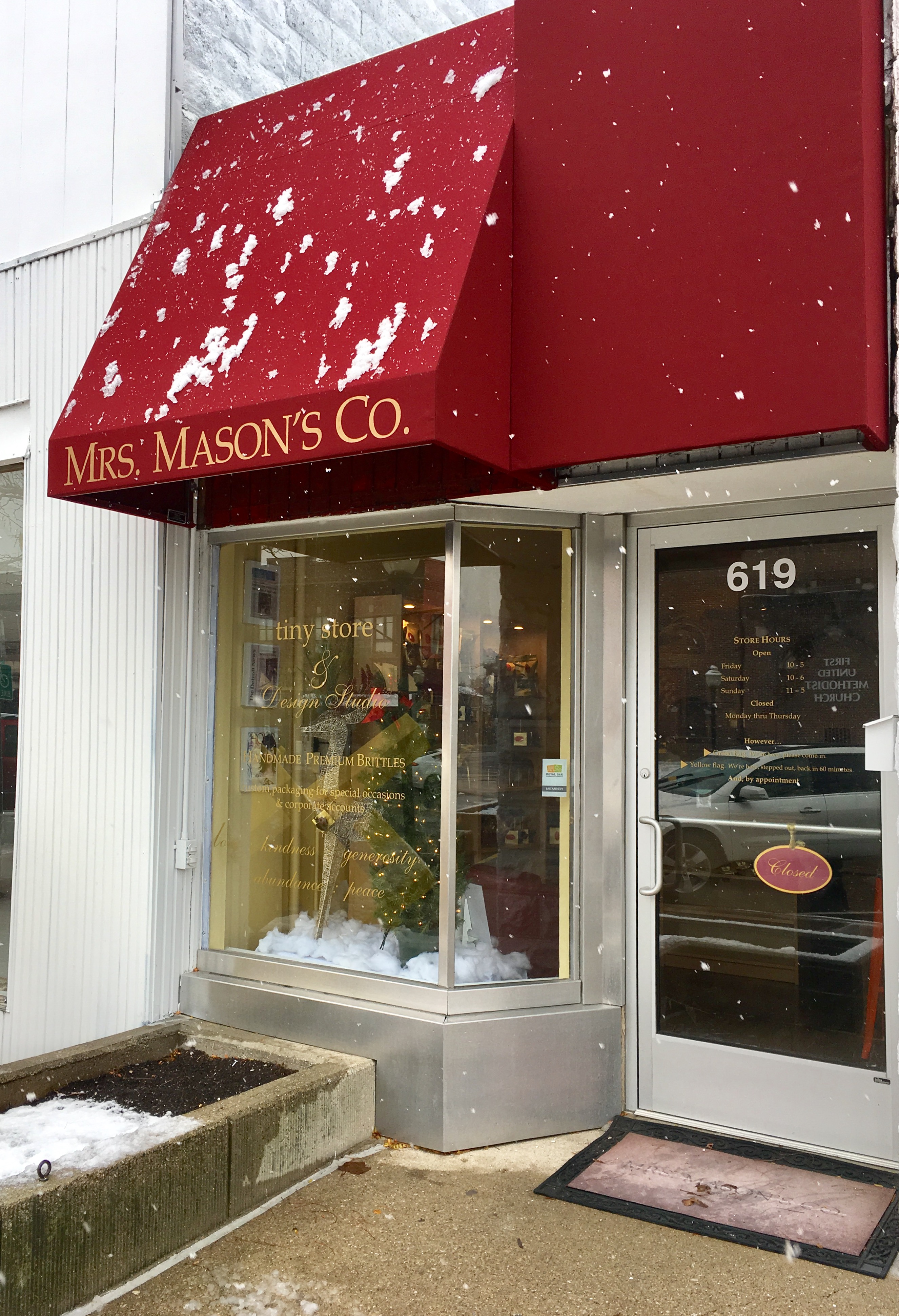 "For years people said, 'You should go into the business selling it,'" says Mason.
She took the leap in 1994 and began selling the brittles. In 2001 she opened a small shop on 11Mile in Royal Oak, selling a whopping 17 different varieties. That business closed in 2004. Then in September, 2017, Mason started cooking again, selling her brittles online.
In September 2018, she opened the current Royal Oak shop with eight brittles.
"You see it and you know somebody thought a lot about it."
"People wanted to be able to pop in on their way to a party or to pick up some rather than have it shipped," says Mason.
Inventory at the 500-square-foot store is kept low to ensure the product, created at a nearby commercial kitchen, is always fresh. "It's very labor-intensive," she says.
Even the brittle descriptions sound delicious. Take "Best Friends" brittle, made with white chocolate with a drizzle of dark chocolate and on the flipside, dark chocolate drizzled with white chocolate. Yum!

The eye-catching metallic gold boxes of brittle make gift-giving easy.
"We are known for our packaging," says Mason. "We can change the ribbon or add any
ornament."
Mason created the packaging.
"I tried to keep it classic so it would be relevant year after year."
Inside her shop, Mason and her staff can create custom packages for weddings, bar mitzvahs, corporate events or any special occasion. Recently boxes of Mrs. Mason's brittles placed on the hotel beds of visiting shareholders attending a Birmingham meeting, she says.
Vonnie Miller believes the packages draw people into the store.
"You see it and you know somebody thought a lot about it," says Miller.
Prices for the various package range from $3.95 up to $52.95, depending on weight. The brittles can be shipped anywhere in the U.S.
Mason's company philosophy – Love, Kindness, Generosity, Abundance and Peace – guide her in her business.
"This is what I am about," she says, pointing to the five philosophy signs on her shop wall.
She had an epiphany back before she began her business.
"I looked to see what I was committed to," she says. "How do I express that? It came through the candy."